With warm weather approaching, it is important to take care of your yard. Nobody does it better than A+ Lawn and Landscape. Call A+ today at 515-289-2020 and get your first treatment for FREE! A+ Lawn and Landscape is the exclusive sponsor of Cyclone Fanatic's spring football coverage.


 
AMES — Iowa State's wide receivers haven't been bad over the last five years or so. But they sure haven't been explosive either. In fact, a guy can make an argument that besides Darius Reynolds (when he was healthy, which wasn't very often), Iowa State hasn't had a "dangerous" wide out – meaning a guy who puts legitimate fear into an opposing defensive coordinator – since the Todd Blythe years.
In fact, Iowa State hasn't had a wide receiver not named "Money" Reynolds surpass that 40 catch barrier since Marquis Hamilton snagged 50 in 2009. Last year, Josh Lenz was the only receiver not named Reynolds to catch five or more touchdowns in a season since Jake Williams in 2009. 
When it comes to wide receivers and Iowa State football, big plays have been hard to find since Blythe left town. In 2013, the hope around Ames is that this trend will change.
Enter Quenton Bundrage, a 6-foot-2, 189-pound speedy sophomore that showed signs of potentially being that guy during his rookie campaign, into the equation. Bundrage caught 20 passes and two touchdowns in 2012 and the goal of Iowa State's coaching staff heading into the spring was fairly simple. Get Bundrage the ball. 
"Absolutely was the plan coming into the spring and that will be the plan going into the season," said Paul Rhoads. "He has big play capability whether it is an eight-yard catch into a big run or taking the top off and he has done both this spring. We will utilize him a number of different ways."
Rhoads' comments came off of offensive coordinator Courtney Messingham openly admitting that he needs to do a better job of getting Bunrdrage the ball more after last Saturday's scrimmage. Iowa State wants Bundrage to be "the man" next season and the coaching staff isn't hiding that.
So far, so good.
"We are charting some explosive plays and Bundrage as you might expect is at the top of that list," said Rhoads.
"Going into this year he has that experience under his belt so now it is about focusing on all of the little things and getting better at all of the little things," said wide receivers coach Todd Sturdy.
A new era 
Things are different this spring in Ames. Four senior wide receivers graduated out of the program leaving Bundrage, who has plenty of physical tools, to be more than just a guy who brings a big play threat to the Cyclone offense. He also is being asked to be a leader at a young age. 
"He has gone from a redshirt freshman and he's still a redshirt freshman and now he's got to be one of the leaders out there," said Sturdy. "He's working with all of that. He is learning. He is growing because I'm asking him to be a lot bigger leader this year with this group than he was a year ago."
Bundrage is embracing that role. 
"The approach I am taking is just being ready every time. I never know when the ball is going to come," said Bundrage. "If I am the No. 1 receiver than I am the No. 1 receiver. I'm not really going to worry about that right now."
"My confidence level is definitely up compared to where it was last year. There were a lot of seniors and now we are a young team with a bunch of young guys. I know that I have to step up and be a leader."
Daley, Coleman early standouts
A few other wide receivers have made noise this spring for the Cyclones. These names might surprise the casual fan too. 
As Rhoads noted, Iowa State has tracked "explosive plays" this spring within the group. As expected, Bundrage is at the top of the list. Behind him are redshirt freshman Dondre Daley and senior (walk-on) Justin Coleman (pictured below).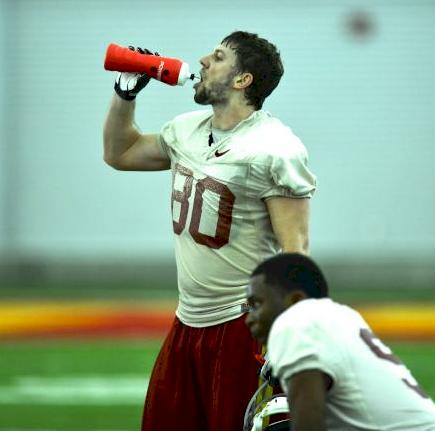 "That is fun to see because these are both guys that we needed to have this kind of spring to lead into a good fall camp to be in the two-deep and help us win," said Rhoads. "They are doing that right now." 
Daley, a 6-foot-1, 191-pound rookie, currently sits behind Bundrage on the depth chart. He's a guy who the coaching staff saw promise in from the day he stepped on campus.
"Getting here in the fall and working with him I new that he is a guy that has a lot of talent," said Sturdy. He's young and still learning the system but he is making plays every day and making mistakes every day."
Things have really began to click for Daley over the last week. 
"He has had a good three days going back to Saturday's practice," said Sturdy. "His missed assignments have gone way down. Production has gone way up. Everything is kind of coming together for him. He's not thinking quite as much and is playing faster. That's a good thing for a young player."
Bundrage said that he expects Daley to help the team as early as next season.
"He is exactly where I was. He is making big plays like I was and of course he still has things that he needs to work on like I did but he is going to be something good for us," said Bundrage. "He is showing signs and potential that he can be a guy."
JOTTINGS
*** Iowa State's new football facility is already paying off.
"With that brand new weight facility and the equipment that we put in it, a big component to that has been the treadmill and what we have done with that in the offseason," said Rhoads. "A guy like Justin Coleman, you can really see the benefit to his explosiveness and top end speed. We largely attribute it to that apparatus. We are going to use the heck out of it this summer and continue to do that because they have stretched the field better." 
*** Rhoads on Dondre Daley…
"Dondre is a long receiver. He stretches the field that way and with his speed. That blanket receiver is hard to defend, especially with DB's like a Sam Richardson, which most teams have a guy like that."
*** Iowa State wants to get Jarvis West involved more next season but for a 5-foot-7 guy, that is often times difficult to do. Sturdy said that the coaching staff needs to do a better job of putting the explosive West in the right spots.
"Jarvis is a guy, we've got to get him in space where he can create space, and make people miss," said Sturdy. "We've got to throw it to him in the screen game. We've got to hand it to him in the run game. We've got to find ways for him to be on option routes and quick game routes and things where he can do what he does best and that's make people miss."
*** Quenton Bundrage on redshirt freshman quarterback Grant Rohach…
"He can put the ball right there. He has a strong arm. He can zip it."
*** Iowa State will hold scrimmage No. 2 of the spring on Saturday morning. Check out Cyclone Fanatic all day long for complete coverage.