Cyclone Fanatic's coverage of Iowa State women's basketball is proudly sponsored by our good friends at Wilson Toyota of Ames located at 2212 S. Duff Ave. 


AMES – Nine Big 12 coaches are scrapping their pennies together. Brittney Griner deserves a going away present.
This weekend is likely the last time conference foes will face Griner – the greatest women's college basketball player of all-time.
Thank goodness.
Griner and her No. 1-ranked Baylor team are headed to Dallas for the Big 12 Tournament. Can anyone knock off the defending national champs?
We'll find out shortly, but the answer is probably doubtful. The Bears steamrolled its league counterparts this season, winning by an average of more than 26 points.
Baylor finished the regular season 29-1 and 18-0 in the Big 12. Its only loss came on Nov. 16 against No. 4 Stanford, 71-69.
So what will it take to beat the Bears? Iowa State may have provided a blueprint. 
The Cyclones got beat by 15 or more to Baylor both games this season, but that doesn't mean Iowa State didn't do some good things. In both matchups, the Cyclones held the Bears below 70 points – only two other teams accomplished that feat.
Iowa State did so by taking its time on offense and using the shot clock. If a team can pair limited possessions and a lights out shooting performance, it may be able to pull off the huge upset.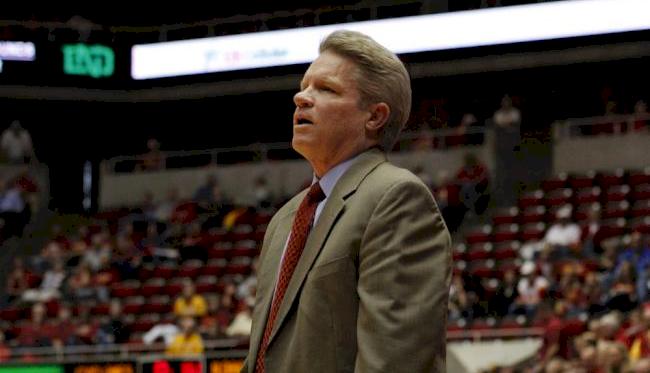 Cyclones want a shot
Bill Fennelly wants another crack at Baylor. And why not? It means the Cyclones are playing in the Big 12 championship game.
That's Iowa State's reward for a phenomenal regular season. Picked to finish in the middle of the standings, the Cyclones (21-7, 12-6) took second behind a strong core of players.
Both Hallie Christofferson and Chelsea Poppens earned 1st-team all conference honors. Point guard Nikki Moody nabbed honorable mention after leading the league in assists. Anna Prins,Brynn Williamson and Kidd Blaskowsky all had solid seasons in Cardinal and Gold.
Iowa State will lean on those six in order to face the Bears for the third time this season. The Cyclones must win two games to get to Baylor, starting with the winner of Friday's tilt between Kansas and Texas Christian.
An Iowa State win isn't automatic on Saturday night (tip is set for 6 p.m.). The Cyclones lost to both teams on the road this season. Kansas is a tough matchup for Iowa State with their athletic guards if they are making shots.
Assuming a rested Cyclones bunch gets past its first game, Oklahoma or West Virginia will be waiting. Iowa State swept the Sooners and split with the Moutaineers. West Virginia plays a physical style that keeps its matchups close if the refs aren't calling fouls.
A couple of Big 12 Tournament wins could be huge for the Cyclones. The latest ESPN.com bracketology lists Iowa State as a No. 6 seed. 
Two wins in the conference tourney plus the added clout of finishing second in the league should bump up the Cyclones a couple of slots.
On the other side of the bracket, Kansas State and Texas will square off for the right to take on Baylor. Texas Tech and Oklahoma State make up the other quarterfinal game.
Fennelly robbed
For the 17th-straight season, Bill Fennelly didn't win Big 12 Coach of the Year.
He got robbed by his fellow coaches.
Yes, Kim Mulkey has the No. 1 team in the country and an undefeated mark in conference play, but that's exactly where Baylor was supposed to be at this time of year. Give Mulkey credit for a job well done, but what Fennelly's done in Ames is award worthy.
Predicted to finish sixth in the Big 12 this season, Fennelly guided his squad to a second place finish in the toughest league in America (according to realtimerpi.com).
For my money, Fennelly's been the top coach in the league since Feb. 2012 (as well as many other seasons). Iowa State is 19-9 in the Big 12 during that span. Three of those nine losses are to Baylor.
Again, I applaud Mulkey for all her accomplishments, but Fennelly deserved coach of the year.
If it's any consolation, Fennelly should have plenty of more opportunities to win the award. The man is clearly enjoying coaching with his sons – Billy and Steven – and the rest of his fabulous staff. 
Does this look like a someone ready to hang it up anytime soon?