Cyclone Fanatic's coverage of the 2013 NCAA tournament is brought to you by our good friends at Channel Seeds. Visit your local Channel Seedsman today at Channel.com as they still have top products available for spring. 

DAYTON, OHIO — Fred Hoiberg's Iowa State basketball team is like that mid-weight wrestler. The pesky Cyclones run, gun, dive for loose balls and have the ability to score a lot of point in a short amount of time. 
Mike Brey's Notre Dame Fighting Irish is that heavyweight boxer. Think of Evander Holyfield shortly after his prime. Big, bulky, kind of slow but still incredibly dangerous.
Iowa State's (10) second-round NCAA Tournament bout with Notre Dame (7) on Friday evening (8:45 on CBS) is the equivalent to a fight between that scrappy grappler and the powerful heavyweight.
It is a classic basketball game that will featuring two styles of play that could not be more opposite.
The Cyclones want to run. The Irish want to burn the clock and make Iowa State win in the half-court. It's a chess match and according to Iowa State's associate head coach T.J. Otzelberger, a chess match that could very well be dictated before the game's first media timeout.
Earlier this week, Cyclone Fanatic caught up with Otzelberger to get an extensive scouting report on the Irish. Here's how the conversation went down.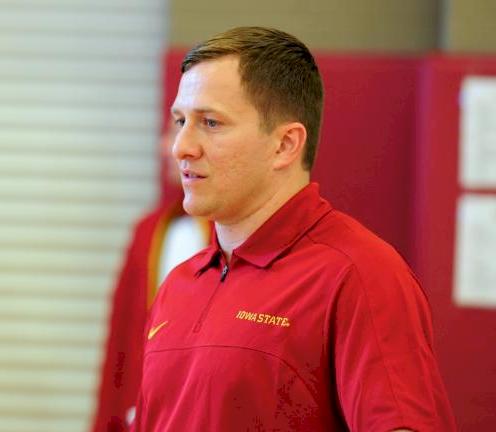 CF: You guys know that Notre Dame is going to try and slow things down on Friday night. How important is tempo going to be when it comes to advancing to round three?
Otzelberger:I think that we have to try to find ways to force the tempo. Most people would say that it is easier to slow a game down than speed a game up. We need to find different ways whether it is press, whether it is provide pressure, whether it is trap a ball screen, all of the different things that we can do to get tempo going in our favor because we like playing high possession games. They are going to try to bleed the clock, hold the ball and wait till late in the shot clock. They want to play this game in the 40's or 50's. We have to make sure to do a good job early of getting the right stops because for us, playing from behind will be difficult against them. For them, if we get out in front it is going to force them to play the way we like to play. I really think that those first four minutes of the game will be extremely important.
CF: Keeping Georges Niang and Melvin Ejim out of foul trouble has been a huge story all season long. I'm sure that Notre Dame is going to attack that duo from the opening tip. How do you coach them leading up to the game?
Otzelberger:I think we know that they are going to try to pound the ball inside. We are trying every day to build a team defensive game plan that can prevent that or that can cause them some problems if that is what they try to do. Whether it be help defense or multiple defenders on the interior, trying to help out if they do get the ball inside and trying to keep it out of there as much as possible so I think that for them, look at the other end of the floor. Ejim and Niang do a great job of getting away from the basket, facilitating offense and shooting good percentages from the perimeter. The team that can control that battle and establish early will probably be the team that is in the best position to win the game. 
CF: When I look at Notre Dame, I think you can draw a comparison to Kansas State and a more talented West Virginia when it comes to Big 12 teams. Your thoughts?
Otzelberger:I would say Kansas State is probably the fairest comparison. I think No. 1, the physicality that they play with in having multiple big guys on the interior that are 6-10, 250 and that can score the ball around the basket. No. 2, their deliberate style of play. I think Kansas State is a team that really tries to grind you out and really tries to punish you and force the ball inside. I think Notre Dame has some of those same characteristics and then thirdly, just from a rebounding standpoint and going back to the physicality, they do a great job on the offensive glass. Jack Cooley their big man is one of the most efficient offensive rebounders in the country. They rebound really well as a team. The physicality, the bigs scoring it, the deliberate style of play, those would all liken themselves the most to Kansas State.
CF: Fred Hoiberg is known as a coach that gives his players a lot of freedom and for the 3-point shooting, the run and gun style of basketball. What is Mike Brey's reputation like around the coaching world?
Otzelberger: He has the reputation of being a great coach. He's always got extremely high character guys. They play with a purpose. It has been a deliberate style of play for the most part. It isn't a team that plays up-tempo very much. They are a team that really is efficient in maximizing scoring opportunities in the half-court. His teams also has the reputation from a defensive standpoint of not giving up easy baskets and getting back in transition and making plays. He has been phenomenal in the Big East and has done a great job of staying in the top five in that conference every year even with losing great players time and time again.