Iowa State head football coach Paul Rhoads announced two coaching staff changes on Saturday morning. According to an Iowa State press release, former Arkansas offensive line coach Chris Klenakis has been hired to Rhoads' staff.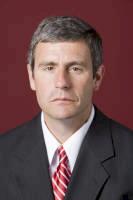 Klenakis will serve as Iowa State's offensive line coach in 2013. That means that Bill Bleil, who has coached the offensive line for Rhoads over the last four seasons, will be in charge of tight ends in 2013. 
Below is Iowa State's entire press release regarding the moves. 
———————————————————————————————————————————–
AMES, Iowa — Chris Klenakis, most recently the offensive line coach for three seasons at Arkansas, has been named to the same position at Iowa State, Cyclone head coach Paul Rhoads announced Saturday. Klenakis has 23 years of Division I experience and came to Arkansas from Nevada. At Nevada, as offensive coordinator he was at the helm of the "Pistol" offense that was prolifically productive, featuring a powerful running game led by the offensive line and from 2007-09 current San Francisco 49er quarterback Colin Kaepernick. Rhoads also announced that associate head coach Bill Bleil will coach the tight ends for the 2013 football season.
"Chris has been part of very productive offenses at both Nevada and Arkansas," Rhoads said. "His extensive knowledge and background as a coordinator in the Pistol offense will help us diversify and expand our offensive system. The Pistol is emerging, in both college and the NFL, as a highly potent offense that is changing how teams have to prepare defensively. He's a great addition to the Iowa State football program. We were in a win-win situation because of Bill Bleil's vast experience coaching many different positions, including tight ends."
In 2012, Klenakis coached an offensive line that was third in the SEC in pass offense. His Razorback line allowed the third-least sacks in the SEC. Travis Swanson was named as an all-conference offensive lineman under Klenakis' coaching last season.
"I was so fired up after talking with coach Rhoads," Klenakis said. "I have watched as he built the Iowa State program and have a full appreciation for what he has accomplished so far. I am elated to be a Cyclone."
Klenakis led an offensive line that replaced three starters from 2010 and featured two players who made the first start of their collegiate career in 2011 to block for a UA offense that set or tied 16 school records. Arkansas led the SEC in passing offense (300.7), total offense (438.1) and scoring offense (36.8) to become just the fifth different school to lead the conference in all three categories in a single season and the first since Florida in 2001. The Razorbacks topped the conference in passing offense for the third straight season and became the second SEC team since 1992 to lead the conference in passing offense for at least three straight seasons.
Quarterback Tyler Wilson led the SEC in passing yards and total offense per game, while receiver Jarius Wright topped the conference in receiving yards per game in 2011. Guard Alvin Bailey was named an All-American by Pro Football Weekly.
Klenakis has coached 17 offensive linemen who have advanced to the NFL. As offensive coordinator and offensive line coach, he has tutored 14 all-conference selections, including 2010 first-team All-SEC performer DeMarcus Love. Klenakis has coached in 12 bowl games and in two NCAA Division I-AA playoffs.
In 2008 at Nevada, the Wolf Pack offense steamrolled over opposing defenses to the tune of a number of school records, including total offense, rushing yards and rushing touchdowns. In 2009, Klenakis and the offense eclipsed all those marks. Klenakis was the first coordinator in NCAA Division I history to coach an offense that led the nation in rushing (2009) and passing (1997) during his career. Prior to his most recent stint as offensive coordinator at Nevada, he was offensive coordinator at Southern Mississippi (2000-02) and spent one year at Central Missouri (2003). Klenakis is a former two-time Nevada High School Coach of the Year.
Klenakis earned his bachelor's degree in physical education and history from Carroll College in 1986, where he was a four-year letterwinner as an outside linebacker. In 1992, he completed his master's of exercise physiology at Nevada. He has a son, Nikos, and a daughter, Lucy.