AMES —Year three, same story.
Fred Hoiberg introduced his 2012-13 Iowa State basketball team to the media on Wednesday and for the third season in a row; the Cyclones look entirely different than that of a year ago.
Gone is that 6-foot-7, "freight train" of a point-forward Royce White, as is also the case with sharp-shooting guards Chris Allen and Scott Christopherson.
The new-look Cyclones will feature what Hoiberg refers to as a more traditional look.
There's the seasoned point guard in Michigan State transfer Korie Lucious. Two other seniors, Chris Babb and Will Clyburn can both shoot, score and defend and the two and the three. Down low, a cast of characters from veterans Anthony Booker and Melvin Ejim to youngsters Percy Gibson and Georges Niang will contribute by committee. Capable reserves mixed of veterans and freshmen finish out the roster. 
Clyburn should be the man who puts up up big numbers on a consistent basis for Iowa State but the true point guard in Lucious looks to be the x-factor for what is expected to be a more up-tempo pace of play. 
"What that will allow us to do is play a little faster," said Hoiberg. "It's going to be more conventional with wing-runners who can knock down shots. We've got guys who can sprint to the rim and collapse the defense that will open up a lot of things offensively for us."
Lucious, who recorded 118 assists during his last final season at Michigan State, is up for the challenge.  
"Being able to sit out for a year and a half like I did taught me more about patience and decision-making. I got to see the game from a different standpoint," said Lucious. "Last year's team was a little different because we had Royce playing as the primary ball handler so we didn't have too many transition opportunities. With me being the point guard now, that's really what I want to do. Just get up and down and put as many points on the scoreboard as possible."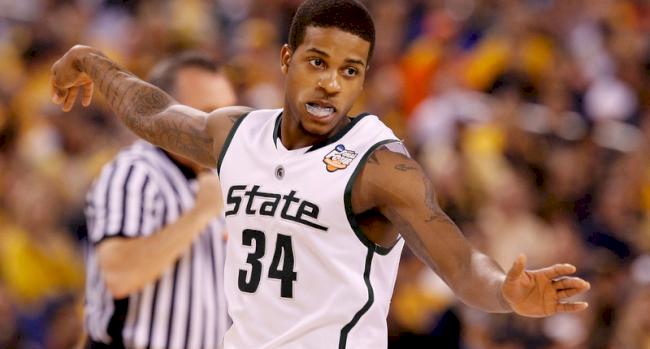 Where's the depth?
With the status of junior point guard Bubu Palo up in the air, depth at the position is a legitimate concern for Iowa State. There's Lucious, but behind him features literally no experience at all playing point guard at the division one level.
"He (Lucious) will certainly play a lot of minutes, there is no doubt about that," said Hoiberg. "I don't know right now who will get the majority of those back-up minutes.
Freshman Naz Long is a candidate. Long, coincidentally is a very long point guard.
"He's got a great body. He's just over 210 pounds at 6-foot-3. He can guard multiple positions," said Hoiberg. "With our defensive schemes, he's really done a nice job of picking up what we're trying to do which is tough coming in at that point guard spot as a freshman to pick up everything you are trying to do. He's a guy who I'll be comfortable putting out there."
After that, it's slim pickens. It's time for The Mayor to get creative.
"We may have to get creative at times when Korie is not in the game with at two-guard front or give the ball to a big guy who has the slower player guarding him," said Hoiberg. "We'll figure that out pretty quickly in this first week of practices who is able to get us into an offense."
At times, the 6-foot-7 wing Clyburn just might be an option too.
"I think Will can play 2 through 4 and there are times where Will will initiate our offense similar to what Royce did last year and you all saw how much success we had with that."
With a rotation that looks to go at least nine deep, Hoiberg has options. Options are good.  
Defensive minded
There's no doubt that Chris Babb was the best defender on Iowa State's team last year. Babb thinks that with the addition of Lucious and Clyburn to Iowa State's backcourt, his job will be much easier this time around.
"Korie is a good defender. He can guard the point guard," said Babb. "On the other hand with Will, he is a long and athletic on the other wing. I think I'll just guard the two-guard and handle my responsibilities like that."
Hoiberg agreed by adding that the Cyclones will have more versatility on the defensive end than that of a year ago.
"I think we will pressure a little more this year," said Hoiberg. "We really didn't have that point guard not only on the offensive end but also on the defensive end and that impacts how you are able to play. We really had to pack it in at times last year."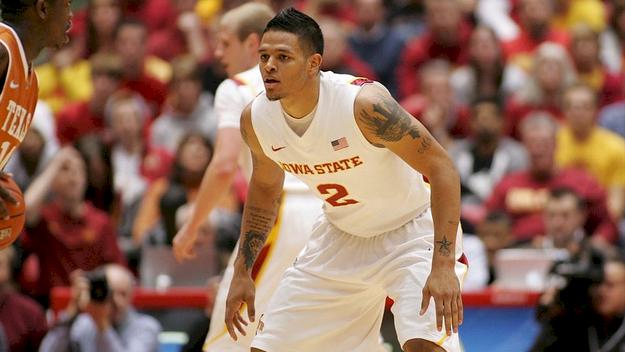 JOTTINGS
*** I asked Hoiberg what he's expecting from Babb's offensive game this season.
"He's playing with a lot of confidence right now," said Hoiberg. "It's our job to get him in spots where he is comfortable knocking down shots but he's playing at a really high level right now."
Babb, who was streaky but still managed to make 64 3-pointers last season, said that he's worked hard on his offensive game over the summer.
"I focused on my offensive game and really focused on my shot and making sure that it consistent. I've never seen myself as much of a ball handler," said Babb. "We have guys for that. I know what I can do and when I can do it."
*** Will Clyburn commented on being called "the new Royce White."
"I hear it but I really don't pay attention to it," said Clyburn. "I just know that Royce is Royce and Will is Will. I'm just going to out there and play my game."
He did add this gem to the White comparison.
"I'm a better shooter than Royce," Clyburn said with a massive smile on his face.
*** Remember the 16 threes that Anthony Booker knocked down last season? Take the under on if he'll match that number again as a senior.
"My job more this year will be trying to guard the other team's best post player," said Booker. "Every now and then I'll step out and shoot one but it probably won't be a reoccurring theme this year. I'm going to shoot a high percentage but I don't think it is where Coach Fred wants me to be this year."
Hoiberg said that he's been impressed with Booker's rebounding abilities during the offseason, saying that the senior has a "nose for the ball."
*** Hoiberg's overview of the 2012-13 Iowa State Cyclones…
"This is going to be a group that is very easy to root for because of the type of kids that they are. They have great work ethics. It's been as great of a group as I have ever been around in teams that I've played for and certainly my third year of coaching here at Iowa State. This group absolutely gets after whatever it is. Whether if it is in the weight room our whether it is out here competing on 2-on-2 situations when we have them in groups of four or Sept. 15 when we had them as a whole team. These guys, the work ethic is second to none."