AMES — For the last two weeks, improving Iowa State's rushing attack has been the hot topic of conversation within the Cyclone Nation and rightfully so. But Iowa State's rush defense will prove to be critical if the Cyclones hope to snap their two-game losing streak vs. a high-powered Baylor offense on Saturday night.
"We got bludgeoned last year with both and that's what happens when you try to stop multiple things," said Iowa State head coach Paul Rhoads. "You better stop one thing. That involves people to get that done and then you rally and try to control the others."
The Bears ran for 395 yards in last year's 49-26 victory over the Cyclones. 
Baylor currently boasts the nation's third-ranked offense. Behind quarterback Nick Florence, the Bears passing offense is ranked first nationally averaging just over 390 yards per game. The rush offense takes a dip to 45th nationally at 183.50 yards per game but it's that ground attack that sets up Baylor's elite passing attack and specifically the play action pass – an area that Oklahoma State torched Iowa State on repeatedly a week ago.
"We have to be more disciplined with our eyes. That is the biggest issue," said Iowa State defensive back Deon Broomfield. "If you look in the backfield for a second, that's all that it takes for a guy to take a step up. Then they throw the ball over your head and it's a touchdown. We have to stay disciplined with our eyes and stay on our man."
Baylor has scored over 45 points in every game this season except one, a 49-21 loss to TCU two weeks ago. Florence threw four interceptions in that defeat.
DeVondrick time?
DeVondrick Nealy's serious case of pink eye isn't 100 percent cleared up, but the redshirt freshman running back feels light years ahead of where he did two weeks ago. The morning of the TCU game, Nealy woke up to swollen eyes that he could barely open. He's been fighting off this condition ever sense.
"I can't even explain it," said Nealy. "I don't wish it on my worst enemy to have this."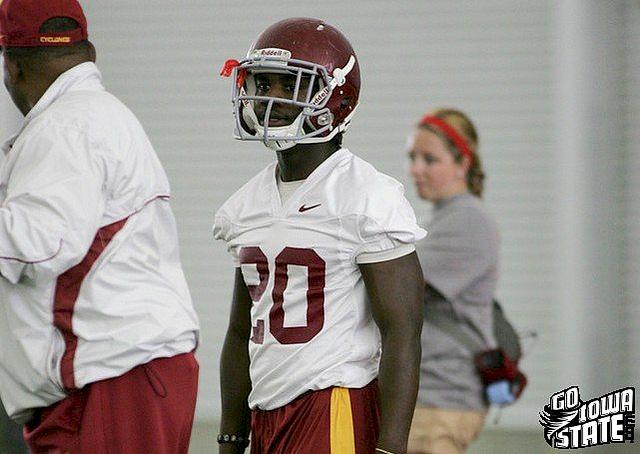 Nealy wore sunglasses to Tuesday's media session. This has become the norm for this highly touted Florida native in the Jacobson Building.
"You'd see him walking around inside with shades on just to try to keep things out of his eyes and keep his eyes away from people just because viral pink eye is one of the most contagious diseases on the planet," said junior running back Jeff Woody. "Just keeping stuff away from his face is kind of a big deal for him."
Nealy said that his eyes were much closer to normal during last week's trip to Stillwater and he expects to be near 100 percent on Saturday. With James White still likely out of the lineup and Shontrelle Johnson struggling, this might be Nealy's big chance to make a splash. 
"I just need to go out there and execute like I have always been doing like I do every day in practice," said Nealy. "Just do the things that I know I am capable of doing. Get on the field more. Get my confidence going and show the world what I can do."
JOTTINGS
*** During his press conference on Tuesday, Rhoads called Baylor the fastest football team in the Big 12.
"We believe it is the most explosive offense that we have faced this year and that's a mouthful after just giving up 615 yards to an awfully good offense."
*** Jeff Woody on accountability within Iowa State's struggling offense…
"Everyone has to look at themselves in the mirror and ask 'Am I doing my job to the best that I can?' If the answer is anything less than yes then you have to take accountability for that." 
*** Woody didn't point fingers at the line or quarterback play. He said that the running backs need to do their part in improving as well.
"As for the running back core, we have not done the best at pressing holes and getting downfield to create explosive plays. Those are things that we need to improve on as running backs."
*** The Cyclones aren't "down." They'll be ready to play this weekend – this according to Deon Broomfield.
"You want to play on Saturday man. You just want to get back on the field and play. You want to win. It's not a fact of getting down. It's not like going out there and just getting smashed 60-0. They are competitive games and you want to get out there to prove to yourself that you can beat these guys."