By Chris Williams, CycloneFanatic.com PublisherFollow Chris on Twitter @ChrisMWilliams  
AMES — Iowa State has made a commitment to get its running backs involved in the passing game more in 2012. That's according to running backs coach Kenith Pope, who feels this will help the Cyclones become a more explosive offense in year four of the Paul Rhoads era.
"It's so easy for them to catch the ball and get up field because they are all such great runners," said sophomore quarterback Jared Barnett. "We have to be able to get it to them in space and down the field a little bit."
Barnett described Iowa State's running backs as a security blanket from the standpoint of a quarterback.
"In the route combination, you always know where they are," said Barnett. "Usually they are going to be one-on-one with a linebacker, which we'll take that chance every day."
Iowa State's coaching staff wanted to involve the running backs more in the passing game heading into last season too.
"I really feel like a year ago we didn't get them the ball in the passing game nearly enough," said Pope. "Going into this year, we'll have an opportunity to get the ball into their hands and I think that will make us a much improved football team going into the fall."
Running back isn't the only position that is expected to produce more in the pass game next season. The emergence of junior tight end Ernst Brun (pictured below) as a playmaker has the program excited – specifically the quarterbacks.
"I think of Ernst more of as a receiver. He's a huge body but he can get out and run. He can jump and he can catch. He runs good routes just like a regular receiver," said Barnett. "He's also a good blocker so he does have that tight end dimension to him but from a route running standpoint and getting open and going up and getting the ball, he's very good at it."
Barnett said that Brun caught a touchdown pass in the corner of the endzone during Saturday's scrimmage at Jack Trice Stadium.
"The thing about Ernst is that he's a huge body," said Barnett. "He's a huge body and you can get him over the middle of the field. He's got that big body in the endzone, being able to throw it up to him makes it a lot easier for us quarterbacks."
PROGRESS FROM SHONTRELLE: It's still unknown as to if running back Shontrelle Johnson will be able to play next season due to a neck injury, but the junior is making progress.
Johnson participated in some drills during Iowa State's coaches clinic last weekend and left Pope surprised at the kind of shape he was in.
"He had fresh legs. He really looked good," said Pope. "He's as fast-twitched as ever before. If we get him back and I hope that we get him back, he'll be a pleasant surprise for us."
MORE RUNNING BACK NUGGETS: Redshirt freshman running back DeVondrick Nealy (pictured below) took some snaps with the ones on Saturday. While veterans James White and Jeff Woody are clearly Iowa State's featured running backs, Pope likes to sprinkle in reps with the ones to young guys in the program.
"I wanted to see how he would respond going good against good," said Pope. "He's doing some things that he gets you excited about because he's a fast twitch guy. He's an explosive guy. He's still learning so we'll learn a lot more about him over the next four workouts."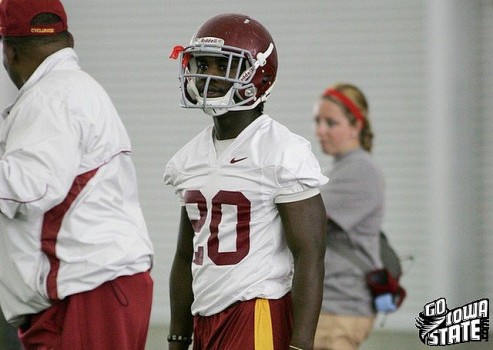 D-LINE DEPTH: In a discussion with reporters about his defensive line, Paul Rhoads said that he believes Iowa State has the talent to go two-deep at every position up front next season.
"It will be a group we think that can start making plays for us on a more consistent basis," said Rhoads.
Speaking of the defensive line, Rhoads had this to say when asked about the progress of sophomore defensive end David Irving:
"I think there is unlimited potential with what David can become. Your first inclination is that he's going to get so big he's going to be a tackle but he's got enough athleticism that he's going to be able to stay at end the whole time. It doesn't matter if he gets to 290. He's going to be able to stay as a defensive end. He's still just a young football player and I don't mean that in the sense that he's just a true freshman here still going into his sophomore year. He hasn't played that much football overall, not playing much in high school. He's still learning the game. He's still learning the level of aggression that you need to play with, especially on the defensive line to be successful. As he starts to acquire that, he can really become into a fine defensive lineman in this program."