By Chris Williams, CycloneFanatic.com PublisherFollow Chris on Twitter @ChrisMWilliams 
With the Big 12 football coaches holding a teleconference yesterday and basketball's recruiting season being in full swing, we've got a lot of ground to cover in today's Cyclone roundup. Enjoy.
LOCKETT SET TO VISIT: In yesterday's Monday Musings column, I wrote that I was hearing that former Arizona State player Trent Lockett would officially visit Iowa State sometime this week. Sources are now telling me that the plan is for this to happen tomorrow. Lockett, who led Arizona State in scoring last season at 13.0 points per game, visited Marquette last week. Sources say that he's also still considering Gonzaga as well. Stay tuned for details.
MORE HOOPS RECRUITING: 
— According to THIS STORY via CBSSports.com, Iowa State offered a 2014 guard named Isaiah Whitehead out of Lincoln (N.Y.) over the weekend. Whitehead is an overall top 25 prospect in the class of 2014.
— According to Ryan James from Minnesota's Rivals site, Iowa State has offered Grand Rapids (Minn.) power forward Alex Illikainen for the class of 2015. According to Illikainen's profile at Rivals.com, he already has offers from Creighton, Minnesota, Nebraska and Northern Iowa.
— TheRecruitScoop.com is reporting that Iowa State recently offered Henry Ellenson, a 2015 power forward out of Rice Lake (Wisc.). Ellenson also has a current offer from Georgetown.
RAILEY TO WASHINGTON STATE: According to the Twitter feed of Jeff Goodman of CBSSports.com, former Iowa State center Jordan Railey will transfer to Washington State.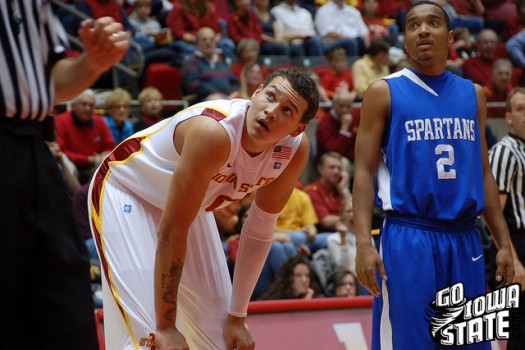 SOME FOOTBALL READING MATERIAL…
— Will Shontrelle Johnson be ready to go in 2012? Andrew Logue tackles this question in the Des Moines Register. 
— You can read Paul Rhoads' Big 12 teleconference from yesterday in its entirety by CLICKING HERE. 
— There's a big picture of Rhoads inside of this Charleston Gazette story on West Virginia head coach Dana Holgorsen and his return to the Big 12 Conference.
— Looking to learn more about the Mountaineers? Here's a good read from the guys at Athlon, who break down how West Virginia will fare in the Big 12.   
— Big 12 coaches sound off on what they want in a new conference commish. — ESPN.com's David Ubben
— Everybody wants a college football playoff correct? Not Bill Snyder and Bob Stoops. — The Kansas City Star's Blair Kerkhoff 
— An update on Kansas' football program in its first spring under Charlie Weis. — The Kansas City Star's Rustin Dodd
— Should the Big 12 have a championship football game? David Ubben analyzes this difficult question. — ESPN.com