By Chris Williams, CycloneFanatic.com Publisher
Follow Chris on Twitter @ChrisMWilliams  
Happy Monday Cyclone Nation.
So Iowa State upset Kansas State over the weekend…(And yes, it was an upset. If the boys in Las Vegas think it is an upset, I think it is an upset.)
Today, I pose this question for you all:
Why do fans always expect the worst? Check that. Why do human beings always expect the worst. Think about it.
After Iowa State spanked lowly Texas Tech by 18 points last Wednesday (when in reality, the Cyclones didn't even play that well), regardless of what you read, watched or listened to, the question regarding the future of this Cyclone basketball team was without hesitation, "What happens if they lose their last four?"
I guess it sort of made sense. At the time, our friends in Vegas (we've already touched on this) were not going to name the Cyclones as a favorite in any of its last four games, assuming that Kansas State would be Iowa State's first round opponent at the Big 12 Tournament in Kansas City.
But as a fan, why is the absolute worst-case scenario instantaneously the hot topic of conversation when in this scenario at least, this Cyclone basketball team has given you every reason in the world not to do so all season long?
Of course this isn't/wasn't the case for all of you fanatics, but a good chunk of the Cyclone Nation (or any other fanbase in America I might add).
Once again, Fred Hoiberg's group did what they've done all season long. Let me elaborate…
– In the preseason, Iowa State was picked to finish eighth in the league. CHECK.
– Many fans/media wrote this team off after losing to Drake and UNI, while struggling with other low to mid-major non-conference opponents. In fact, I remember reading one thread about a guy who was looking to sell his season tickets after the Drake game. CHECK.
– Remember that "this team can't win without a true point guard" arguement. CHECK.
– And my favorite preseason/non-conference conversation about how losing former assistant coach Bobby Lutz was going to doom this team down the stretch. CHECK.
This team has defied those odds and many more all season long. Why stop now right?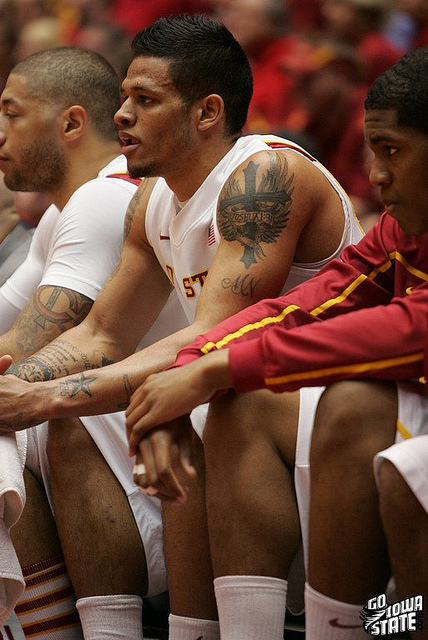 — LINK: Iowa State vs. Larry Eustachy says Joe Lunardi….Oh boy…CLICK HERE for Bracketology.
ON IOWA STATE FOOTBALL… 
— This is the time of year when I start to crave football conversation/information.
Last Thursday, I sat down and interviewed Iowa State's running backs coach Kenith Pope for almost an hour. Pope is not only one of the most interesting people I've ever met, his knowledge/experience in the game of football is second to none. If you haven't by now, CLICK HERE to take a look at the guy's coaching resume. Pope has coached in 17 bowl games. He's coached for some of the most prestigious programs in all of college football, Alabama and Oklahoma to name a few. Pope is a former NFL Draft pick. Talking pigskin with the man is a thrill.
I don't want to give too much away (as I'll post this interview on CycloneFanatic.com in the coming days), but Pope seems to be very, very high on redshirt freshman DeVondrick Nealy. Now don't jump the gun here. Pope didn't come out and say that Nealy would start right away or anything crazy like that. He just likes what he's seen early on. There's your teaser….Feel free to chew on that for a couple of days.
As I'm sure many of you are wondering, there's really nothing new to report regarding Shontrelle Johnson and his injury. Pope said that the question as to if Johnson will play or not in 2012 will be decided as the season nears.
— NOTE: That Iowa State's big "Junior Day" will go down this upcoming weekend in Ames.
RANDOMS
— Confession: I didn't watch one second of The Oscars last night. Truth be told, I didn't catch a peek of the NBA All-Star game either. After recovering from the dejection of a delayed Daytona 500, I caught up on my DVR and I must say that Friday's episode of "Spartacus: Vengeance" might have been the best Spartacus episode of all-time. Yeah, I said it. All-time! I was hard on the show about a month ago, but it's really starting to turn around.
— A rain-delayed Daytona 500 turned out to be my worst nightmare yesterday. Get this. Because of the unfortunate weather in Florida, I spent all afternoon yesterday shopping (yes, you read that right) with my wife. On our way home, I referred to the day as the worst Daytona 500 Sunday (a day that I look forward to every year) in history. She rebutted, calling it "the best." As the kids like to write on Twitter/Facebook, SMH…
— Here's a shout out to my hometown Clarinda Cardinals on qualifying for the 2A state basketball tournament. I traveled to Harlan on Saturday night to watch my Cardinals knock off Carroll Kuemper Catholic to earn the trip to Des Moines' Wells Fargo Arena (Tuesday, March 6 at 1:45 vs. Roland-Story). I haven't enjoyed watching a sporting event as much as I did that game in years. I'm one of those guys who can get somewhat obnoxious when it comes to hometown pride (I get it from my dad, who got it from his father). I'm sure that a lot of people feel this way about where they're from. Clarinda is a special, special place and regardless of where life takes me from here, it will always be my home. I'm sure that there are a lot of Roland-Story folks on CF every day and to you, I say good luck. I got to cover Roland-Story hoops for a couple of games during my short stint with the Ames Tribune back in the day. Good people as well. I'm glad that I'll be able to at the very least take in one state tournament game, as I'll head to Kansas City to cover the Clones the following day.
— After the big Clarinda victory, a handful of us alumni decided to invade a bar on Harlan's town square. We walked into this fine establishment (I'm not going to name names) and there were maybe five people in attendance. When we walked in, "New Age Girl" by Dead Eye Dick was blaring (and I mean BLARING) on the jukebox. What was on all three televisions? If you guessed "Swamp People" and the History Chanel, you're correct! Classy place. We had a great time.
— I spent the majority of the weekend with my good friend and fellow Cyclone Radio Network employee/CF columnist Brent Blum. I'm still not sure how this happened, but somehow Blum was talked into attending Friday night's George Strait concert at the Wells Fargo Arena in Des Moines.
I'm proud of Blum, a man who's passion for life in the suburbs rivals mine for small towns. Blum, a pop culture enthusiast, entered the show with an open mind and came out a King George fan for life. We stopped by Legends for a few drinks after the concert and Blum's eyes were lit like mine at the Knoxville Nationals – filled with glee.
Blum also went with me to the Clarinda basketball game on Saturday night. While I enjoyed his company, Blum's constant analyzing of the officials does get old. He's the only person I know who watches the stripes more than the game itself. For the record, Blum gave the Clarinda – Kuemper officials an 8-rating on a scale of 1 to 10. He thought that they called a solid game, but had to deduct a few points for "lazy mechanics," whatever the heck that means.
— I'm test driving a Toyota Highlander (from Wilson Toyota of Ames of course) today. That Tron Smith is one hell of a salesman you know?
I'm off to Ames for Monday press conferences. Have a fine Monday Cyclone Nation!