By Chris Williams and Brent Blum of CycloneFanatic.comFollow the guys on Twitter @ChrisMWilliams and @BrentBlum
This is a new weekly feature here at CycloneFanatic.com. Every Friday during the college basketball season, our Chris Williams and Brent Blum will go back and forth on a variety of Iowa State and Big 12 related topics. Enjoy.
Williams: Okay Blum. We've got to start this bad boy off with what went down on Wednesday night at Hilton Coliseum. The Cyclones didn't play great but Oklahoma State was better than I anticipated they'd be. Le'Bryan Nash is a future pro. Keiton Page is well, he's Keiton Page. Why do so many people hate this guy? Your thoughts on the game?
Blum: Wow, what a doozy that was. First on Keiton Page. It is irritating to most basketball fans that a Barney Rubble look-a-like that is short and squaty can manage to get free and knock down everything in sight. That dude does as good of job as anybody in the conference of setting up screens to get open. He is fun to watch as long as he isn't annihilating your team. Page has scored almost 1,500 points in his career at 5'7. As a vertically challenged fella myself, I have mush respect for him. What would Page do to the Iowa State Intramurals 6 foot and under league? No record would be safe.
Now to the game, it was setting up to be an all too common Cyclone let-down performance that we have seen happen in Ames for the last seven years. Let's face it, for 35 minutes, the Cowboys out-hustled and played better than Iowa State. If they can get Le'Bryan Nash to grind like that every game, they may be able to sneak a couple wins in. Markel Brown was terrific running the show and OSU executed extremely well. Luckily for Iowa State, the three balls started to fall in the nick of time.
Those are the games you have to win if you want to get back to the NCAA conversation. The Cyclones have proven they can win when they have their A game, but Wednesday proved they can escape with a C effort. And thank goodness for "Marbles" McGee, huh?
Williams: Okay I have to ask. Did you read my column after the game or did you just come up with the "Marbles" McGee and the Keiton Page/six-feet & under league reference on your own? I dropped both of those lines in my column after the game…If you read it, great. If not, that's kinda freaky-deaky.
Blum – You're an officiating guru. Your love for the zebras mirrors mine for country music singers.
We need to discuss Royce White. The guy can't seem to stay out of early foul trouble. When White picks up two fouls in the first seven minutes of a game, it forces him to play differently the rest of the way. He's hesitant on defense and the team is out of whack offensively without him.
As an official, is it possible that these guy are having a hard time with White just due to the fact that he is so unique of a player? Refs don't see many 270-pound dudes handling the rock like Royce does very often. Thoughts?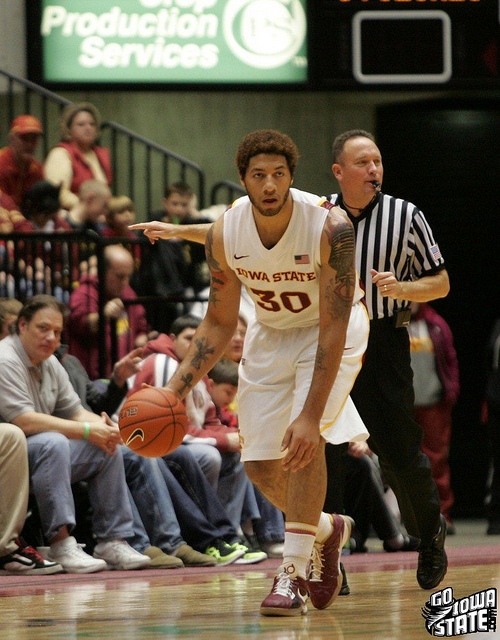 Blum: I definitely stole your Marbles reference (Cue Major League 2: "You…You…You HAVE NO MARBLES"), but I had the 6-foot and under thought separate. Great minds (or idiotic) minds think alike!
You are correct, my affinity for the zebras knows zero bounds. It's unhealthy. I've had Ed Hightower on my Twitter avatar for over a year now and will leave him there until the old man with the magic afro-rug hangs it up.
That said, Royce White is a nightmare to officiate. Defenders like Oklahoma State's Cobbins (who is 220 pounds) realize that the only way to stop him is to absorb contact and fall over. The Vlade Divac special if you will. As an official you are stuck, because there is definitely contact initiated by Royce, so you have to determine if the contact was "incidental" or was the contact aggressive enough to create an undue advantage for the big guy and thus an offensive foul needs to be whistled. Not to mention Royce is very agile for a man that size and you have to make this determination in a fraction of a second. And on the flip side, Royce gets penalized for being bulky enough that officials unconsciously let him take more of a beating than most on the block. It's a very difficult position for the stripes and as Royce continues to get in foul trouble, more teams will go to the Divac method of defense. He just has to play through it. Playing passive doesn't help anybody.
I'd like to make a new law. No jump shots outside 18 feet by Royce or Ejim in the first 25 seconds of the shot clock. Can we get the Congress to sign off on this?
Williams: Interesting stuff on the officiating.
Last officiating question and then we can move onto some Big 12 stuff. In your mind, is there such thing as getting "homered?" Be honest…
Blum: I did see Otzelberger's quote and that's the first thing I thought when he launched. Hilarious. Let's talk to our man Jack Whitver about signing this thing this session.
Now you're really getting into the conspiracy stuff with the "homerism," what's next Paul Jansen was spotted on the grassy knoll?!
I don't believe there is such a thing as an official deliberately favoring the home team. But for whatever reason home teams tend to have fewer fouls than the visitors on the box score. Statsheet.com has a referee section that is full of stats. I'm addicted to that thing. They have an interesting stat called "Home foul margin" which measures the average difference in fouls for the home team to the visitors for a single official throughout the entire season. And 98 percent of the officials have a foul margin that favors the home team. The average is about two fouls per game difference. Not a HUGE discrepancy, but enough to notice.
Now is this the officials conspiring to give the home team a leg up? Or, as I believe, is the home team generally the more assertive team? And the assertive team/player usually gets the benefit of the doubt.
What bothers me is the fringe of the fan-base that things Iowa State is getting hosed every game. For what it's worth, in 5 conference games this year, the Cyclones have been whistled for more fouls only once (@ Kansas). And the Cyclones have been whistled for more fouls just three out of the 18 games total this year. So if there is a vendetta against the good guys, the stripes aren't doing very well. Your thoughts?
Williams: Hey Blum, you know that I'm not a referee hater. For two summers in God's Country (Clarinda, Iowa), I coached/umpired little league baseball. I've never wanted to punch so many out of control parents in my life. The job is not easy. I get it.
How about we get to some hoops?
Let's take a look at Texas Tech. The Red Radiers are terrible but is this not a trap game for Iowa State? Tech is 0-5 in league play but we both know how hard it is to win on the road in the Big 12. The Cyclones are coming off of an emotional high and let's face it, this Iowa State team hasn't been what I'd call fiery vs. lesser competition very often this season.
Does anything about Texas Tech scare you?
Blum: I would have loved to see a teenage Chris Williams calling balls and strikes, "Call it both ways BLUE!"
The only thing that scares me about Tech is they actually play with some effort. Billy G has a feisty group, but they are not talented offensively. They haven't broken the 60 point barrier in conference play. It's a bunch of young guys that are improving though. Add the fact that Iowa State hasn't won in Lubbock since 2000 and yes it makes me nervous.
Iowa State will be favored to win this game and you remember the last time the Cyclones were favored to win on the road? At Drake on November 15th. That didn't end very well.
Bad thoughts, bad thoughts.
Williams: This game scares the bejesus out of me.
Onto picks. You went 4-1 last week. I went 5-0. I got you on the Oklahoma/Kansas State game. I could feel that one…On the season, we're dead even at 9-1.
For this Saturday I like…
Iowa State 69, Texas Tech 68 — Tech hasn't scored much in league play but they'll get their vs. Iowa State's defense. Clones in nail-biter.
Kansas State 70, Oklahoma State 56 — The Wildcats are too tough for a fragile Cowboys team. A bad matchup for Oklahoma State. Plus, Manhattan is a brutal place to play basketball.
Baylor 80, Missouri 68 – Baylor's length will give the Tigers plenty of problems. I like Scott Drew's team to bounce back from their first loss of the season in a big way.
Texas A&M 62, Oklahoma 59 – Both teams will struggle to score. I give the Aggies the edge because of the home court but in reality, I think both are on about the same level right now.
Texas 74, Kansas 73 – Let's get nutty! Blum – You and I both agree that whoever wins the Big 12 will have 4-5 losses correct? Kansas' losses have to come from somewhere. The young Longhorns damn near won in Manahattan on Wednesday. They're talented. Rick Barnes is one of the best coaches in the country. Upsets happen all of the time in college hoops and this one will go down in Austin on Saturday afternoon.
You're up…
Blum: Finally a quasi-interesting set of games.
Iowa State 73 Texas Tech 64 — A good Iowa State team should take care of business.
Oklahoma State 65 K- State 63– Rodney McGruder has been excellent for the Cats, but I like the Pokes in this spot. Travis Ford's boys are due for a rugged win.
Baylor 86 Missouri 78– I am jacked for this game. In the middle of the game, Mizzou's Flip Pressey and Baylor's Pierre Jackson may just stop action to have a 40 yard dash off. So much speed and athleticism. Bears win in Waco.
Oklahoma 61 Texas A&M 58 — The light is starting to flicker for OU. They have the bodies to hang with the Ags and OU's Steven Pledger has been better of late. A&M still looks like they are ready for spring break.
Kansas 75 Texas 70 — Don't expect an upset. KU is playing with so much swag (I heard Eric Heft use that word on the Cyclone Network pre-game this week and I was proud. I'm pretty sure Heft has Lil' Wayne on his playlist.) Thomas Robinson and Tyshawn Taylor are perhaps the best 1-2 combo in college basketball at the moment. Texas has been better, but has trouble with size. Not sure they have the ammo to hang.
Going to be a fun weekend CW!