By Chris Williams, CycloneFanatic.com PublisherFollow Chris on Twitter @ChrisMWilliams
AMES — While trailing Oklahoma State by six points with three minutes to play, Scott Christopherson had to make a decision. With the ball in his hands on the right wing, plan A was to get Royce White the basketball on the block. It wasn't there.
Christopherson moved onto Plan B, which turned out to be a fine option. It resulted in the Cyclone senior drilling a clutch 3-pointer over Oklahoma State's Keiton Page that clawed the Cyclones back within three.
Then it was Tyrus McGee's turn. Iowa State's "energy guy" hit his fifth three of the night that tied the game up at 68 with 17 seconds to play. It was Iowa State's basketball with 4.8 seconds on the clock.
Just like he chose to do down six with three to play, Christopherson put his team on his back, this time with a 25-foot game-winning buzzer beater.
Iowa State 71, Oklahoma State 68.
Hilton Magic lives.
"I didn't think it was going in," said Christopherson. "It was one where because of the time, you're pretty much just trying to get a shot up at the basket."
Christopherson didn't call the bank but the Cyclones still got the win, improving to 13-5 (3-2) on the season.
"We'll take them any way we can get them," said Christopherson.
The games other superstar, Tyrus McGee respectfully disagreed.
"I knew it was going in," said McGee who had 17 points and nine rebounds in the win. "I was going to crash the board. When it hit the glass, that was the touch right there. It was over."
The improbable shot was the first game-winner of Christopherson's career, who climbed the scorer's table to celebrate the win as soon as the ball went through the net.
"I don't really know what to say about that," said Christopherson. "I've never done something like that. Not even in high school. Not even in middle school. I was just…It was a good feeling."
BOX SCORE: Iowa State 71, Oklahoma State 68
PLAYER OF THE GAME
Tyrus McGee – It should probably go to the guy who hit the 25-foot game winning buzzer-beater correct?
Allow me to cut against the grain here fanatics.
Tyrus McGee gets the hardware for this one.
"Tyrus was big time. He was our energy guy all night long," said head coach Fred Hoiberg. "If we didn't have Tyrus tonight, there's no way we stay in this ball game."
McGee made one big play after another and it wasn't 0nly on offense. The fact that he tied his career-high with 17 points was huge but McGee's nine rebounds (another career-high) and a clutch forced turnover at the end of the game turned out to be priceless. Oh, and the big 3-pointer with 17 seconds to play? (WARNING:CycloneFanatic.com is about to go PG-13 for one sentence in a column.)
Just call him "Marbles" McGee from now on.
"The thing that I love about Tyrus is that he isn't afraid," said Hoiberg. "He'll step up and shoot that thing at any time."
Yes he will. Without flinching I might add.
"Sometimes you have bad nights but tonight, I guess I have to say was my night," said McGee, who was awfully hard on himself after the big win. "I make a lot of turnovers in game situations. I have to stop that to be honest. It happens to all of use. I had to make up for it."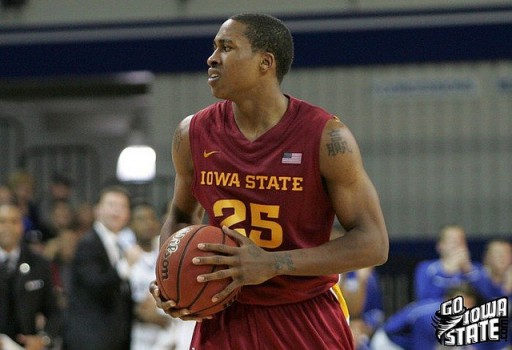 THREE UP
Confidence down the stretch – Scott Christopherson's analysis of the final three minutes of that game is spot on.
"This is probably the first time since I've even been here that you know in the last three or four minutes of the game that a team that I've played on got down five or six points and kind of had all of the momentum on the other team's side and pulled together and did what we needed to do to put ourselves in a spot to win. Obviously the last second shot, people will pay a lot of attention to that but Tyrus strips the ball and gives us a chance to get that shot off. Tyrus is aware of the situation. They don't pick him up in transition. He comes down and knocks down a three. We put together a couple of other stops, got some big rebounds and put ourselves in that position. In a night where we didn't play as well as we would have liked to, like I said, that hasn't happened since I've been here. Hopefully going forward that is something this team can take a lot of confidence in."
Fred Hoiberg chimed in on the same topic…
"Good teams find a way to win, even when you're not playing your best," said Hoiberg. "We found a way to gut it out and walk away with a W. Earlier in the season, I don't think that we do this. We'd probably lose the game by 10."
Keiton Page – I saw a lot of negative Nancy's on the Internet busting this guy's chops. Oklahoma State's 5-foot-9 point guard dropped 19 on the Clones last season and nearly slayed Iowa State again at home this time around. But that's no reason to despise the underdog. Page looks like a guy playing ball on Thursday nights at Iowa State's rec center in the 6-foot and under league at that. But he makes it look so easy! I like Keiton Page. Sue me.
This one is for Eli – The Voice of the Cyclones, John Walters delivered some sad news via his Twitter feed earlier today.
"ISU lost its biggest fan today. God Bless a great, loving family. RIP Eli Horn"
For those unaware of the situation, take a look at this outstanding video that ABC 5 sports reporter Dave Zawilinski put together in December.
That one was for Eli.
THREE DOWN
Second half defense – Oklahoma State shot 59 percent from the floor in the second half and surprisingly, Hoiberg wasn't as giddy as I expected him to be after the game.
"I talked to our guys about having that same kind of passion on that end of the floor for the entire game," said Hoiberg.
Early foul trouble – Royce White can't seem to stay out of early game foul trouble. White picked up his second foul with 12:54 to play in the first half. Hoiberg sat the 270-pound forward for the rest of the half. In the first seven minutes of the game, White had seven points.
Chris Babb – He's slumping again…Junior Chris Babb went 2-for-7 from the field (0-4 from 3-point range) against the Cowboys. He's now 2-for-15 in his last two games…
NOTEBOOK
— The Cyclone victory snapped a four-game losing streak vs. Oklahoma State.
— According to Iowa State's postgame media notes, Christopherson's buzzer-beater was the first for a conference win since. Feb. 23, 2002 (Omar Bynum layup vs. Kansas State).
— Royce White finished the game by going 7-for-10 from the field. In 27 minutes, White scored 17 points with five rebounds and six assists. It was White's 14th game of the season being in double-figures.
— Christopherson has made a 3-pionter in 50 of his last 52 games.