By Chris Williams, CycloneFanatic.com PublisherFollow Chris on Twitter @ChrisMWilliams
Seneca Wallace had "The Run."
Josh Lenz now has "The Catch."
With 10 minutes to go in the 4th quarter of Iowa State's recent 24-20 win over UConn, Lenz jumped like Michael Jordan. He stretched like a bow-string. He looked like Cris Carter dragging that left foot. Lenz made the catch of a lifetime. It was body control at its finest.
"The film is pretty. But standing from here to the trophy case was a lot better view of it," joked Iowa State head coach Paul Rhoads. "It was a phenomenal catch. I bragged about it as soon as I got home to my boys. I was sleeping sound on Saturday afternoon and they had to come and wake me up to tell me how great that they thought it was."
Lenz also remembers the play vividly.
"It was supposed to be a deep route but the corner was right there so I dropped it off," Lenz explained. "Steele was looking at me. He threw it my direction. I knew that I was pretty close. I wanted to make a play on the ball so I jumped up and going through my head, I remember thinking that I needed to keep a foot in-bounds. When I got up there, I tried to let my body go loose and get as flat as I could. I was able to stay in-bounds."
Josh Lenz is as humble of a football player as you well ever meet, so allow me to do the bragging for him. The junior out of Dubuque has been flawless in Iowa State's 3-0 start. In fact, I recently named him my first quarter MVP for the 2011 season. Lenz has caught two touchdown passes, been spectacular on special teams and even threw a touchdown pass to Darius Reynolds in the win over the Huskies.
"I could have had a little tighter spiral," said Lenz.
That comment is vintage Josh Lenz. Make a hell of a play. Discuss what you could have done better. I wouldn't expect him to say anything else.
If you like what you've seen from Lenz so far in 2011, you'll like this news. Iowa State's plan is to use him more in the coming weeks.
"I think that we need to take advantage of him more," said Rhoads. "I think that we need to play him more snaps than he actually got. We all know what he has done with the return game. His biggest return was on a punt safe that he basically did on his own. He is a heady player. He is a lot better athlete than people give him credit for. He is coming up big for us right now."
Reynolds is "Money"
And then there's Darius Reynolds.
In his first two seasons at Iowa State, "Money" caught two touchdown passes. In three games this season with a broken toe and all, he's caught four.
"He went into the UNI game with basically no practice. He went into the Iowa game with minimal practice," said Rhoads. "He got more last week and now he is full speed ahead."
"Darius is a physical freak. He is a 400-plus bench press guy. He's a middle-500 squat guy. He can jump 40-inches vertically. That's good catching the ball but it is also good blocking and other things in our offensive game. We need to take advantage of that and he's got to bring that with him. He can play even better than he has showed up to this point."
Rhoads nailed it in his season opening press conference when he praised Reynolds. While "Money" had plenty of doubters including yours truly, Rhoads predicted that his senior wide receiver was due for a breakout season.
"He has had a couple of successful games. To be honest, I think that he can play a decent bit better than he has played at times," said Rhoads. "He has made some big catches but he has got to make routine catches and be even more productive for our offensive football team and our overall team to be successful."
One of Reynolds' two touchdowns against UConn got a bit dicey. With approximately 11:30 to play in the third quarter, Reynolds' touchdown reception (from Lenz) nearly got erased, when he held the ball up (look below, great shot by our photog Brad Fuller) and appeared to be taunting the UConn defender. It was a close call, but give credit where it is due. Reynolds showed restraint and pulled the ball back.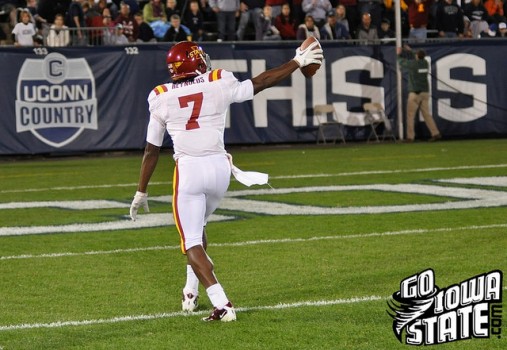 "He got horrified as he could see my raging face. He started to stick that ball up there, showed a better sense of judgment and pulled it in, said Rhoads.
"As he started to extend the ball, if he would have continued in a showboat fashion, I would not have been surprised or felt a flag was unjustified. The official saw it as well. He used good judgment, pulled it back in there and finished the play like I expect him to."