By Chris Williams, CycloneFanatic.com PublisherFollow Chris on Twitter @ChrisMWilliams
There's no question that Iowa State's strong safety Ter'Ran Benton is one of the best players on Iowa State's defense.
He's also arguably the best quote on the 2011 Cyclone football team.
For Benton's thoughts on his position switch, the secondary and his love of hitting wide receivers, check out this exclusive CF Q&A.
CF: How have you adjusted to your new role during camp?
TB: I feel really comfortable with it now. During the spring, I was making a lot of mistakes. I really wasn't comfortable. It was just like during my freshman and sophomore years at corner and nickel. Everything was going fast for me. I had my feet on my heels. I didn't really understand what was going on. Now, I have to be a quarterback in the backfield. Getting more coaching and watching more film with Coach Elliott has made me feel much more comfortable. This is my place. I don't feel ashamed moving to safety. I am comfortable and I feel like I can make it to the next level here. I'm pretty sure that I can make more plays here.
CF: That and you're a guy who really likes to hit too right? That makes this even more of a positive move then right?
TB: Oh yeah. I really like to hit. I've gained 10 pounds since last year. I want the receivers to feel me and let them know that it isn't going to be easy coming in the middle. I love to hit. It is a physical sport. If you don't want to be physical then you should play tennis or golf.
CF: You were aware that you were going to make this position switch last winter right?
TB: I was pretty sure. David Sims and Mike O'Connell left. We only had Earl Brooks, who played not that many snaps at strong safety. Nickelback is pretty similar to strong safety. I knew that it was going to happen. It was a matter of time.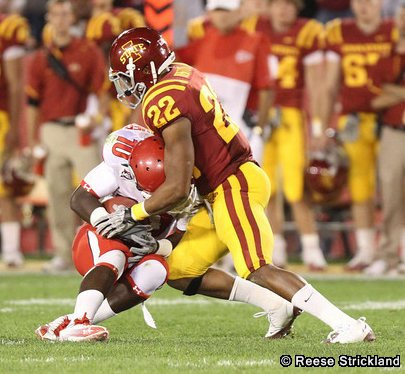 CF: You've put on 10 pounds. When exactly did you start preparing your body for the switch?
TB: I won't say that I lifted and gained weight for this position. I just feel like it just happened. It is genetics. When I first got here, I gained 15 pounds. I feel like if I want to be a physical safety, especially a strong safety, I needed to put on some good weight. I lifted heavier weight. If a 230-pound running back comes in the telephone booth, it won't be that nasty going head to head with him.
CF: By the way that you are talking, it seems like you almost have to have a completely different mentality at strong safety compared to corner. Is that accurate?
TB: At corner, you are on an island. You have to have the mentality that you are going to shut a person down. At nickelback, you have to have the mentality that you are prepared to go in the jungle. At safety, you're like a quarterback. You have to be poised. You can't over think. If you over think, that's six. A person will get to the goal post. The mentality is being poised, but you also have to be cocky. You have to have that swagger that nobody is going to catch you in the middle or throw a deep ball on you.
CF: So we know that you guys are set at the three spots in the secondary…What's going on at free safety? Will that be a comfortable position when Sept. 3 comes around?
TB: Jacques Washington is my roommate. He's really taken it. Durrell Givens has looked very athletic. I think that we are set at safety. It's nothing that we're worried about. Jake Knott and A.J. Klein, people didn't think that they'd do much. We're good at the safety spot.