By Chris Williams, CycloneFanatic.com PublisherFollow Chris on Twitter @ChrisMWilliams
Those days between fall camp and game week are always a grind.
The hardest work is over. Yet the fun is still two weeks away.
This has been an awkward week for not only Iowa State, but every other college football team in America.
"Whether it is an open week, which this sort of is, or if you are coming out of training camp, it is a long time until you play that game," Iowa State head coach Paul Rhoads said on Thursday. "If you begin the preparation too early, you can get the thought that you are prepared and done too soon."
Iowa State has lightly begun its preparation for next Saturday's opener against Northern Iowa but won't heavily get into it until later this week/early next.
HENRY SIMON ELIGIBLE
There is good and bad news to report regarding JUCO defensive tackle Henry Simon.
The good?
Simon will be on Iowa State's campus Friday afternoon.
The bad?
It's going to be a while before Simon is ready to contribute to this football team.
"He certainly will not be ready to play in the first game, nor do I expect him to be ready to play for a few weeks," Rhoads said. "I do not expect him to be in football shape. We will have to get that done first. He has a lot of football to learn and the system. I don't think that you'll see Henry Simon on the field any time soon."
KICKING COMPETITION UPDATE
Expect this one to go down to the wire.
Grant Mahoney doesn't have an edge over Zach Guyer.
Guyer doesn't have anything on Mahoney.
On Thursday night, I asked Rhoads how long into next week he could go before deciding on a starting kicker for Saturday's season opener.
"That might be Saturday before the game starts. I hope not," Rhoads said. "But in three days, it has switched every day. I am looking for a guy who acts like he is confident out there and can put the ball between the posts."
RICHARDSON, THIRD-STRING QB
Steele Jantz is number one. Jared Barnett is number two.
With Jerome Tiller out of the mix, who's number three?
"Sam Richardson," Rhoads said without hesitation.
"We will do everything at all costs to redshirt him. We would never put him out on the field in a one or three play situation. Brett Bueker has been on our roster the entire time we've been here. He can handle that and could go out to run really every play that we have in our offense."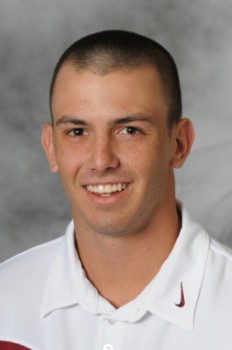 DEFENSIVE DEPTH CHART NOTES
When Iowa State released its latest depth chart on Thursday, it confused the masses.
Fans and media members alike saw A.J. Klein "moved" from SLB to MLB. They also saw defensive backs like C.J. Morgan and Deon Broomfield in the mix at SLB.
In reality, nothing changed at all. Confused yet?
Here's what you need to know. Iowa State's base defense is the nickel.
"The SAM linebacker and nickel spot is the same spot," Rhoads explained. "If that guy has to scoot in, he just scoots in. We call it a SLB. It is the same position, but those are the top two guys. If we were playing a power team, we'd change it and have a 4-3 with linebackers out on the field as opposed to Deon or C.J."
Defensive coordinator Wally Burnham took his explanation a step further.
"We put C.J. at the SAM/Nickel and that makes A.J. your full-time MIKE linebacker now," Burnham said. "He's not having to play two positions like he did last year."
Nothing has changed. In fact, Rhoads said that if he could have the last two years back, he would have made Iowa State's depth charts look this way the whole time.
"We have those guys there who can get out in space if they break the formation. It is all about semantics," said Burnham.
JOTTINGS
*** Every college football program is always looking for more depth at defensive tackle. Rhoads made a move last week when junior Jon Caspers switched from offensive guard to defensive tackle. How is Caspers progressing thus far?
"He's learning. To say that he isn't struggling wouldn't be right. He is making a transition back to a position that he played but he is doing it at the division on level against a really good offensive line and trying to not only relearn the position, but learn the defense. He is working awfully hard and I think he is at the right position for his physical skills."
*** It's early to be thinking too much about Northern Iowa, but defensive coordinator Wally Burnham did say this about the Panthers' offense after Thursday's practice.
"They run the zone option offense. They are always moving people with multiple formations, running the same plays," Burnham said. "The thing that you have to do is get your guys in the right spot, then be able to make plays. That quarterback is a really good football player. He doesn't throw the ball like some people you play against in the same offense but he is very capable."
*** Wally Burnham's quick scouting report of redshirt freshman SLB C.J. Morgan —
"C.J. has come a long way. He is going to be out of place because of inexperience sometimes but sometimes he'll just make a play on pure athletic ability. That's the good thing about him. He will slip under a block when he's not supposed to."