By Chris Williams, CycloneFanatic.com PublisherFollow Chris on Twitter @ChrisMWilliams
Everything that you need to know from Paul Rhoads' Monday press conference is written below. Enjoy.
Freshmen WR's will play: Two true freshmen wide receivers will take the field for the Cyclones on Saturday night vs. Northern Iowa. Quenton Bundrage and Ja'Quarius Daniels are those men. Polish and and size are the main reasons why.
"Bundrage is a receiver," Rhoads said. "He is the one that is most developed at the position. What I mean by that is, Tad Ecby is an excellent athlete. He has great size and speed but is still learning the things that you need to do to be successful as a wide receiver at this level, where Quenton is a little bit ahead of him. He catches the ball very well, which is awfully important."
"Ja'Quarius Daniels physically is more capable of some things at this point, just because he is bigger and stronger than some of the other guys."
Bundrage is listed at 6-foot-1, 176-pounds. Daniels is marked at 6-foot-3, 225-pounds. Both are listed at third-string on Iowa State's latest depth chart.
Injury Update: Senior wide receiver Darius Reynolds was scheduled to get out of his cast for a broken toe on Monday afternoon.
"We will see where he is heading towards Saturday."
Rhoads said that Reynolds would hit Iowa State's SwimEx machine hard throughout the week.
QUOTEABLE:
Paul Rhoads on Northern Iowa…
"They probably have better team speed overall than we do."
Paul Rhoads on Texas A&M's departure to the SEC
"I am really excited about UNI coming to town on Saturday night. We'll be anxious to play that football game."
Jake Knott on Northern Iowa…
"They look like a Big 12 team. There is no doubt about it and we know about the talent level that they have. We are expecting a really tough game. They are going to give it to us and we need to be ready."
JOTTINGS
— Crowded backfield: Much to my surprise, Rhoads said the he anticipates four different running backs to play for Iowa State on Saturday night. Shontrelle Johnson is listed as Iowa State's starter, but according to Rhoads, Jeff Woody, James White and Duran Hollis are all very much in the mix.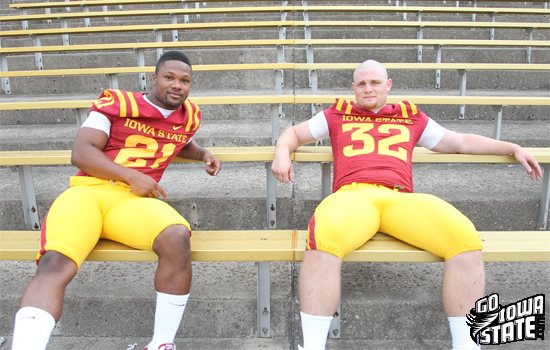 — Tiller, a wide receiver?: What's next for Jerome Tiller? If he becomes academically eligible for the 2012 season, you might see him at wide receiver. According to our Austen Arnaud on 1460 KXNO Monday night, Tiller is already practicing at the position for the Cyclone scout team.
"First of all, he has to get himself eligible," Rhoads said. "To do that, the last time I checked you had to go to class, pay attention, study and take care of your business. Those will be the expectations of him first and foremost. We will evaluate what he is in the future as time goes along. Is there a possibility that he could be a receiver in 2012? Very much so."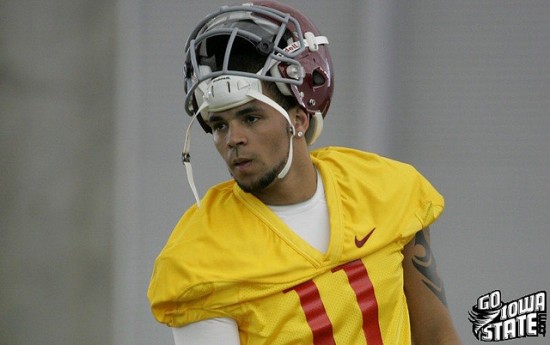 — Junior defensive tackle Henry Simon will not play on Saturday. Don't be surprised. Rhoads alluded to this news last week when he annoucned that Simon would be eligible for the 2011 season.
— Different mood: Paul Rhoads on his team's demeanor when they arrived to practice on Sunday night…
"There was a different atmosphere, a different environment, as game week had finally arrived," Rhoads said. "You're tired of practicing against each other. You're tired of hitting your teammates in the same color of jersey."
Want more from Monday? CLICK HERE for our video quick hits.