By Chris Williams, CycloneFanatic.com PublisherFollow Chris on Twitter @ChrisMWilliams
Ever since Dan McCarney booted Jason Berryman from the Iowa State football program back in 2006, consistent play at the defensive end position has been scarce in Ames.
Paul Rhoads and his defensive coaching staff are hoping for that to change in 2011 and beyond.
When Sept. 3's season opener against Northern Iowa rolls around, the Cyclones will field a nice mix of veterans, sprinkled with some talented youngsters in the program as well.
— When I asked defensive ends coach Curtis Bray about his two freshmen on Monday after practice, a smile the size of Alaska dominated his face.
"I love the two freshmen," Bray said. "If they are going to be ready this year or not, I don't know. But I love them. They could be special players at Iowa State."
On the 6-foot-7, 261-pound David Irving…
"I see a guy who has all of the potential in the world. He just needs to play more football. He only played two years in high school. He is still 17 years old. He doesn't shave. He has a baby face. He is a young kid. He's really long. He's almost unblockable at times. Once he learns all of the technical sides of the position, he will be a great player."
And Devin Lemke…
"Devin is a tough kid. That's what you expect from a kid who wrestled at 215. He is such a quiet kid, you don't know if you are going to get that. That's been the biggest surprise. His biggest asset is great quickness. Right now, he is only 210 or 215."
— Two things make Bray optimistic about his position group this fall. His players are bigger and the program has lot more depth than it did a year ago.
"I think that is one thing with all of our defensive ends. They were 235, they're 250 now," Bray said."It gives them confidence. They aren't giving up 100 pounds to an offensive lineman, besides Kelechi Osemele. Physically, they are stronger. I think that they just feel better about it."
Jacob Lattimer and Roosevelt Maggitt are currently listed as Iowa State's two starters at defensive end. Expect senior leader Patrick Neal (pictured below) to make an impact as well.
"With their experience, they are playing a lot more physical," Bray said. "They are playing like two seniors and a junior, like the top two guys should be. They have a lot of games under their belts. They are taking coaching and trying to be physical."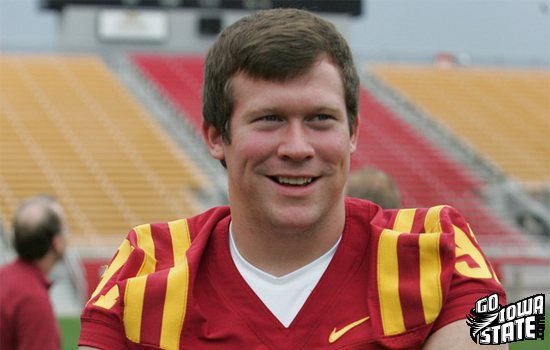 — Here's some good news. Junior college transfer Rony Nelson (who had to sit out last season) is finally starting to make his mark on the program.
"He had his best scrimmage since he has been here," Bray said. "He has got to pick up his consistency. He has flashes. He has all of the athletic ability that you want. He's flashing it more and more with less mistakes. His mistakes are coming down and his good plays are going up."
Bray said that the year off was beneficial for Nelson (pictured below), who is currently listed at third-string at left end behind Lattimer and sophomore Willie Scott.
"He needed it, with his conditioning for one thing," Bray said. "Those guys show up here from junior college and it is a whole different deal."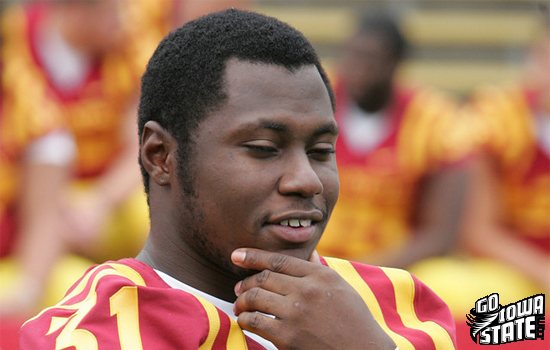 Nelson is a fierce pass rusher.
Having said that, he needs to become a more complete defensive end.
"The biggest thing for him that I tell him all of the time is to work on things that he is not good at," Bray said. "All that he wants to do is rush the passer because that's what he is good at. That's not going to get him on the field. He has got to attack his weaknesses. He is getting there."
Translation: Nelson needs to work on his rush defense before he'll see the field consistently at Iowa State.