By Chris Williams, CycloneFanatic.com PublisherFollow Chris on Twitter @ChrisMWilliams
STICKING WITH BIG 12: According to Big12Sports.com columnist Wendell Barnhouse, the Big 12 will stick with the name Big 12 going forward with 10 teams. This should be lock solid information. After all, Barnhouse gets paid by the conference.
"Most people believe that the Big 12 is the name on the banner under which we have competed, under which we've won national championships," Big 12 commish Dan Beebe said in a quote form Barnhouse's blog. "I think the name we have is the name we're going to continue with."
My take: I understand. I don't like it, but I understand. The branding thing makes sense, as it does for the Big Ten as well. But having a Big Ten with 12 teams and a Big 12 with 10 teams is just SO STUPID. From a branding perspective, changing things up now would be a bad more for everybody. But again, I can't get past the point of how stupid this is. I don't have an answer to this issue. I'm openly just spouting off.
What else are you going to call these leagues? The Big Ten has been around forever and the "Texas Ten" probably isn't appropriate for the Big 12. The bad math jokes will never end.
AN INTERESTING POLL: It's nice to not have to worry about realignment anymore. Last summer was hell for everybody involved with Iowa State athletics. When you get down to today's edition of "LINKS GALORE," you'll see some interesting reporting regarding possible expansion with the Big East in football.
I found THIS LINK from ESPN.com's Big 12 blogger David Ubben interesting earlier today. Ubben polled Big 12 fans on if the league expands in 2015 (when the first-tier TV rights are up), who they'd like to see added to the mix. Now notice that Ubben points out that the league is not looking to expand at this time.
Other than the cheap shot that Ubben takes at Iowa State in the BYU-Air Force paragraph, this is a solid read.
Participating fans would like to see addition of Arizona and Arizona State. That'd be nice, but why would they want to make that move? Those two schools are printing all sorts of paper with the Pac-12's new TV deal.
Expand…Don't expand…I don't really give a rip. Just make more money for Iowa State. Period.
NIANG FEATURED: The following quote sums up 2012 Iowa State basketball commit Georges Niang's personality pretty well.
"You throw me into the jungle and I'll come out 15 pounds heavier from eating these dudes!"
Niang recently made that comment to one of his local newspapers, the Eagle-Tribune.
Niang is hilarious and I think you'll enjoy the article that is linked above.
BOLTE WAIVED: Unfortunately, former Iowa State women's basketball player Kelsey Bolte has been waved by the WNBA's Atlanta Dream.
Bolte will land on her feet. She is a fantastic basketball player and a class act off the court as well.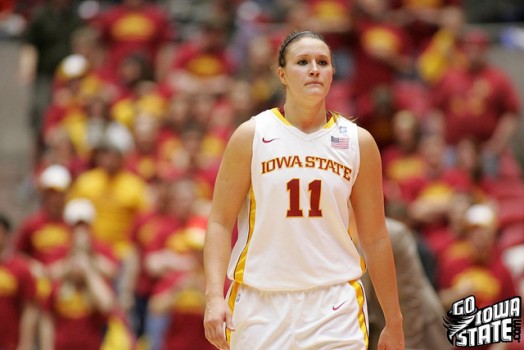 LINKS GALORE
– Iowa State wasn't the only Big 12 school to sign a big man over the weekend. New Texas Tech head coach Billy Gillispie locked up Mali native Daouda Soumaoro, who like Percy Gibson, stands 6-foot-9. CLICK HERE for a CBSSports.com link. Soumaoro picked Texas Tech over St. Johns and Washington.
– Here is some very solid reporting by Brett McMurphy from CBSSports.com regarding the future of football in the Big East. Expansion is a major topic in the piece and NO, Iowa State is not mentioned. The one thing that I learned last summer though was to keep up on expansion topics, no matter what league is being discussed. You never know when the hammer might drop. Having said that, relax. Iowa State is in a good spot today.
– Curious to learn more about Baylor football since the Cyclones will be playing the Bears every year from here on out? Here's an in-depth Q&A with Baylor head coach Art Briles.
– Big news in the world of Cyclone golf. Iowa State women's golf coach Christie Martens has been named the Division I SkyCaddie Central Region coach of the year by the National Golf Coaches Association.