By Chris Williams, CycloneFanatic.com Publisher — April 29, 2011, 10:30 a.m.

Happy Friday my fellow fanatics! It finally feels like spring today here in central Iowa and surprisingly, there is quite a bit of Cyclone related news to go over. Enjoy this roundup for Friday, April 19, 2011.
POOR START FOR MANN: Cornell Mann couldn't have gotten off to a worse start at Iowa State. After being on the Cyclone men's basketball coaching staff for less than two weeks, Mann was charged for a OWI on Tuesday night in Dayton, Ohio.
From the folks I have talked to, it doesn't sound to me like Mann will lose his job for this ordeal. But really, who knows? I'm sure that Fred Hoiberg and the powers that be have a lot more information than the general public does at this point and that's the way that it should be.
ABC 5 sports director John Walters broke this news yesterday afternoon. I was in meetings all day and learned about the news on our CycloneFanatic.com message boards about three hours after it all went down.
NFL DRAFT NUGGETS: Here's a stat for you. Last night, not one Texas Longhorn or Oklahoma Sooner was taken in the 2011 NFL Draft. According to ESPN.com's Big 12 blogger David Ubben, the last time that happened was in 1998. CLICK HERE for a strong read by Ubben, on the future of the Big 12 from a power perspective.
– Missouri had two players taken in the top 10 of last night's draft. Color me impressed Gary Pinkel.
– I think that the Denver Broncos struck gold by taking Texas A&M DE/LB Von Miller with the second pick. Miller is the definition of a super freak. I'm no Todd McShay, but from a total package standpoint, Miller is my favorite player in this year's draft.
– Two Baylor Bears were taken in last night's first round. Defensive tackle Phil Taylor was drafted to Cleveland (21) and Danny Watkins went to Philadelphia (23). Ubben makes a solid point in the linked article above. Programs like Missouri and Baylor might not compete for Big 12 titles in the near future, but they're starting to recruit a higher caliber of player compared to 10 years ago. This paves a bumpier road for Iowa State in the new Big 12. The good news is that by what we believe here in Ames, Iowa State's talent level is rising as well.
ADVICE FROM REGGIE STEPHENS: No Cyclones were taken in last night's first round. This should not surprise anybody. It was to be expected. Still, I can only imagine that guys like Collin Franklin, Ben Lamaak, David Sims and Alexander Robinson were at least a little be anxious while watching other names come off of the board.
No fear fanatics. The Des Moines Register's Randy Peterson to the rescue! Peterson recently caught up with former Cyclone (and current Cincinnati Bengal Reggie Stephens) to discuss this process, where he was picked in the seventh round of last year's draft.
For more on Iowa State and this year's draft, CLICK HERE to listen to the latest CycloneFanatic.com podcast, where Ben Lamaak was my co-host.
KO IN THE 2012 DRAFT: I am a big fan of Mel Kiper. When a dude can start naming the credentials of offensive guards from Conference USA off the top of his head, that's impressive. I don't care who you are. Anyway, Kiper already released his top five at each position for the 2012 draft. Iowa State's Kelechi Osemele is Kiper's fourth best offensive tackle.
CLICK HERE to read more on that and the rest of the Big 12.
After taking a quick look at Iowa State's post spring depth chart, one would think that a few other guys like: Leonard Johnson (CB), Ter'Ran Benton (DB) and Hayworth Hicks (OL) would have a shot too. Jacob Lattimer (DE) and Stephen Ruempolhamer could get a sniff too. Who knows? It is way too early but fun to think about.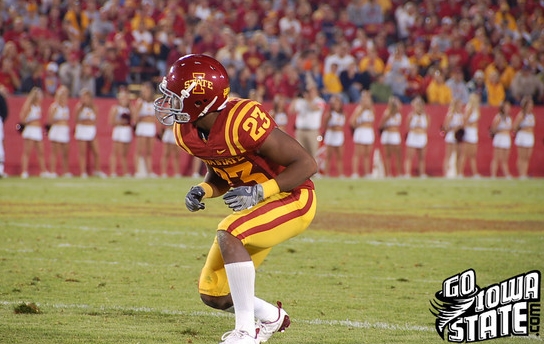 FENNELLY OPENS UP: Numerous people who I really respect in my line of work have told me that Ian Smith's coverage of the 2010-2011 Iowa State women's basketball season for CycloneFanatic.com was second to none.
Well, we got a ton of positive feedback from my recent one-on-one interview with new Iowa State assistant men's basketball coach Matt Abdelmassih. So I called Ian up and said, let's get one of these bad boys with Fennelly, who I believe is the most interesting person inside of Iowa State's entire athletic department.
Earlier today, I posted part one of Ian's exclusive with Coach Fennelly. The two talk a lot about Fennelly's honor to coach Team USA this summer in today's installment. Stay tuned next week for Fennelly's thoughts on next year, the rumors concerning him and Wisconsin, Twitter, the St. Louis Cardinals and MUCH more.
QUICK HITS:
– I'm still waiting on my guys over at Wide Right and Natty Lite to reveal their comparison of Big 12 schools to country music stars….It is getting to the point where I can hardly sleep at night. Oh the suspense…
– Most of you know by now that I am a big fan of the Minnesota Vikings. So I called my boss this morning. Here's how the conversation went.
Me: Hey what's going on?Him:Still laughing from last night.
Boss man was referring to the Vikes selecting Florida State quarterback Christian Ponder with the 12th pick in the draft. I went on to explain to him that every year, no matter who is in charge, when the draft rolls around, be at your TV when the Vikings come up. They ALWAYS keep things interesting.
There is only one guarantee with this pick. That is that Christian Ponder is going to get absolutely mauled by Detroit's defensive line for the next decade.
LINKS GALORE
– If you read this blog consistently, you saw the YouTube video from Cy's House of Trivia, where Paul Rhoads did his best Chevy Chase impression last week. Ames Tribune sports editor Bobby La Gesse recently caught up with Rhoads to get the inside scoop on this topic. Check it out here.
– Interested in the Title IX debate? Here's a good read by one of the best in the business, Blair Kerkhoff from the Kansas City Star. His idea is to take football out of the picture. It makes sense…
– Another WAY too early top 25 for the upcoming fall. The Sporting News delivers this one to us, where Oklahoma is ranked No. 2 behind LSU. The Sooners will likely be the top-ranked team in America when September rolls around. I like the Sporting News cutting against the grain a little bit here.
– Iowa State stats guru Kirk Haaland with a look at Iowa State's two-year turnaround in football.
– Paul Rhoads received a nice honor from Missouri Western State University yesterday.
– The Iowa State women's track team put together a nice showing at the Drake Relays last night.
– If you haven't seen this by now, Iowa State announced its wrestling recruiting class of 2011 earlier this week.