By Brent Blum, CycloneFanatic.com Columnist
Ten years ago this week, the Iowa State men's basketball team traveled to Allen Fieldhouse for a Big Monday showdown with the Jayhawks. The Cyclones were ranked 12th in the nation, but trailed Roy Williams' fifth-ranked KU squad by a game in the Big 12 standings. Prior to the contest, Cyclone point guard Jamaal Tinsleyfamously quipped that the esteemed Phog Allen Fieldhouse was, "Just another gym."
Tinsley and fellow back-court stalwart Kantrail Horton bombed away from the beginning, as the Cyclones knocked down 11-of-17 treys, including a Horton 30-foot launch from the giant Kansas "S" near the half-court line to give Larry Eustachy's club a 73-62 lead with four minutes left. KU rallied, but Luke Axtell's three at the buzzer to win the game rattled out. Cyclones 79, Jayhawks 77.
It was the Cyclones' fourth straight win against the Jayhawks. They would add a fifth straight victory over KU two weeks later at Hilton Coliseum. Iowa State vaulted to sixth in the nation in the rankings and cruised the rest of the way to their second straight outright conference title.
"Just look at the teams below us in our conference," Eustachy said at the time. "You're talking about a major, major powerhouse conference. We've been on top of this league twice in the past two years. It's staggering."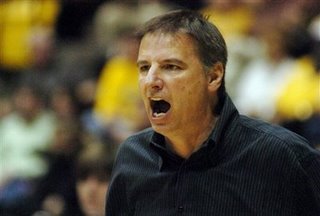 A lot can happen in 10 years. Staggering indeed.
A few days after clinching that second straight Big 12 title, the No. 1 seed Cyclones went to Kansas City for their opening round match-up with Baylor at Kuemper Arena. "Hilton South" turned sour in a hurry. The Bears dispatched of Iowa State 62-49. It was the first time a No. 1 seed had fallen in their opening game at the Big 12 tourney. It was a harbinger of many bad things to come. The start of the lost decade.
Hampton. Loss to San Jose State breaks 39 game home streak. Tommie King. Jerome Harper. Shane Power. Ricky Morgan. Chris Alexander.
Pete Taylor.
Larry Eustachy. Botched coaching search. Tim Barnes. Adam Haluska. Robert Faulkner. Adam Schaper. Aaron Agnew. Ivan Chiriaev. Exhibition loss to EA Sports. Iona. Fresno State. Colorado and Andy Osborn's socks. Tasheed Carr. NIT snub. Will Blalock. Curtis Stinson. D-1 scheduling fiasco. Wayne Morgan.
Shawn Taggart. Farnold Degand. Hubalek NCAA suspension. Corey McIntosh. Ross Marsden. Dodie Dunson. Mike Taylor. Staiger ineligible. Marcus Brister. Clayton Vette. 35-point loss to Drake. Cory Johnson. Wesley Johnson. South Dakota State. Clinton Mann. Wes Eikmeier. LaRon Dendy's shot selection against UNI. LA Pomlee. Lucca Staiger. Fifth straight Big 12 tourney loss. Marquis Gilstrap denied fifth year. Brackins to NBA. Justin Hamilton. Dominique Buckley. Chris Colvin. Greg McDermott. LaRon Dendy. Charles Boozer.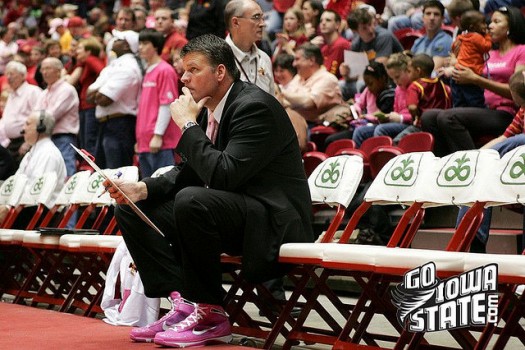 Whew, that was painful. And yes, I know I'm forgetting many other travesties. I'm taking therapy with Dr. Phil to try and remember. Needless to say Iowa State has had its share of unsavory memories in the last ten years.
After experiencing a 10 year binge of misery, the hangover is hard to kick. Fred Hoiberg brought a fresh start and provided the metaphorical tylenol, but some lingering headaches exist.
We all thought this season would be an uphill battle. The quick start and 13-2 non-conference record gave doubters some new-found hope. A competitive game with Kansas, followed by a convincing win against Baylor allowed thoughts of postseason play to fester. It was clear that the Cyclone Nation was desperate to cling to any string of success. Unfortunately, the lack of depth and size has caught up with Coach Hoiberg's bunch. And the conference season has untangled like many feared. The Cyclones now sit in last place in conference, in danger of finishing in the basement for the first time in conference play since 1980-1981.
It's remarkable how much can change in a 10 year time period.
From 1991-2001, Iowa State won 208 total games, went to seven NCAA tournaments, won a Big 8 tournament title, a Big 12 tournament title and two outright regular season Big 12 titles.
From 2001 on, Iowa State has won 157 games, went to one NCAA tournament, and finished in the top half of the conference only one time.
The Cyclones won three games in their memorable run to the Big 12 tournament title in 2000. They have won just three conference tournament games in the 11 years since, never advancing past the quarterfinals.
The lack of postseason success gets more abysmal in the last six years. Iowa State's last win in the Big 12 tournament came on March 10, 2005 against Baylor. They haven't made it out of the opening round since. What once was an enjoyable trek that turned into a long weekend has turned into a horrendous one-night stand.
And after that troubling opening round loss, there has been no other postseason to look forward to. The Cyclones haven't participated in a postseason event of any kind since the 2005 loss to North Carolina in the NCAA tournament. No NCAA. No NIT. Not even the CBI.
In fact, Iowa State is the only team in a BCS conference who hasn't played in a postseason event in that time-span. For real. Traditional door-mats like Northwestern, Oregon State, South Florida, DePaul and Auburn have had at least an NIT or CBI appearance.
Even the pudgy kid with acne is getting action on the dance floor and we're left in the corner sipping an RC Cola.
Facebook was just a one year old start-up and Youtube hadn't gone public yet the last time Iowa State played in the postseason.
To make matters worse, the vaunted Hilton Magic has been anything but supernatural. In conference home games since 2005, Iowa State is a very pedestrian 19-26. To put that in perspective, Iowa State lost 26 conference home games total from 1994-2005.
The sobering reality is enough to make you drink.
The blame can be spread around to all involved over the past decade. That's not the point.
Bottom line is after a decade of desolation, the once proud Cyclone basketball program is due for a renaissance. The fan-base has certainly earned it. Despite the multitude of hardships Iowa State has experienced, the fans still show up. Iowa State is consistently in the top 25 in the nation in attendance. That's pretty stellar all things considered.
Rest assured, once the wins return, the Magic will follow and Iowa State will become prominent again. And I believe the Mayor is the perfect man to lead the way.
Let's just hope we don't have to wait another decade. This one has been painful enough.