By Chris Williams, CycloneFanatic.com Publisher
No complaints here. Iowa State is 2-0 after the opening weekend of the college basketball season after blowing out Alabama State 74-47 on Sunday afternoon. Here are my thoughts on the contest.
LISTEN: ISU, ASU post game press conference
BOX SCORE: Iowa State 74, Alabama State 47
PLAYER OF THE GAME
Jake Anderson – Through two games, you don't have to be Jay Bilas to see who is going to be the glue for this year's Cyclone basketball team. That is Northern Illinois transfer Jake Anderson. With 10 points and 12 rebounds, Anderson was Iowa State's most valuable player while only taking five shots in the contest.
"He has been awesome," Iowa State head coach Fred Hoiberg said afer the game. "He loves the challenge. He loves to go out and play against the other team's best scorer. Jake plays with so much passion and pride."
"I'll tell you what. He has been probably the biggest surprise for me coming into this. We knew that we were getting a good player. We didn't think he was this good."
I gave Anderson my "Player of the Game" award after Friday night's win too. Something tells me that he'll collect a lot of hardware by the time March rolls around.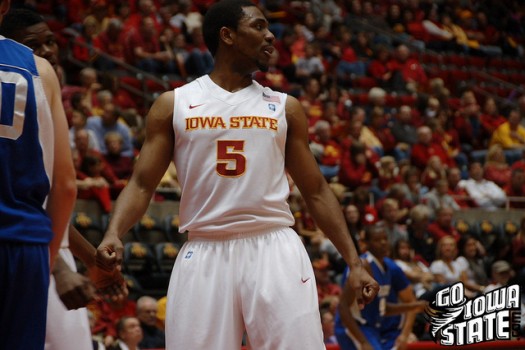 THREE UP
TCB – They didn't make you sweat. Along with the women's basketball team's Saturday night victory, it was a relaxing opening weekend in Hilton Coliseum. That's the way it is supposed to be when a Big 12 team plays a low-major program like Northern Arizona or Alabama State. There wasn't a single point during the weekend where Iowa State didn't dominate a lesser opponent.
"We knew that the Northern Arizona game was going to be a battle. Those guys had a veteran team. To come out and get that one on opening night was huge," Hoiberg said. "This was a team that we wanted to jump on right away. It didn't happen as planned but we jumped on them after the first few minutes. That is what you have to do with a team like this, jump on them early and take away their confidence."
DeMarcus Phillips – Last Wednesay, Freb Hoiberg said that he didn't think JUCO transfer (Marshalltown C.C.) DeMarcus Phillips would play until the Drake game on Nov. 17. Phillips, who has been recovering from a broken bone in his non-shooting hand, saw seven minutes of action in Sunday's win, where he scored four points and grabbed a rebound.
"I wanted him to get out there and just get the rust off," Hoiberg said. "He still hasn't gone through a full practice yet but I wanted to get DeMarcus some minutes out there, just to go out there and experience it in front of a crowd and get a sweat going. You can tell that he is a little bit out of shape still. He wasn't running the floor like we anticipate that he will."
Defense – In the first half of Sunday's win, Alabama State shot just 29 percent from the field. In the first half of Friday's win over Northern Arizona, the Lumberjacks shot 27 percent from the floor in the first half. What this 2010-11 Iowa State team might lack in talent, they make up for with energy and hustle, which usually equals salty defense. Alabama State ended the game going 16-of-59 from the field, which totaled out to be 27.1 percent (after a 7-for-28 second half). That is the 19th-lowest opponent total in Iowa State basketball history. The Hornets were a dreadful 3-of-22 from 3-point range.
THREE DOWN
Student Attendance – I've covered Iowa State basketball in some capacity since 2004. I have never seen a worse student turnout to a game inside of Hilton Coliseum than what went down today. It was terrible. I understand that the 1 p.m. tip on a Sunday isn't ideal for many college kids but that was pathetic. I didn't think that Friday night's turnout was too bad. Hopefully the students will be feeling frisky when Drake comes to town on Wednesday.
I've only got one down for you today. Posting anything else would be extremely nit-picky and unproductive at this point.
NOTEBOOK
–       Iowa State outrebounded Alabama State 42-33. That was encouraging to see after the Cyclones lost the battle of the boards against Northern Arizona on Friday night.
–       Iowa State is now 15-0 against SWAC schools.
–       Diante Garrett had five assists in the win. That is his 45th career game with five or more assists. Garrett also had four steals in the contests, which ranks him 18th all-time with 103.
–       Freshman Melvin Ejim was one rebound shy of a double-double on Sunday. Ejim had 15 points, while going 7-of-8 from the free throw line.
"I thought that he did a really nice job of taking his guy off the dribble," Hoiberg said. "He is one of our better slashers, especially when he is playing the four. He is going to be quicker than a lot of the players guarding him."
–       Scott Christopheron bounced back nicely from his 1-for-10 outing against Northern Arizona. Christopherson went 6-of-11 from the floor to score 15 points while he also dished out four assists. Christopherson was 3-for-4 from 3-point range.
–       That same Northern Arizona team that Iowa State blew out on Friday night nearly upset the Creighton Blue Jays today. Creighton got behind the Lumberjacks early in the second half but came back to collect the 74-70 victory. Iowa State will play Creighton in Des Moines' Wells Fargo Arena a week from today.
WHO'S NEXT?
Fred Hoiberg will get his first taste of coaching against an in-state team on Wednesday night when the Drake Bulldogs (1-0) come to town. Drake defeated Texas Southern on Saturday night by a 60-46 final. In that win, Drake's senior guard Ryan Wedel led the way with 20 points. That game will tip at 7 p.m. and is scheduled to be televised on Mediacom.