By Chris Williams, CycloneFanatic.com Publisher
I'm not surprised that Iowa State is 6-0 right now. In fact, if you CLICK HERE, you'll see that I predicted this before the season began. Now don't get me wrong. Picking Iowa State to start off this season 6-0 wasn't a hard thing to do. The only questionable game on the docket was against Creighton, a team that you knew would be playing without one of its best players. It is the dominance that Iowa State has displayed so far that has been so impressive.
Regardless of how badly you beat an opponent, you only get one "W" next to your name. But don't kid yourself. Sometimes, style points do matter. They're especially important to an inexperienced basketball team with a rookie coach.
Walk through the Sukup practice facility sometime and you'll see for yourself. The Cyclones are spewing with confidence. Diante Garrett can't quit smiling. Jamie Vanderbeken is all of the sudden a really good quote. Jake Anderson has been reborn and the scout team has embraced their role of mimicking the opposition. They're actually enjoying it too.
It has been written about enough now but this upcoming stretch of non-conference games could dictate how the season might play out for the Cyclones. Iowa State will travel to UNI and Iowa, while hosting Cal in three of its next four basketball games.
On Nov. 11, I picked Iowa State to lose to the Panthers. When I write my game preview, I'll likely take the Cyclones to return to Ames with a 7-0 record.
Things are well right now inside of Iowa State's basketball program. Enjoy it fanatics.
For you stat geeks out there…
– Scott Christopherson currently leads the nation in 3-point shooting at 64 percent on the season. Christopherson is 18-of-28 from 3-point range. Only Oklahoma's Cade Davis (19) has made more treys than Christopherson.
– Diante Garrett is among the Big 12's leaders in both points and assists so far in 2010. Garrett is averaging 17.5 points and 6.5 assists per game, ranking him sixth and second in the league.
– The Cyclones are averaging 9.5 3-pointers made per game. That is the best in the Big 12. Missouri ranks second with 7.6 per contest.
– The Cyclones rank second in the Big 12 (behind Kansas) in assist-to-turnover ratio at 1.65.
– Iowa State ranks second (behind Kansas) in assists per game, with 18.17.
Here's a look at how some future Iowa State opponents/the Big 12 have performed so far in 2010.
FUTURE NON-CON OPPONENTS
Saturday, Dec. 4 vs. California (3-2)– The Bears have won the games that they were supposed to but that's about all you can say about this team. Cal recently participated in the Old Spice Classic. They lost to Notre Dame and Boston College (neither game was close) in that tournament, while picking up a decent win over Temple. The Bears' 89-64 rout of Steve Alford's New Mexico team was impressive. This team was picked to finish near the middle of the pack in the PAC-10 but without consistent guard play, the Bears are having problems scoring points. If this game was to be played tomorrow, Iowa State would be the favorite by five or more in my opinion.
Friday, Dec. 10 @ Iowa (3-3) – This is a trap game. It is hard to not fall into it too. Iowa has a bad loss to South Dakota State. They went to the Paradise Jam and lost to both Long Beach State and Xavier. Still, a win over Alabama proves that the Hawks can play with BCS competition and you know that they'll have Dec. 10 circled on their calendar. Carver Hawkeye Arena hasn't been kind to Iowa State in recent years. Everything is different now though. Both programs have new coaches. The personnel on each team is a shadow of what it once was. Before the season began, I would have tabbed Iowa as a five to 10 point favorite in this game. Now, I'd probably favor Iowa State by a few. I reserve the right to change that after Wednesday though. I want to see how Iowa State reacts to a true road game in a tough environment. Keep in mind that Northern Iowa has the nation's sixth-longest active homecourt winning streak at 17 games. Regardless of how Iowa State plays over the next week, that doesn't change the fact that Iowa isn't a good basketball team. That has been painfully obvious (for Hawk fans) so far.
Thursday, Dec. 30 @ Virginia (4-3) – Good luck trying to figure this team out. The Cavaliers lost to Washington 106-63 in the EA Sports Maui Invitational. Last night, Virginia went on the road to upset 15th ranked Minnesota (who beat North Carolina) 87-79. Welcome to November basketball. Virginia's other losses were to Stanford and Wichita State. Virginia was picked to finish last in the ACC. This team is as inconsistent as they come. Virginia has a senior, 6-foot-8 forward Mike Scott, who could give Iowa State some trouble. He's averaging 16.6 point per game with 9.7 rebounds.
Monday, Jan. 3 vs. Northern Illinois (2-3) – There's no need to worry about this game Cyclone fans. Jake Anderson will be jacked to the moon for this one. Plus, the Huskies just don't appear to be very good with losses to Northwestern, Bradley and Boise State. NIU's two wins came against Cardinal Stritch (who?) and Maryland Eastern Shore.
REMAINING NON-CON SUMMARY – These are a bunch of inconsistent basketball teams who like the Cyclones, were picked to finish towards the tail end of their perspective conferences. Iowa State can win all of these games. Other than Northern Illinois, Texas Southern, Dartmouth and Chicago State, they could also lose them.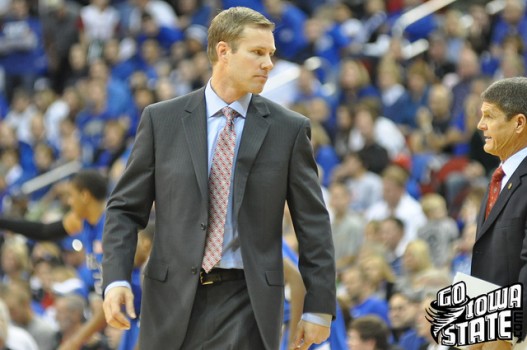 THE BIG 12 SO FAR
Biggest Surprise – Iowa State
I think that if you'd poll a panel of Big 12 writers or even fans for that matter, Iowa State would be voted the biggest surprise in the Big 12 so far. I really don't know who else would even be in the conversation. This team was picked to finish last in the league, yet they're outscoring opponents by an average margin of just over 25 points per game.
Biggest Disappointment – Colorado
Are you kidding me Tad Boyle? You're just joking around right? Please tell me that the Buffs, a team that I picked to make the NCAA Tournament, didn't just lose to Harvard by 16 on Sunday. The Buffs have also lost road games to Georgia (without their best player) and San Francisco. Colorado's two wins have come over Idaho State and Alcorn State. Alec Burks and Cory Higgins are potentially two NBA players so the Buffs will win same games, but somebody else has to step up. Higgins and Burks are averaging 19.2 and 22.4 points per game respectively. Colorado's third leading scorer is Marcus Relphorde. He's averaging 9.8 points per game.
They are who we thought they were – Oklahoma (3-3), Nebraska (4-2) and Texas Tech (4-3)
– The Sooners have played well on the mainland with wins over powers like Coppin State, North Carolina Central and Texas Southern. Oklahoma's trip to the Maui Invitational was nothing short of a disaster though. After losing to Kentucky by 12 (I actually watched this game and was impressed by the Sooners), Oklahoma then lost to Virginia by 18 and Chaminade by four. Oklahoma will come to Ames Jan. 29 in what is still a very winnable conference game for Iowa State.
– Doc Sadler's Nebraska team has had a similar start to its season. The Huskers haven't lost in Lincoln, with wins over South Dakota, Arkansas Pine Bluff and Southern California (in the PAC-10 Big 12 Hardwood Challenge). In a trip to the Puerto Rico Tip-Off, the 'Skers went 1-2, while losing to Vanderbilt and Davidson with a win over Hofstra. Iowa State will travel to Lincoln in its first conference game of the season on Jan. 8. I think that Iowa State is better than this Nebraska team, but we still haven't seen the Cyclones on the road. I like the Clones on Feb. 26 in Hilton. Flip a coin on the Jan. 8 matchup.
– Talk of Pat Knight's job security will likely pick up over the next few months unless something dramatic happens in Lubbock. Texas Tech recently played in the South Padre Island Invite. While basking in the Texas sun, Tech lost to Saint Mary's by 20 and USF by four. Losing to North Texas on Nov. 16 didn't help Knight's cause. Tech will invade Ames on Jan. 26. I still like ISU in that one.
Best Win – Kansas State 81, Gonzaga 64
Must Watch Games This Week –
Missouri vs. Georgetown, tonight @ 8 on ESPN U
Iowa State @ Northern Iowa, Wednesday at 7 on the Panther Sports Network
UCLA @ Kansas, Saturday @ 8 on ESPN 2
CLICK HERE to take a look at the complete Big 12 standings at this point in the season.
Brent Blum and I will be talking more Cyclone hoops in this week's CycloneFanatic.com podcast that we'll be recording tonight.