By Chris Williams, CycloneFanatic.com Publisher
I am always thinking ahead.
When spring football 2011 rolls around in April, Iowa State's starting quarterback position will more than likely be up for grabs.
I assume that Jerome Tiller will have bit of an edge on the competition. But don't tell that to redshirt James Capello andJared Barnett, who is currently redshirting.
I asked offensive coordinator Tom Herman about Barnett's progress on Tuesday night after practice
"I am very impressed with Jared," Herman said. "He has got to increase his velocity a little bit. That comes with maturity, strength, fundamental technique and stuff that we will spend all offseason and spring ball on."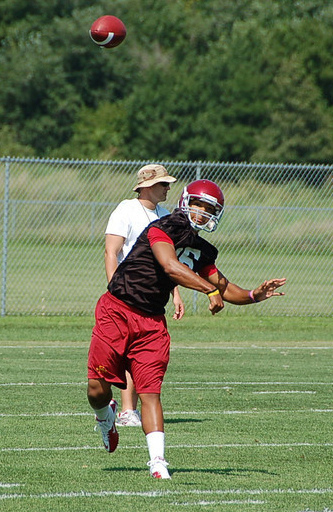 Barnett suffered from a disc injury toward the end of fall camp. He's now back to near 100 percent and during scrimmages on Sunday nights, Barnett has shown some encouraging signs to Herman and the rest of Iowa State's staff.
"I think that the biggest thing for him that has been impressive is that he understands the scaled down version of the offense that we allow him to run on Sunday nights," Herman said. "He understands that very well and he is very active with the football. Those are two good things for a true freshman on Sunday night."
Rivals.com ranked Barnett as the 27th best dual-threat quarterback in the class of 2010. He was a three-star prospect who chose Iowa State over Kansas State and Houston. Barnett led Garland high school to a 9-1 record, while throwing for 2,134 yards and 20 touchdowns. He also ran for 373 yards and six scores.