By Chris Williams, CycloneFanatic.com Publisher
Alexander Robinson does all the right things on and off of the field. He says the right things to the media. He's a total class act and everything that you'd want your son (in my case future son) to be. The Cyclone nation loves this guy, as they should.
But man, this guy gets hurt a lot. It's a bummer too. Put a healthy Alexander Robinson in Iowa State's backfield last season and Paul Rhoads could have brought home seven or eight regular season wins in his inaugural season as the Cyclone head man.
Woulda, coulda, shoulda right? I know…it all means nothing.
But here we are, halfway through 2010 and the team is having the same problems with their man A-Rob. Lingering little injuries. Of course Iowa State doesn't get a bye week again this season. That's a tough break for Robinson, who's rushed for 449-yards and five touchdowns in six games.
Up next for the Cyclones are road trips to Norman and Austin. Robinson has not one, not two, but three injuries that he is currently nursing (one ankle, two to the same foot).
Yesterday, Paul Rhoads told media members that Robinson's health was better on Sunday than he thought it would be. Still, this situation seems shaky to me at best.
"It seems like A-Rob has been banged up a lot since I have been here," Cyclone quarterback Austen Arnaud said on Monday. "He is great mentally though. It isn't going to affect him."
"In his mind, I guarantee he thinks he'll be playing on Saturday night," Rhoads said.
My take? If A-Rob is dinged up at all, even just a tiny bit, sit him. If he's still banged up for the road trip to Austin, sit him there too. Yes, it stinks for Robinson, a senior who has the heart of a lion, but in the long run, it might be best for Iowa State to have its best player healthy for the four final games of the season against Kansas, Nebraska, Colorado and Missouri.
The good news here for Cyclone fans is that behind Robinson, we've seen two very capable backs prove themselves through the first six weeks of the season.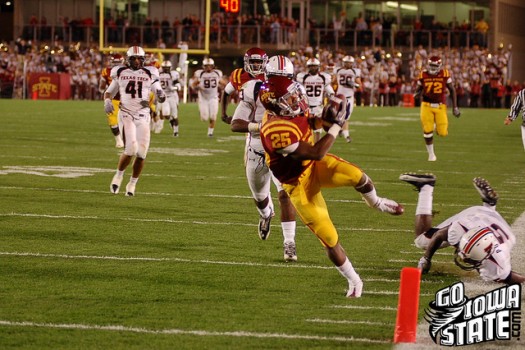 There's true freshman Shontrelle Johnson, aka…the rabbit. Then there's that human bulldozer, also known as redshirt freshman Jeff Woody.
If Robinson is out, who will start? Who cares? Let's play a little thunder and lighting ball with those boys down in Norman.
"I approach each week of practice the same. Some things are beyond our control," Johnson said. "Hopefully A-Rob is healthy for the game because we need him."
"If my number is called, then I'll take it and run with it," Woody said. "No pun intended."
Funny stuff Jeff.
Here's a little tidbit that lets you inside the Cyclone football program.
"As Coach (Kenith) Pope always says, once you get on the field, you are a starter," Woody said. "You aren't a backup."
So there you have it. The two freshmen have had plenty of time to get their feet wet in six games. Johnson has accounted for 179-yards and a touchdown while Woody has run for 144.
Johnson is your big play threat (he's averaging 7.5 yards per carry) while Woody is the solid, short yardage guy. If Robinson needs to rest, Iowa State will be fine at running back for the next two Saturdays. That position will not be the difference in a win, a loss, a close game or a blowout.
Just get Robinson ready for Kansas, Nebraska, Colorado and Missouri. I'm thinking long term today fanatics. Visions of a bowl game have not escaped this mind.