By Chris Williams, CycloneFanatic.com Publisher
Everybody always seems to forget about DeMarcus Phillips (pictured above).
Don't sleep on this guy. The 2008 Wisconsin Player of the Year has made an impact on Iowa State's youthful roster during the first week of practice.
"He was really good in our scrimmage," Fred Hoiberg told CycloneFanatic.com on Thursday in Kansas City. "He took the ball to the basket. He made open shots. The thing that he has been doing a great job of is rebounding."
Phillips, a 6-foot-2, 200-pound transfer from Marshalltown Community College averaged 16.0 points and 5.4 rebounds per game as sophomore.
"He is athletic," said senior guard Diante Garrett. "He can get up and down the court and take somebody off of the dribble. His mid-range game has been improving. He's been working on that and I've noticed. He is a strong body too. He's big for a guard."
Hoiberg knows a little bit about improving a guy's mid-range game. That's what he's done with Phillips over the course of the last month.
"I detected something in his shot where it was taking him a little too long to step into it. He wasn't releasing at the top," Hoiberg said. "We have been working on it. I think that he struggled to find his role early on when we were doing the team workouts. What is he going to do? What can he hang his hat on? He was very hesitant in shooting his shot. I told him to go out there, relax and play his game."
"He has a chance to play a significant role on this team."
Tidbits from week one
Here are some quick nuggets from week one of the Fred Hoiberg era in Ames.
– One Cyclone "must have scored 35 points" in Iowa State's first scrimmage on Wednesday. That's good news. The bad news is that Michigan State transfer Chris Allen (pictured below) won't be able to play until 2011. "He was on fire," Hoiberg said. "We have a lot of talent sitting on the bench."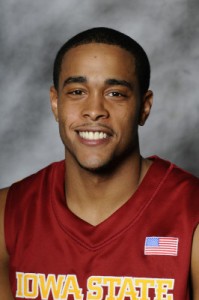 – It is perfectly normal for freshmen to be struggling right now. Melvin Ejim, a 6-foot-6, 215-pound forward isn't a regular guy. "Some of the young guys, it is like teaching Chinese at first. It is way over their head," said Hoiberg. Melvin is a guy who gets it. He has a Big 12 body already. He is going to have to play two positions with our lack of depth."
– On the first week overall…"I have been very pleased with the way everything has gone," Hoiberg said. "Guys are competing. That is the number one thing, for those guys to go out there and play hard. They have been giving me 100 percent effort every night. We had one day where they didn't start off very well but we got on them and they finished practice very strong."