By Chris Williams, CycloneFanatic.com Publisher
It is now official. CycloneFanatic.com just got off the phone with
Royce White, who confirmed that he has committed to Iowa State.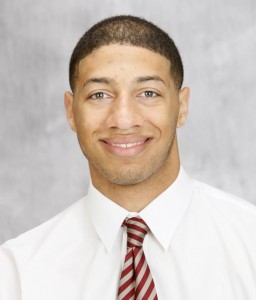 "I am excited about Iowa State and to end this recruiting process," White said. "It is everything. I like the vibe of the people. The coaches have great chemistry."
Sources confirmed to CF that White has signed a financial aid agreement with the university.
White, a 6-foot-8, 250-pound forward out of Hopkins, Minn. was the 19th ranked recruit in the Rivals.com class of 2009. After not playing a game last year for Tubby Smith's Minnesota program due to legal and personal issues, White left that program in February and will now transfer to Iowa State.
"I am aware of Royce's situation at Minnesota," Iowa State head coach Fred Hoiberg said in a release. "I have talked with a lot of people who are close to him, spoken with Royce in person multiple times and feel he is sincerely committed to meeting the expectations we have for our players. On one of his campus visits, Royce also met with institutional staff both inside and outside of the athletics department and he left very positive impressions on everyone."
Sources say that White's eligibility at Iowa State is still unknown at this time. There is a slight chance that he could play right away in fall semester. There's also a possibility that White would not be eligible in the fall, but be able to play during Iowa State's second semester. The NCAA will view White as an official transfer student, where he'd have to sit out the entire 2010-11 season. It would would likely take some sort of NCAA waiver to allow White eligibility in the spring. We all know what Iowa State's history with the NCAA looks like though. My take? Don't hold your breath.
"Royce has the complete package to be an impact frontcourt player in the Big 12," Hoiberg said. "He is a physical presence on the block and he will also challenge defenders with his ability to shoot. I like his presence on the boards and he comes from a winning background."