By Chris Williams, CycloneFanatic.com Publisher
The 2009-10 Iowa State men's basketball season was a bear. You all remember what I'm talking about don't you? The daily meltdowns on this website alone were colossal. They became somewhat exhausting for everybody in the Cyclone Nation.
Fans were upset. Coaches were confused. But believe it or not, the players just might have taken the losing and constant negativity the hardest.
Well, Craig Brackins surely did.
On April 24, 2009, Brackins announced to the world that he'd return to Iowa State for his junior season. Within hours of making his decision, Big Dance chatter dominated the Internet.
Obviously, things didn't turn out that way.
I've read before where people said that Brackins made the worst decision of his life by returning to Ames for his junior season. Some extreme opinions even insisted that Brackins would never play in the Association.
"Brackins had many NBA GMs noting that he looked like the most polished big man on the floor."
That's a quote from a recent column written by ESPN.com's Chad Ford.
Oh, the difference a few individual workouts makes.
Today, Brackins and around 40 other NBA Draft prospects are working out in Minneapolis, in front of a handful of NBA teams. This comes after this last weekend's NBA Draft combine, where Brackins shined.
"It is so exciting more than anything. Just to be in this process and to be in this position, I still think it is a dream," Brackins told CycloneFanatic.com on Monday night. "I wake up just hoping that I am still in this dream. I have been wanting this for so long and now I am so close to getting it."
Things are only going to pick up for Brackins, who some are labeling the next LaMarcus Aldridge,  while leading up to the June 24 draft. When he gets done in Minneapolis today, Brackins has workouts scheduled with the Pistons and the Knicks. His impressive combine performance has made Brackins a hot commodity. Every team seems to want one final peak at him.
"Those are the two that I know for right now and I'm sure I'll be updated over the next few days," Brackins said. "I have a lot left. After Minnesota, I'll visit like six teams in 11 days or something like that, something crazy."
Brackins is still being projected as an early second round pick by many of the "experts" out there. But with an impressive next couple of weeks, sneaking back into the first round appears to be a real possibility.
NBADraft.net has him going to the Nets with the first pick in the second round.
NBADraftexpress.com has Brackins heading to the Knicks with the ninth pick in the second round.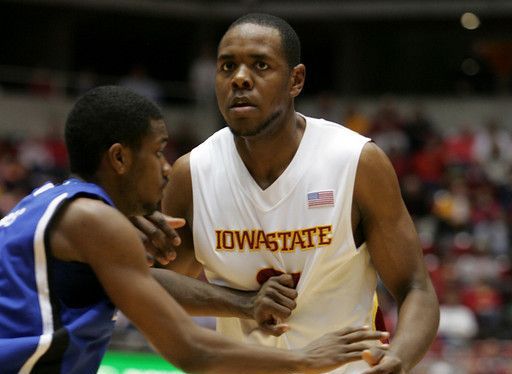 Looking back
Iowa State picked up a transfer last week from Northern Illinois in Jake Anderson. To this day, Anderson and Brackins are good friends after playing prep school ball together at Boys to Men in Chicago.
One of the major reasons that Anderson will be a Cyclone is Brackins.
Brackins made it clear to his friend how much he loved his time in Ames. Despite the losses that piled up over the last three years, Brackins still has a special place in his heart for Iowa State University.
Did you ever participate in a "Thanks Craig" thread on CycloneFanatic.com? If so, Brackins has a message for you.
"All season long, fans kept thanking me for coming back. I always told them, 'thank you for having me and for being there.' I know that we didn't have the season that everybody wanted," Brackins said. "I felt that I didn't win enough games for Iowa State. But I felt that I did all that I could. The fans were supportive of me. Without them, there is really nothing. I was more happy with Iowa State allowing me to be there and the way that they supported me all of those years."
Brackins is one of six players in Iowa State history to record 1,500 points and 700 rebounds in his career. He's the 12th-leading scorer in school history and the eighth best rebounder.
To keep things simple, Brackins is one of the greatest Cyclones of all-time.
Still, during the 2009-10 season, with the losing, as the team leader, Brackins had his fair share of critics and took quite a bit of heat.
"I didn't really buy into all of that," Brackins said. "People have opinions. People can say whatever they want. There was pressure last year. I wanted to accomplish things but so did everybody else. I wasn't satisfied with the season. Every time that we lost, I took it upon myself and felt bad about it. I thought that I could do a lot more. "
Brackins on present day Cyclone hoops
It's amazing how different things look right now as compared to three months ago in the world of Cyclone basketball. With today's news of LaRon Dendy and Antwon Oliver's departure from the program, only three scholarship players remain from last year's roster (Diante Garret, Jamie Vanderbeken and Scott Christopherson.)
Oh yeah…There's also that new head coach in town.
Brackins agrees with the overall consensus of the current situation surrounding Iowa State basketball.
Greg McDermott to Creighton, The Mayor moving back home – Both are good things for both sides of the scenario.
"Coach Mac is now in a good situation," Brackins said. "He has a nice, secure spot. He dominated the Missouri Valley when he was there before. I don't doubt that he'll do it again. It is a good situation for him."
As for Brackins' thoughts on Iowa State's new leader Fred Hoiberg? Well, Craig's quotes on the new coach speak volumes.
"Coach Hoiberg, I mean, he is the Mayor," Brackins said. "You cannot, not love the Mayor. He was a winner at Iowa State. He is a legend at Iowa State. He is from Ames. His motive to be there is all based off of passion."
"With him being the assistant GM at Minnesota, he knows talent. I'm sure he has a knack for finding talent, especially on the college level. He is going to get a lot of talent there because of him being an ex-NBA player. If he goes up to a recruit and says, 'I think that you could do well for our program,' as an ex-NBA player who played a number of years in the league, telling you that you could play ball – he knows what it takes."
I then asked Craig to get inside the mind of today's high school senior. I asked what kind of coach these kids are looking for at the Big 12 level. Essentially, will Hoiberg's NBA ties and connections compensate for the fact that he's never coached before?
"Every kid is trying to get to the NBA. Kids that aren't even playing basketball seriously want to get to the NBA. Especially for a guard, with a guy like Fred, you're looking at a guy who made it," Brackins said. "I think that puts Iowa State on that level. If I am a senior in high school, I am looking at Iowa State. If you've ever talked to Fred Hoiberg, I have never heard anybody complain about the guy. People just love him. If you are a high school guy talking to Fred Hoiberg, Iowa State is going to be on your list because there aren't many guys out there like him. With T.J. (Otzelberger) now as the head assistant, those two guys make you feel more comfortable than any stranger you could ever meet."