AMES — Sports writers often complain about what I call "crossover season." I get it. Over the next six days, Iowa State has five basketball games, a wrestling dual and a football game.
It's a lot. But I live for this time of year and if you hang out on Cyclone Fanatic during your spare time (or while at work, class, etc.), so do you.
The opening of college basketball season is always one of my favorite days of the year. What's not to love about Bill Fennelly's women's program starting the day off bright and early (monster win for the ladies vs. Butler) and being followed up by a nightcap with the men?
The 2023-24 version of opening day was everything us Cyclone sickos dream of during the dog days of summer.
Iowa State fans are passionate about football. But the gridiron's offseason isn't as sexy as basketball's. In football, you have 85 scholarships and for most casual fans, well over half of the players on the team are names they haven't heard of. It is much more of a developmental sport.
Basketball is a totally different animal. With only 13 scholarships, every roster move is magnified, especially in the "portal era" where movement is no longer taboo, but expected and in many cases (like at Iowa State), welcome. One player can get you off of the bubble and into the Sweet 16.
I have monitored Iowa State message boards for almost 20 years and can confidently state that basketball roster movement garners more attention from Cyclone fans than any other topic. So when the hoops opener finally arrives, all of that talk comes to life and we finally see the finished product.
We get to do this again on Thursday. And then Saturday (football). And then three times on Sunday.
I freaking love sicko season.
With that, here are some thoughts on Iowa State's 85-44 win over Green Bay.
Note: This will feature more of my overview on the roster itself and less about the actual game. Green Bay has won eight games in the past two seasons and will likely finish at the bottom of the Horizon League. This Iowa State team SHOULD pummel teams like this.
… … … …
Offense: Iowa State scored 41 points in its NCAA Tournament loss to Pittsburgh last season. Iowa State scored its 41st point with two minutes to go in the first half in Monday night's 85-44 win over Green Bay. I realize that there was a massive difference in the opponent, but you get my greater point. 
This isn't the same Iowa State program you've watched the last two seasons. Out of necessity, those groups attempted to make the game as ugly as possible while trying to out-fight every opponent – and it worked.
This team doesn't have to do that. The days of scoring 47 points in a win over Jackson State are behind this more mature version of Otzelball.
More good news: Even in a lopsided win while having considerably more talent on the roster, Iowa State maintained its defensive edge and played with tremendous energy.
Milan Momcilovic's shot: It was fitting that true freshman Milan Momcilovic burying a three from the top of the key was the way Iowa State started its season. Momcilovic made his first four threes of the game and finished 6-of-7 from long range with 18 points to lead all scorers. After the game, T.J. Otzelberger praised Momcilovic for being a "complete basketball player." While I know the former Wisconsin prep has worked hard to become that, don't get it twisted. Momcilovic has the potential to be one of the top 3-point shooters not just in the Big 12 this season, but all of college basketball.
Tamin Lipsey: It was also poetic that Tamin Lipsey, who was thrusted into the starting lineup as a true freshman last season (before he was ready) and often criticized for his lack of a jump shot (fair), buried his first 3-point attempt of the season from the left corner early in the first half. Lipsey went 2-for-2 from long range in the win. It's way too early to know just how improve this jumper is, but reports out of camp were very strong via sources inside the program. Lipsey is a hard worker who will also be one of the team's best rebounders too. He is probably the most valuable Cyclone heading into the season.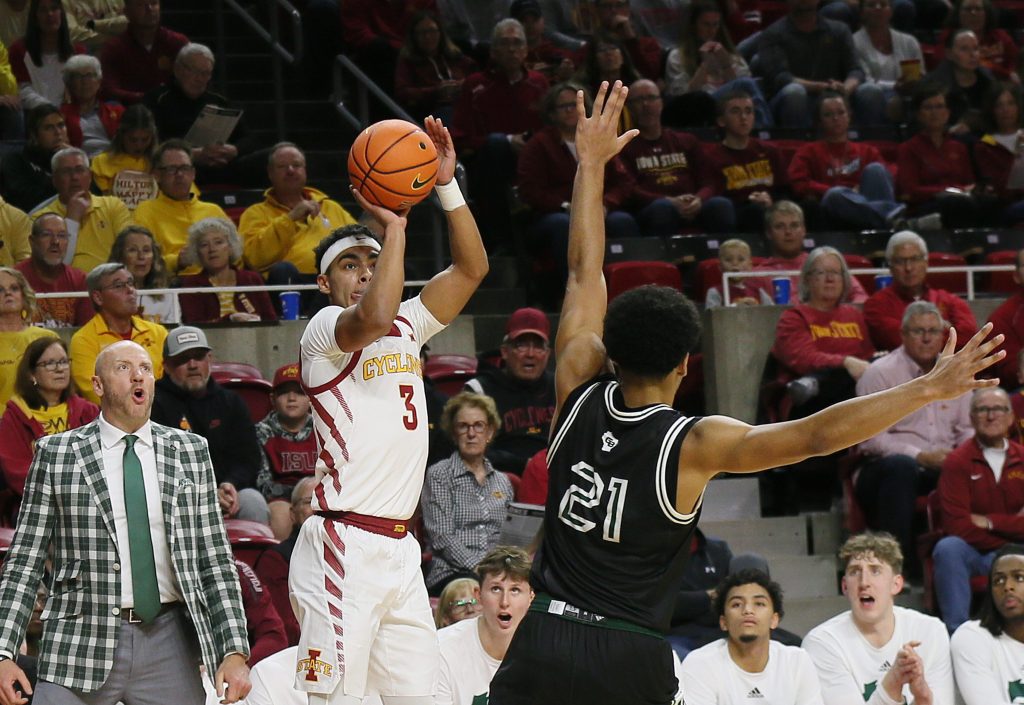 Omaha Biliew's debut: If you expected one of the top-rated recruits in the history of Iowa State basketball to go out and drop 20 in his debut, you simply haven't been paying attention. Give it some time. Omaha Biliew is a raw offensive prospect and frankly, is an 18-year old going up against grown men (more on that later) in practice every day. It is considerably more difficult to make an instant impact at his position compared to what guards and shooters are asked to do. Again, give him some time. The best of Biliew is yet to come.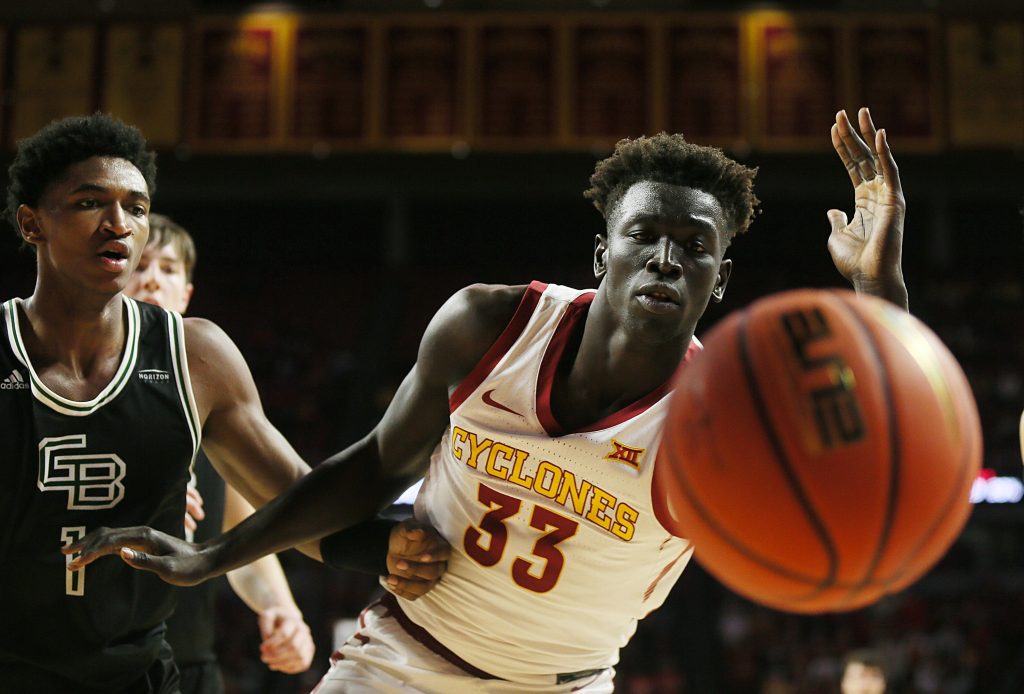 Keshon Gilbert: This was the guy who probably stood out to me most in Monday's win. The 6-foot-4 UNLV transfer really popped. His handles are worthy of a Big 12 starting point guard. His defensive intensity fits right in with Otzelball. He looks like one of those versatile players who makes everyone around him better. Gilbert finished the opener with 17 points, three rebounds and two assists.
Demarion Watson: The 6-foot-7 sophomore was a huge boost off the bench for Iowa State in a scrimmage vs. Creighton a few weeks ago. I fully anticipate that to be his role this season. Watson's energy will help Iowa State win a lot of games this year.
The bigs: Individually, Tre King, Hason Ward and Robert Jones each have a lot of positive traits. Together, they are a physical force due to their size and age alone. All three of these guys are as tough as a cheap steak and should be able to really pick each other up on tough nights down low.
Notably, after the game, Otzelberger said that he has challenged Tre King to lead the Big 12 in rebounding. King had eight in the opener.
Jackson Paveletzke: This is a great example as to how much better the roster is this season. Wofford transfer Jackson Paveletzke would have started last year. He played seven dazzling minutes in the opener, and I'd guess most fans in attendance left wanting more.
Kayden Fish: Buy your stock now, as this is a long term play. At 6-foot-6, he is undersized but an absolute force at 250 pounds. Fish is a grinder. A development guy who over the course of four years could grow into an all-time fan favorite based off of his motor and grit alone.
Overall: As long as you don't lose, these early non-conference games don't really matter. But what's awesome about college basketball (as opposed to football) is it's like we are all getting to watch the team scrimmage. That's how I am treating the next few weeks leading up to the Thanksgiving tournament in Orlando. The 2023-24 season is off to a great start. Let's all sit back and enjoy the ride.