Mar 10, 2023; Kansas City, MO, USA; Iowa State Cyclones forward Tre King (0) handles the ball while defended by Kansas Jayhawks forward Jalen Wilson (10) in the second half at T-Mobile Center. Mandatory Credit: Amy Kontras-USA TODAY Sports
GREENSBORO, N.C. — In the overall scheme of things, Iowa State's 73-57 win over Western Michigan back on Dec. 18 wasn't a very big deal. When you are a member of the toughest conference in America, double-digit victories in "buy games" during the doldrums of December are quite forgettable.
Grab the dub, and on to the next.
But for Iowa State forward Tre King, this marked a momentous return to the basketball court after an excruciating two-year absence. King tallied an impressive 5-of-6 from the floor for 11 points in his debut for the Cyclones, but for once, the box score could not have mattered less.
"I think that was my proudest moment," said Tre's father, Marvin. "The moment where he checked in the game. It was the sign that okay, it's gonna be alright. We had endured the worst part of it. That moment was above any made shot or anything else he has done on the court. He made it back to the court, and he survived."
A distinctive moment, indeed. The end of a tumultuous era also marked the beginning of a much brighter time in Tre's life.
The road to getting back on the court was not easy. It is a story of resilience, patience and trust.
What an impression this young man has made on Iowa State basketball.
"Tre King is an amazing young man with a bright future at Iowa State and beyond," T.J. Otzelberger said. "He is fortunate to have terrific parents who have instilled an excellent work ethic and character in him. Even though he didn't play last season, his spirit and enthusiasm positively impacted our program on a daily basis."
King, a Kentucky native, started his college career at Eastern Kentucky during the 2018-19 season. After three years, averaging 14.9 points per game and becoming one of the top players in the Ohio Valley, King had a hunger for high-major hoops.
He ended up at Georgetown, where he never saw the floor.
That program's loss equaled Iowa State's gain.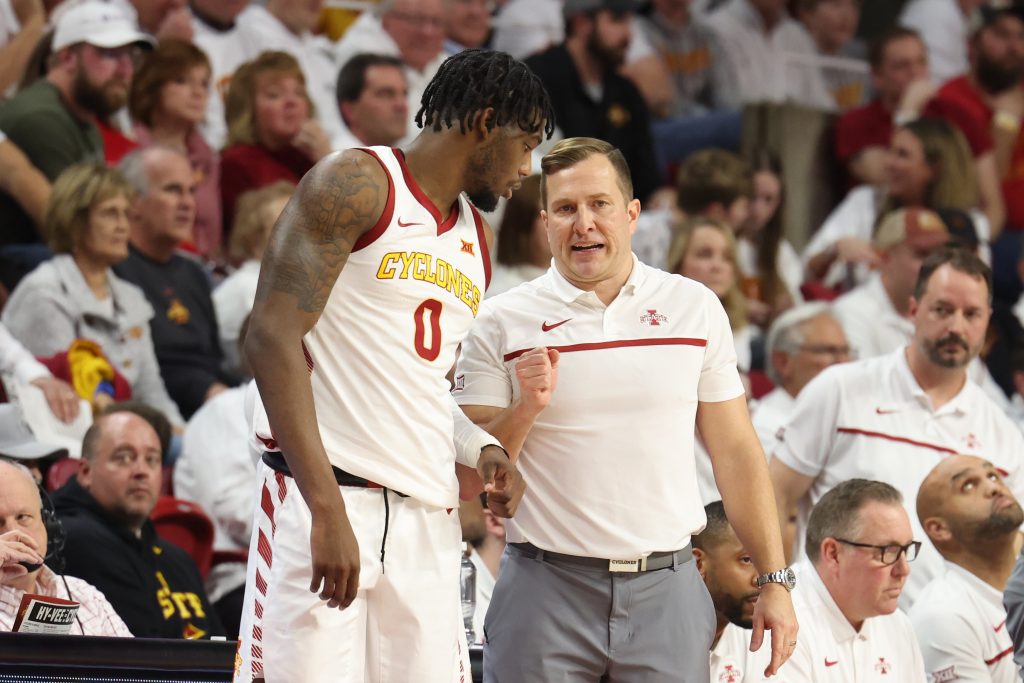 Where he came from …
Before you know about Tre's ascent within Otzelberger's program, it's best to know where he came from.
Marvin, Tre's dad, played basketball at Drake under Rudy Washington in the early '90s.
Small world: Drake's play-by-play man at the time was none other than the Voice of the Cyclones, John Walters.
"Marvin was a good player," Walters said. "He was not as physical, but Tre is a different beast. Marvin was a good player at Drake and worked his way up and got better every year to the point where he helped quite a bit his senior year."
The two old friends randomly reunited in West Virginia last season before Iowa State's game vs. the Mountaineers.
"We're sitting there at West Virginia," Walters laughed. "I looked up behind our bench and saw Marvin King just sitting there! It was great to see him. He's just an awesome guy."
Marvin, who is now a pastor and entrepreneur, had that previous familiarity with the state of Iowa, which absolutely helped Iowa State's chances of landing the promising transfer.
So did the specific structure within T.J. Otzelberger's program.
"It was the idea that T.J. created this culture," Marvin said. "I'm a firm believer in strong leadership values. I'm a firm believer in family values. And Coach T.J. embodies that."
Finding the right fit for school No. 3 is absolutely critical for a transfer. It's your last chance. There is no margin for error because this is it. The Kings knew exactly what they were looking for and found it in Ames.
"I did not want my son to experience some of the pitfalls that I've seen in terms of character and coaches," Marvin said. "I took a great deal of pride in raising Tre, as well as my other son. I did not want him to be around any less of a man than I am to him. I believed T.J. was shooting it straight in our dialogues and conversations. It was very easy to align and trust your son with someone who actually cares, who didn't look at him as just another statistic, another point, another rebound, but looked at him as a person. And that meant a lot to me."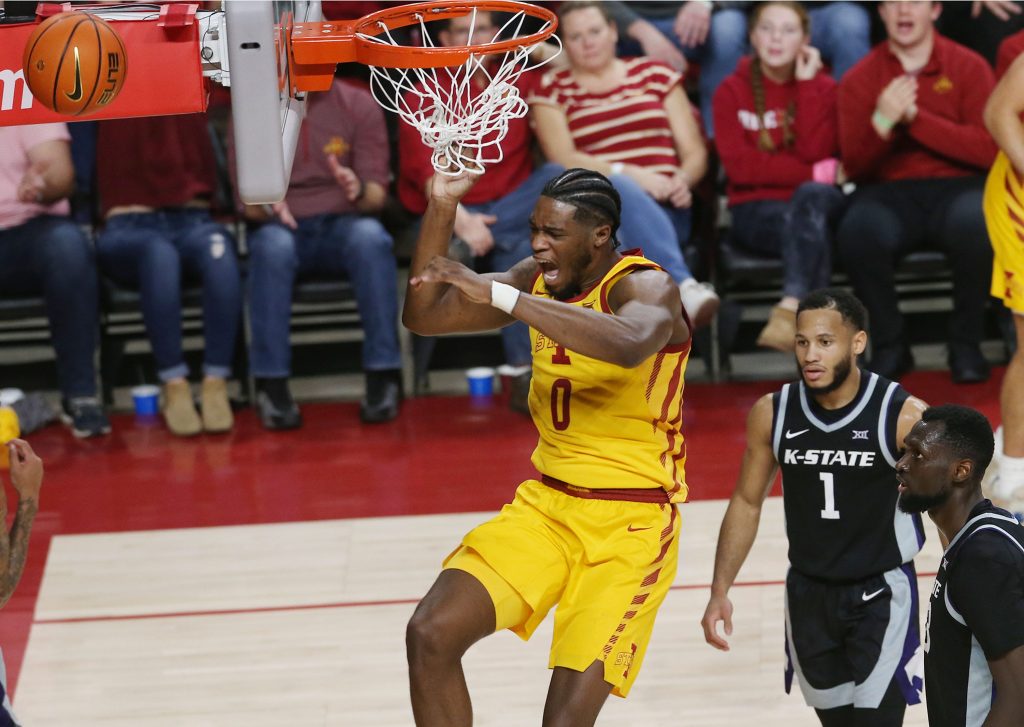 Now the hard part …
And now we have gotten to the not-so-happy part of the story … The dreaded denied waiver, which forced Tre to go a full two years without playing the game he loves.
"It was definitely disappointing, for lack of a better word," Tre said. "They tell you not to get your hopes up just for the possibility that won't happen. But you know, there's always that bit of optimism. When they finally said no, it was like a punch in the gut."
One of the trailblazing programs in college basketball when it comes to having success with transfers, Iowa State is familiar with how to make sit-out years not only work but for players to thrive during them.
But Tre's story is different than many Cyclones of the past. Not the standard one, but two years is a long time to go without playing competitive ball.

"It was agonizing," Marvin said. "But I think what happens is when good people have to go through adversity, you see it for what it is."
That's how Tre approached his time "off." Except it was anything but that.
"There were a lot of lonely days," Tre said. "A lot of days where I would live by myself."

Let's put it this way: Tre got to know strength and conditioning coach Pete Link very, very well.
"We'd go at it in hotels," Tre said. "I'd come in on off days after they play and workout in the morning before the team does recovery and stuff like that. So it was a lot of moments when I was by myself."
That's another unique aspect of Tre's story. So many times at Iowa State, multiple transfers have come in and had one another to lean on, practice and bond with. That wasn't the case here. Quite often, Tre was by himself.
"To me, it just says that he has the wherewithal and the ability to fight through it on his own," said Iowa State director of basketball operations, Micah Byars. "I just think he's a very mature guy. And for him, he really embraced the graduate assistants. And the managers that really helped him get on track. But he always worked out with a singular focus on how he was going to help the team. Some of that really was him, recognizing that he knew the duration of how long he was going to sit out. And just embracing that and just saying, 'I know that I'm gonna pour everything I can in,' because you can see it on the bench when he was sitting there like it's all genuine with him. But then he would cheer like heck, and then he'd go and turn around and work out on his own after."
Credit to Iowa State's process. Clearly, the Cyclones have it down.
"The first thing is that the person that comes in has to have a clear direction for what you know what their plan is going to be," Byars, who has worked with transfers dating back to the beginning of the Hoiberg era, said. "But then they also have to have the ego to be able to know that they're helping the team get better in their time off, and then also work on their own personal game and how they feel like they can fit in with the team and acclimate with us. Because if anybody came in and deviated from the system that we have, they would be in a tough spot, or if they didn't have a low enough ego to help our guys, they wouldn't make it during that time that they sit out."
The human part of the process – fitting in with the guys – was easy for Tre. He's just a very likable human being and credits his teammates with integrating him into the program regarding the more social aspects of things.
"When an outsider comes in, there are a lot of times and a lot of cases of apprehensiveness when you bring a new person into a group," Tre said.
But they were all welcoming and they got me in as best as they could. And it made me feel included and welcomed. That helped a lot too."
For a competitor at this level, though, not being having your hard work rewarded with playing time for that long is very hard. A guy can have all of the humility that he wants. Sitting out and watching while knowing you can help isn't something that you learn from a textbook.
"You're dying to play," Tre said. "You see yourself being out there, and you want to do everything you can to help your teammates, and just be in that environment. I was so close, but so far away."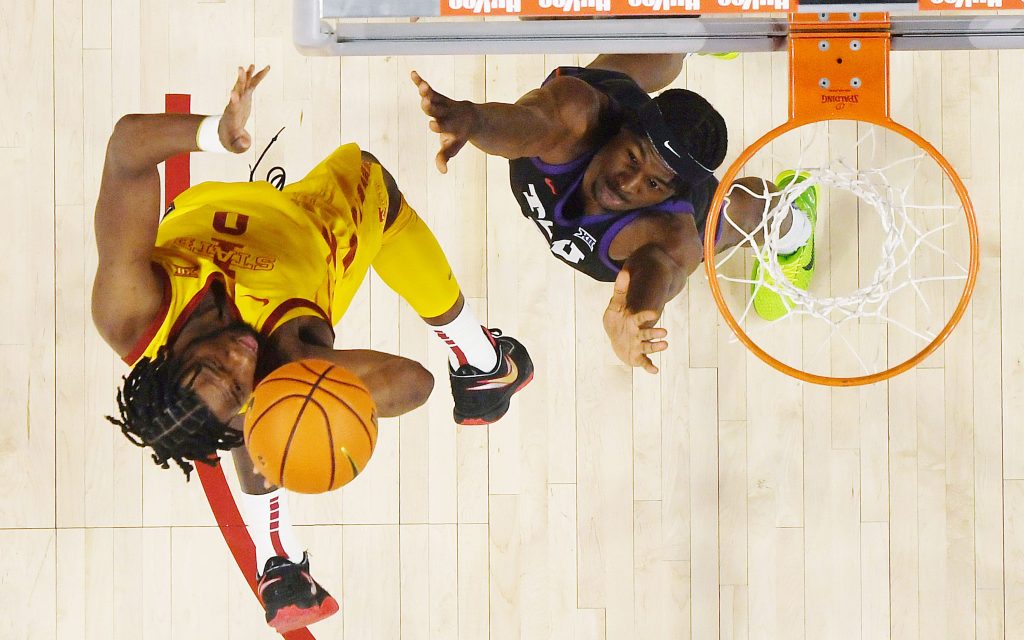 Meeting expectations, and beyond
Now to the fun part.
Not only did Tre make it to Dec. 18, 2022, but he has been a key piece to Iowa State's NCAA Tournament run while playing in the toughest league in America. He's averaging just under six points per game with 4.4 rebounds in 17.5 minutes of action.
"It was a unique challenge to integrate Tre into our team at semester, but he did everything in his power to make it as smooth as possible," said Otzelberger. "Tre has been very coachable and willing to do what is needed to make our team successful this season. As we move into next season we will look to expand his game from a development standpoint, and count on him as a go-to type player."
Tre's biggest fan, his father, has even been somewhat surprised by now naturally his son has become acclimated to the Big 12.
"He has exceeded my expectations," Marvin said. "I knew Tre would come in and perform. I did not anticipate he would perform as well so soon. There were eight to 10 games where he really had to go through a learning curve going from scout team to a key part of the rotation."
After knocking the rust off, Tre says he feels like a new player.
"I feel like I'm a lot more physical," Tre said. "I think I've adjusted to that because playing here is just one of the most physical places in the country. The speed of the game has slowed down for me. I've done a lot of film-watching with the coaches as well. You know, just wondering what reason making positioning on the defensive and I think that that's all slowed down for me as well. So I think that a combination of all that stuff and kind of feel a lot better than I did you know when I first came out."
The best is yet to come
Tre King made his college basketball debut five years ago. This weekend, he will be playing in his first NCAA Tournament. That alone is an accomplishment.
But Tre's success this season has people within the program rightfully excited about next season already.
"Tre's upside is incredible," Marvin said. "I think his athleticism was an asset. But I think to match that he has a tremendously high IQ for the game, that he does a lot of things that do not show up on the stat sheet. He does a lot positionally to help his teammates out. Whether it's clearing out a lane taking two guys with him and then guys getting easy layups, whether it's guys double-teaming him in the post, because he's a threat to score in the post and then they get easier shots because close outs are not as easy for other teams. He does so much that just doesn't show up on the stat sheets, but he's a team player. For two years, he had to be a cheerleader. How many guys would sit on the bench? It's hard. One year is hard. One year is hard. Two games. It's hard. Or a game is hard. I think it just demonstrates the fact that he really, he really loves this program. He really loves his coaching staff. He loves his teammates. And I think it showed because he had to cheer for two years."
Regardless of how the Cyclones fare this weekend in Greensboro, Tre King's patience and humility deserve to be celebrated. It also helps to know that his best days as a Cyclone are yet to come.