CHICAGO — One of the most improbable success stories in the long history of Iowa State men's basketball is over.
This still feels like the beginning of the story, though.
Never in our wildest dreams could we have imagined this team accomplishing the things it did. From finishing a season with two wins 12 months ago to finishing a season in the Sweet 16 on Friday in the Windy City.
It was an unfathomable story that came to a crushing close with a 70-56 loss to Miami in the regional semifinals of the NCAA Tournament.
"This team is an enjoyable group to be around every day," Iowa State head coach T.J. Otzelberger said. "I'll remember these guys for their heart, their fight, their sacrifice to one another, for the trust they bestowed in our coaching staff; for rolling up their sleeves and just doing the work every single day. It wasn't easy. But they kept coming back."
This team was always thought of as the group that would lay the foundation for whatever came next for Iowa State men's basketball. It was the team built to get the Cyclones back into consistent competitiveness.
Mission accomplished — and then some.
"I know everyone is proud of us in the community, but hopefully they know what we've done, how much heart we gave to this team and put on the court each and every night until that final buzzer sounds," Iowa State senior guard Gabe Kalscheur said. "I love playing with these guys, this coaching staff. And we made an incredible run. And I just hope everyone just notices how much work we put into the season."
This Iowa State loss in the Sweet 16 has a considerably different feel than the last time the program was in this exact spot. That loss to Virginia in the 2016 Sweet 16 felt like the end of something.
Georges Niang's career in cardinal and gold was over. We didn't know if Monte Morris would return for his senior season or take his talents to the professional ranks.
There was a feeling of finality.
Obviously, it worked out a little differently with Morris opting to return to Ames and leading the Cyclones back to the NCAA Tournament the following season, but that night here at the United Center was the beginning of the end for that golden era of Iowa State basketball.
This one feels like the complete opposite.
Nobody — even the program's most ardent supporters — expected this team to be in this position. Most fans would have been happy with 10 wins in the entire season.
The foundation this group laid would have been considered a pie in the sky possibility six months ago, but, somehow against all odds, they completed what can only be considered a best-case scenario for this program.
Imagine how much more juice T.J. Otzelberger and his staff will have in hitting the transfer portal this offseason. You're not selling the appeal of playing time on a brand new team setting all new expectations anymore.
You better believe high school kids will have taken notice, too. Iowa State will be back on the minds of the best prep players in the country, who want to play for winning programs.
That wasn't the case 12 months ago, but it is now.
"I'm proud of this group," Otzelberger said. "Really proud of our guys for how they've carried themselves and what they've done and what they've shown this season."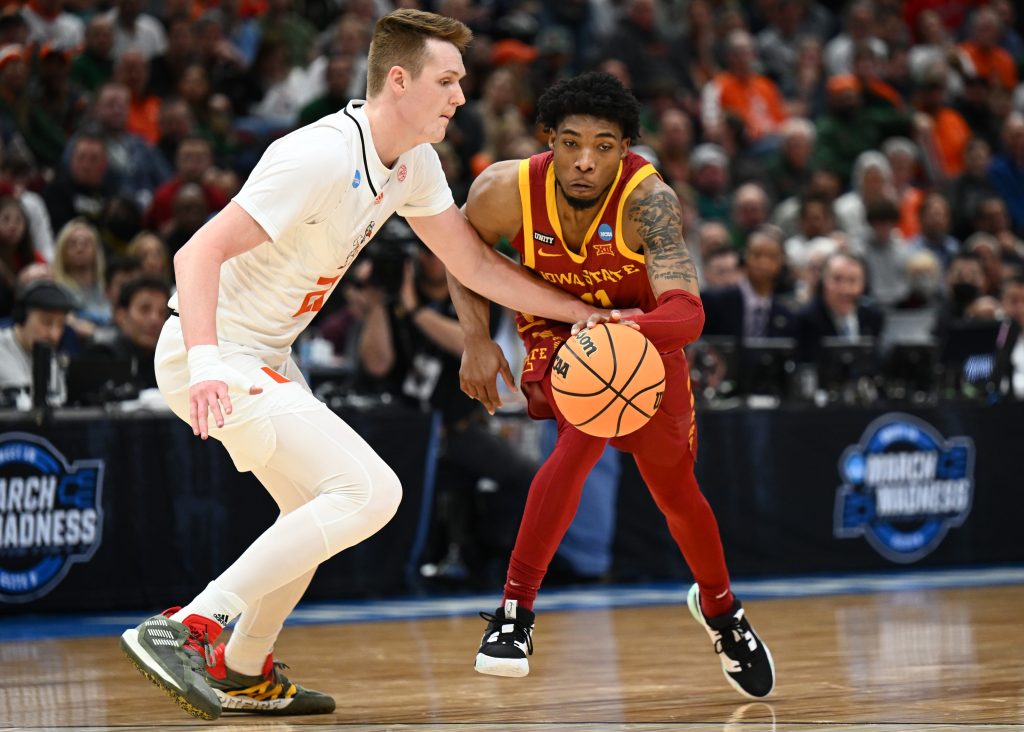 Let's consider this program's starting point for 2022-23 for a moment…
Everything will be centered around the sophomore point guard who showed flashes of brilliance as a rookie. Tyrese Hunter is in for a CRUCIAL offseason.
Consider the jump Morris took from year one — when he was DeAndre Kane's understudy — to year two when he took the keys and ran with them.
The floor general from Racine needs to get stronger. He needs to tighten his handle and improve as a finisher at the rim. He needs to stay in the gym and continue to improve his shot both off the catch and off the dribble.
He needs to stay in the film room to learn from other point guards, but while breaking down his own game, too. Consider how he'd guard himself, what would he key on to stop himself?
There is room for that young man to make a considerable leap from one of the best young players in the game to one of the best players in the game. There's no reason Tyrese Hunter shouldn't be — at minimum — one of the two or three best point guards in the Big 12 next season.
Hunter already had the keys in a sense, but he'll be shouldered with the responsibility of getting the training wheels all the way off. He's been through the battles when the bullets are flying, but now he needs to be the kind of point guard who can control games from beginning to end on a consistent basis.
Take it from Miami head coach Jim Larrañaga, who recruited Hunter prior to his pledge to Iowa State.
"What happens from freshman to sophomore year, all that experience that you've gained and a lot of it is so positive because they're in the Sweet 16, his confidence is going to grow and he's going to be able to be a true leader for any transfers or young players that come in because he can share that experience with them," Larrañaga said. "How hard the team worked at both ends of the court to accomplish what they did. He's one heck of a player."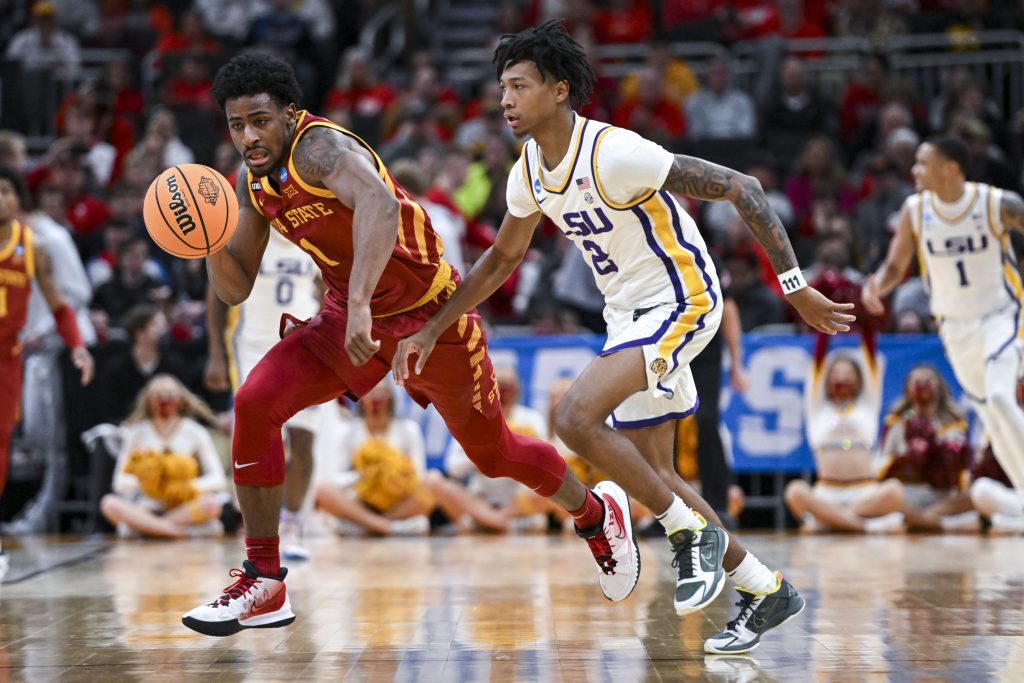 There will be some balls to juggle as far as the rest of the roster goes — and the following thoughts will be based primarily off my own thoughts more than anything else.
Izaiah Brockington, Gabe Kalscheur, George Conditt and Aljaz Kunc will all have the option to use their COVID-19 year and return to the program.
I'd be pretty surprised if Kalscheur and Kunc don't exercise that option and run it back with the Cyclones.
Don't be shocked if Brockington chooses to test the waters of the NBA. That doesn't mean he won't return to Iowa State next year, but that guy just made a significant leap from where he was during his years at Penn State and St. Bonaventure.
He'd be doing himself a disservice if he didn't at least gauge the interest of scouts.
Conditt is the one I'm really not too sure about, for a couple of different reasons. There is no doubt how much love the senior from Chicago has for the program and he had every reason to walk away from it entirely after Steve Prohm was fired last March.
That's not the kind of kid George Conditt is, though.
He wanted to come back and help Iowa State basketball get back to where it belongs. He most certainly did that.
Does that mean he'll be back next season to keep being one of the elder statesmen in the locker room?
That's a hard line to walk because I think Iowa State needs to make a considerable leap in its frontcourt talent. Their rebounding wasn't consistently good enough this entire season and Friday night's loss to Miami put the finishing ability at the rim — or lack thereof — on display.
Otzelberger and his staff will have to ask themselves if they think Conditt and Robert Jones are capable of making the necessary gains to be what this program needs down low.
"When we signed up for this, we didn't know wins/losses; we just wanted to go out there and play harder and bring pride back to Iowa State," Conditt said. "So when that final buzzer went off, it hurt a little bit because you know the season's over with, but at the same time you have to hold your head up high because you quite literally turned this program around."
There will certainly be other attrition from the program.
It seems like the writing is on the wall for Tre Jackson and Jaden Walker. It is just really hard to see how those guys fit into this equation with two really talented high school guards — Tamin Lipsey and Eli King — set to join the fold this summer.
Seeing their fit becomes even more difficult if Kalscheur and Brockington both elect to return for another year.
What happens with Tristan Enaruna? He basically became a non-factor for the program after spending the majority of the regular season in the starting lineup.
The Cyclones have a really talented wing joining the program, too, with Minnesota prep Demarion Watson. Watson and Enaruna seem to fit a similar box as far as what they bring to the table.
All in all — if I had to wager a guess — I'd say we'll see at least two and maybe all three of those guys look to play out the rest of their careers elsewhere.
"Right now we're excited about as things move forward what we can do with this program," Otzelberger said. "But tonight all my attention is going to be paid to these guys and being thankful and grateful to them for how they've carried themselves — classroom, community and on the court — and you mentioned restore pride, and that's something that's very personal to me based on how I feel about Iowa State."
Fans can expect this staff to be very active in the transfer portal in the near future.
This team needs proven shot-makers. They were just too inconsistent in that area the entire season and the team needs guys who can space the floor well enough to allow Hunter to his thing as the primary distributor.
I already mentioned the frontcourt situation above, but I'll reiterate how important I think that is for this program to continue taking steps forward. Iowa State needs to get better and more athletic if it is going to play in — and win — games like this one against the Hurricanes.
All of those things can be addressed in the coming days, though.
At this moment, enjoy the memories from one of the most improbable Iowa State men's basketball seasons in recent program history. These young men deserve to be remembered fondly as the ones who laid the foundation for what comes next.
Remember them as the group that brought the magic back.