Iowa State's 24-21 loss to Oklahoma State on Saturday is quite easy to analyze. Matt Campbell summed it up perfectly to Eric Heft during the Cyclone Radio Network's "Locker Room Show" following the game. 
"There are inches that were left out there," Campbell said. "And when you leave inches out there, you lose 24-21."
Nailed it.
Iowa State has a good football team. The Cyclones can still win the Big 12.
But Iowa State isn't good enough to win on the road vs. a top 10 foe while committing nine penalties, missing two field goals and being dominated at the line scrimmage on offense.
All of that happened on Saturday and Iowa State still could have won the game!
Maddening, yet oddly reassuring, because Oklahoma State is pretty good. Much better than I anticipated. Their defensive line is stingy and the Cowboys are a much better offensive unit with Spencer Sanders back and healthy at quarterback. Dangerous.
Let's dive into this one with our weekly Three Up, Three Down column.
THREE UP
1 – Big 12 positioning: First things first … you can be critical of what happened on the field Saturday and still optimistic about what is potentially in store for the rest of the season. That's where I am at right now mentally.
Schedule wise, Iowa State is through its toughest stretch of the Big 12 season. 
Oklahoma State, for example, is not. The Cowboys are 3-0 in league play, but will play Texas, go to Kansas State and to Oklahoma in the next three weeks. The Cowboys finish out league play with four out of five games on the road.
Because of what Iowa State was able to accomplish early on, the Cyclones are still in a solid position to take care of business and compete for a conference championship. The tiebreaker over Oklahoma is huge. Iowa State still has opportunities to gain tiebreakers over Texas and Kansas State. 
And yes, I think multiple two-loss Big 12 programs could be a "thing" at the end of the regular season. Snagging as many tie-breakers vs. contenders as possible is important.
Beat Kansas and Baylor the next two weeks. Set yourself up for a massive home date with Kansas State on Nov. 21. Win.
Iowa State still has a lot to be excited about, even after a disappointing loss.
2 – Breece Hall and Anthony Johnson: Two guys who really stood out to me today.
In a game where offensively, positives were hard to come by, Breece Hall was brilliant racking up 185 yards on 9.3 yards per carry. Of course, that number was greatly skewed by long runs of 70 and 66 yards. But I still think (despite my cardinal and gold bias) that I would take him over Oklahoma State's stud, Chuba Hubbard, right now.
On the other side of the football, I thought that junior cornerback Anthony Johnson looked like a pro matched up against Tylan Wallace. Johnson wasn't perfect, but held his own against a guy who in my opinion, is the best wide receiver in the Big 12. Watching those two duel it out was an absolute blast and my guess is that Johnson scored some major points in the minds of professional scouts in this one.
3 – The defense: Had you told me before the game that Iowa State would hold the Cowboys to 24 points, I would have gladly taken it. The Cyclones started off a bit shaky. This game reminded me a lot of the win over Oklahoma from a defensive standpoint. Jon Heacock slowly but surely adjusted as time ticked away and the Cyclones held Oklahoma State to only 10 second half points. 
The difference in this one was about offensive production. 
That leads us to Three Down.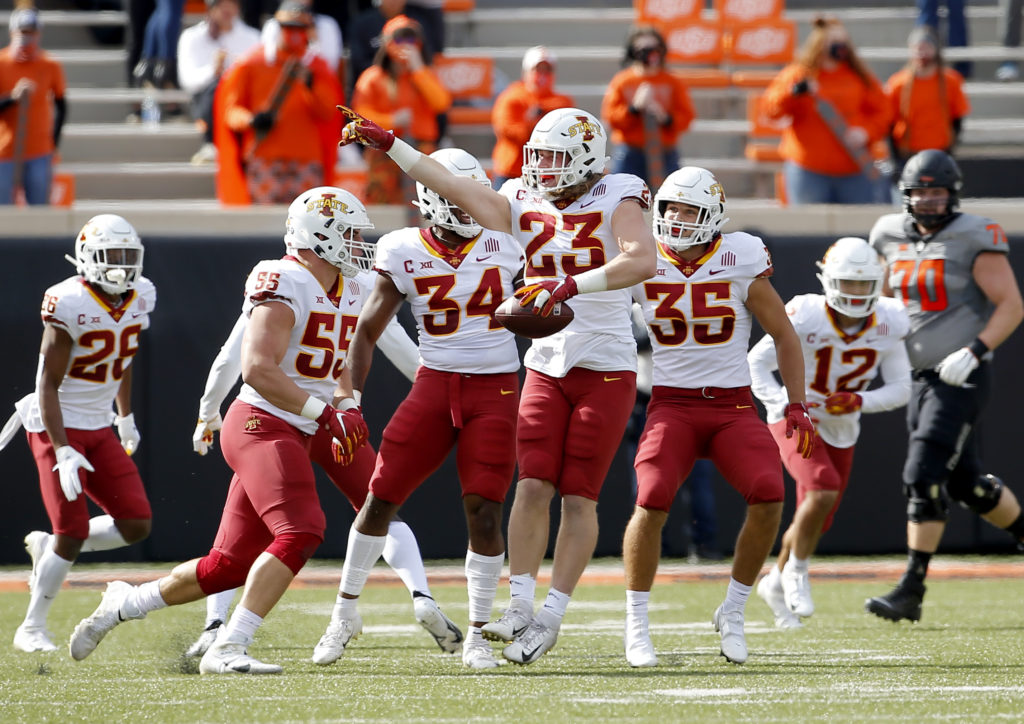 THREE DOWN
1 – Pass protection: The last thing I want to do is come on here and roast Iowa State's offensive line. The group (minus Louisiana) has been very solid all year and is down two starters. I do think that Oklahoma State exposed the offensive line to an extent though. 
Good news: That's the best defensive line that Iowa State will play the rest of the season. And guys like Jake Remsberg have barely played. Some bad film will do them good and next week should be a great opportunity to grow.
There is going to be a lot of bad offensive film from this one. The most telling stat to me that the pass protection was iffy is Iowa State's average of 4.8 yards per pass attempt. That's .7 yards away from the appalling 4.1 average in the loss to Louisiana. 
The offense looked similar to that game.
Only one wide receiver – Xavier Hutchison – caught a pass in the loss. Prior to the final series of the game, Hutchison was the only receiver on the roster who had a target.
For comparison, six wide receivers caught passes in the win over Texas Tech. It was after that game when I wrote, "I'm not sure I have ever seen so many skill players touch the ball for Iowa State one a single game." 
Brock Purdy didn't have time to properly distribute the football and with that, let's not let the receivers off the hook. They probably weren't as open as they got two weeks ago either.
— The big turning point in this game for me was in the second quarter when Iowa State tried to get a yard three separate times and failed. That was the difference in the offense this game compared to the OU win. Iowa State has been getting that yard for most of the year. They just couldn't vs. the Cowboys.
2 – Pre-snap penalties: Iowa State has had three illegal formation penalties inside of the oppositions 35 yardline in the last three games (plus an ineligible man downfield on the 23 vs. Oklahoma). It keeps happening and it's driving me crazy! Especially after a bye! 
(For what it's worth, I hate using exclamation points but that's how passionate I am about these pre-snap penalties.)
I have yet to watch the game back and chart things, but Iowa State went 3-for-13 on third down in the loss. My educated guess is that the Cyclones – who struggled in pass protection – were in third and long more often than not.
Special teams: I refuse to pile on. Connor Assalley has made a ton of huge kicks in his Iowa State career and likely feels worse than anybody about the loss. But you can't leave six points on the board – lose by three – and not end up in "Three Down."