Iowa State coach Bill Fennelly stood next to his team's bench, his arms crossed, and face as red as the paint on the floor.
His prize-fighter was getting bullied again, being knocked down and pushed every which way before finding a path to the basket and scoring another two.
It's been a familiar site for Fennelly during this year's Big 12 women's basketball season, and one that he thinks has contributed against Iowa State in their 1-3 start.
Despite the loss, that fighter found her way through the punches in route to a 31-point, 15-rebound performance in her team's 77-74 loss to TCU.
"I've been impressed with a lot of our players over the years, and I can't be more impressed than I am with Ashley Joens," Fennelly said. "The way she is getting treated and the way people [are being allowed to] guard her is an embarrassment. She just doesn't waiver. She just keeps going. I am just so impressed with her and what she's about."
Although Fennelly knew that Joens would be bodied up once conference play started, he said the way she is being guarded is unfair.
Joens had only tallied seven total free-throw attempts in the first three games of Big 12 play.
The style of play emerging is contradictory, according to Fennelly, to the video each coach in the conference watched ahead of the season on how games would be called differently this year.
"I want the game to be played and called the way we were told it was going to be played and called," Fennelly said. "Maybe I'm the only one that thinks she's getting guarded the way she is. I know you play people tough, but I don't think it's fair to the kid."
The coach knows something needs to be changed, but it won't be in his team's physicality.
Fennelly made it clear he wouldn't stand for that.
"We don't coach that way," Fennelly said. "We don't play that way. We don't teach hand-to-hand combat here. If they want someone else to coach the team to do it, they can, but I'm not doing that. I don't believe in it."
Just how drastic of a change will he make?
Aside from Joens and junior Kristin Scott, everything is open.
"Ashley Joens will start Sunday," Fennelly said. "Kristin Scott will start Sunday. Everything else is open. We have to try something."
They have to find a way — a new way.
It's been a common challenge in the closing moments of games this season.
"If my dad would have called me tomorrow like I know he would have, he would say, 'Don't feel sorry for yourself and find a way to make it better,'" Fennelly said. "That's what he would tell me.
"So, tomorrow when I'm staring at my phone and it doesn't ring, that's what I'll be thinking," Fennelly said.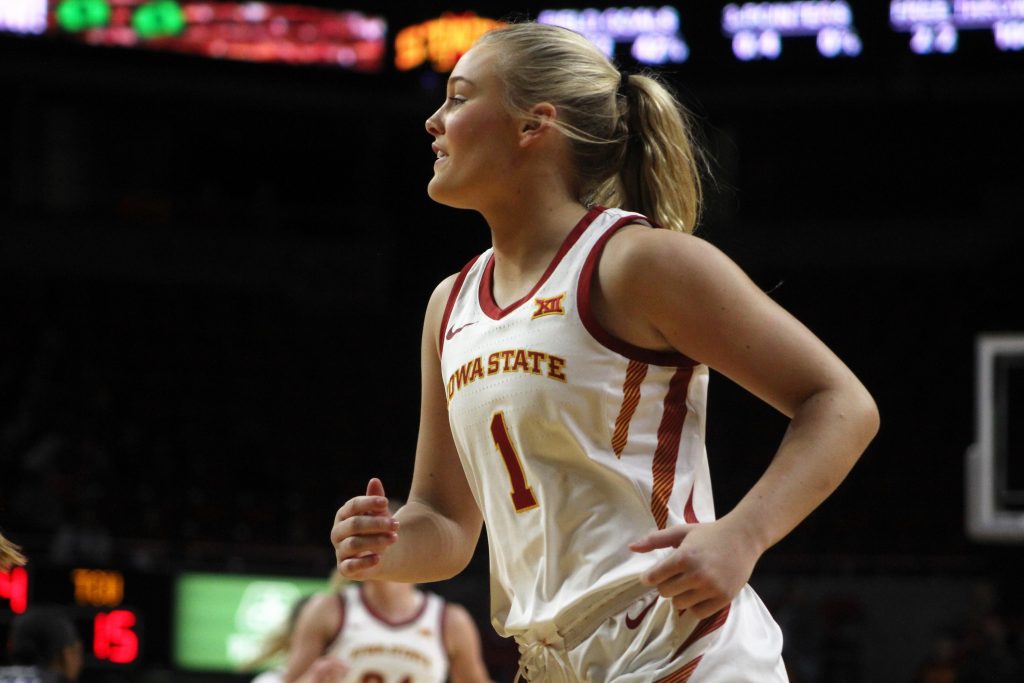 The game also saw the return of junior Madison Wise, who has been battling migraine issues for the past two months.
Fennelly and his staff did not set any expectations for Wise as far as statistics go. They were just glad to see her back on the floor.
Not only does it give the Cyclones a little bit of extra scoring, but it also gives a team that doesn't have much depth another player with minutes under her belt.
"I think it's big for her, number one because the kid likes this team. I think it's great to see her come in and compete," Fennelly said. "It's the first of three, three-game weeks coming up. Getting her back gives us options – an option we didn't have last week."
The loss is the Cyclones' second straight at Hilton Coliseum and drops them to 1-3 in league play on the year, going into a three-game, seven-day stretch next week.
With the rough start, they've had, Fennelly and the Cyclones will need their prize-fighter more than ever, but we already know that she can take it.
Big 12 WBB Standings
Position
Team
Overall
Conference
1
Baylor
14-1
3-0
2
West Virginia
13-2
3-1
3
TCU
12-3
3-1
4
Oklahoma
10-6
3-1
5
Oklahoma State
11-5
2-2
6
Texas
10-6
2-2
7
Kansas State
7-7
1-2
8
Iowa State
9-6
1-3
9
Texas Tech
11-3
1-3
10
Kansas
11-4
0-4
Upcoming Big 12 Schedule
Wednesday, Jan. 15
Oklahoma 73, No. 17 West Virginia 49
Oklahoma State 70, @ Kansas State 63
TCU 77, Iowa State 74
No. 2 Baylor 90, Kansas 47
Texas 92, Texas Tech 66
Saturday, Jan. 18
5:00 p.m. | Texas Tech (1-2) @ Kansas (0-3)
7:00 p.m. | No. 17 West Virginia (3-0) @ No. 2 Baylor (2-0)
Sunday, Jan. 19
Noon | Texas (1-2) @ Kansas State (1-1)
2:00 p.m. | Iowa State (1-2) @ Oklahoma State (1-2)
3:00 p.m. | TCU (2-1) @ Oklahoma (2-1)