Two tough games to start the season. The third game poses the best the team on the schedule.
The first two seasons in the Matt Campbell era have seen slower starts as the team has been fine tuned for a late season run. ISU has tended to find its footing in about the fourth game and established its identity at that stage in the season.
The Cyclones will need to be ready to roll at the outset in 2018.
Game 3 – Oklahoma
Oklahoma is the only Big 12 program to ever earn a spot in the College Football Playoff. Last year represented OU's second appearance and only a young, underachieving defense held them out of the title game.
Yet, Iowa State was the only Big 12 team to defeat the Sooners.
The opponent:
Explosive offense. Epic offense. Inconsistent, yet timely defense. That was the formula for Oklahoma in 2017 and has become the identity of Sooner Football in the modern era.
Oklahoma was led by a Heisman Trophy winning quarterback, the league's best offensive line, and a running game that did not succumb to the loss of elite talent in the backfield.
Oklahoma was hampered, only slightly, by a young defense adapting to a switch to a 4-3 scheme from a 3-4 scheme.
Their only regular season loss was to your Iowa State Cyclones. After a vigorous non-conference schedule, national pundits chalked up the Iowa State as a case of overlooking a weak, but dangerous opponent.
However, close analysis of that game reveals that Iowa State's inspired effort was more impressive than less astute observers would admit. Iowa State entered the game with first time starter Kyle Kempt and only two games under their belts in their adjusted defensive scheme. The offensive line was incapable of establishing any consistent gaps against the OU front. ISU fell behind 17-3 and 24-10 late in the second half and was poised to fade in to the point spread. Yet, momentum shifted, thanks to an unforced fumble on the goal line, and Iowa State exploited the youth of the Oklahoma defense to mount a program shifting victory.
In 2017, Oklahoma entered the season with a generational talent at quarterback, a solid offensive line, a solid defensive line, a question at running back, talented but youthful receivers, and questions in the secondary.
In 2018, Oklahoma enters the season with established and explosive running backs and receivers, the league's best offensive line, a more experienced defense with the scheme transition behind them, and a question at quarterback. But, is it a question at quarterback?
Kyler Murray is universally revered for his athletic talent which is recognized in multiple sports. He had a less than stellar start at Texas A&M, but showed glimpses of the skill that caused him to be a coveted recruit. At Oklahoma, he has learned behind a dominant player and enjoys the comfort of knowing that the play designs and play calling are being handled by one of the brightest minds in football.
The only meaningful time that Murray received last season was the second half of the first game against UTEP (one of the worst teams in the country). He missed his first throw and completed his next 10 attempts. He ran effectively and prudently. He led three touchdown drives and utilized a rocket arm and surprising accuracy to do so. Viewing that game on YouTube is worth your time.
As I assess Oklahoma, I see no reason that they cannot make a run to the title game again. Even if Murray is less than spectacular in the passing game, OU has the ability to grind out games behind a solid running game.  That is, if the defense holds up its end of the bargain.
If Oklahoma can consistently put forth the type of scheme and effort displayed in the Ohio State game last year, then they will be able to win games in multiple ways. If Murray is what many expect him to be, then they will win regardless. But, in those questions lies a vulnerability. A vulnerability that can be exploited if there is a glitch in the system.
The match-up:
Iowa State might match-up with Oklahoma better than any other team in the Big 12. That is not to say that Iowa State is better or even comparable athletically to Oklahoma, but at times the athletic advantage can be neutralized. That is where Iowa State retains an advantage against Oklahoma.
The Matt Campbell led Cyclones play a disciplined game. They are frustrating to play against because they deploy a disciplined defensive scheme that forces teams to beat them versus simply exploiting mistakes. The offense is conservative to a fault at times…until it isn't. In short, Iowa State is a grind in every application of the word to the game of football.
A disciplined grind is not what an Indy Car squad like Oklahoma enjoys playing against. Playing Iowa State for the last two seasons has been akin to a sports car in a traffic jam. Yes, openings emerge and the vehicle guns through them, but there is a lot of sit and wait.
Oklahoma's offensive strengths play directly against Iowa State's defensive strengths. Namely, the ability to run the ball explosively and get deep against a creeping secondary. Iowa State defends both well and can make progress by remaining stout in both areas.
Oklahoma's defense is subject to breakdowns in coverage and gap responsibility. If Iowa State's offense is more competent in the run game, then there is an opportunity to keep the OU offense off the field and frustrate the game plan.
With that said, Murray's ability to run and the speed at receiver can very easily put Iowa State on roller skates early and often. If Oklahoma gets space like they did last year then I suspect that it will be far more difficult for Iowa State to mount a comeback in 2018.
Preferred plan of attack:
The Iowa State offense needs to step up its game in the third contest of the season. The name of the game in the first two contests has been to establish the running game, which is likely to accelerate the needed cohesiveness of the offensive line. Fortunately, this plan is congruent with a path to victory in the first two games.
The game against Oklahoma will require not only an efficient running attack, but precision and down the field passing. Iowa State has to pressure Oklahoma all over the field, inside and out, short and long. Oklahoma cannot be allowed to get comfortable defensively.
That means Iowa State needs to utilize formations and route concepts that create open receivers in as much space as possible. Doubles and trips stack with crossing and deep concepts. Delayed routes and isolation schemes to put the ball in the hands of the running backs and tight ends will be mission critical. The ball must be delivered to play makers all across the field.
The Iowa State defense must be creative and multiple. Murray will still be raw in his preparation and ability to read and adjust to multiple fronts and coverage schemes deployed against him. He has the ability to beat anything with his athleticism and arm talent, but a creative scheme that is executed well can slow the offensive juggernaut down.
I advocate a pressure package from both the four and three man fronts interspersed with max coverage. A spy on Murray has to be active and aggressive in a pressure look as opposed to a passive position waiting for the play to break down. If the spy waits, he will never catch or corral Murray. Pressure from across the front and from the secondary forces quick reads and nervous feet. Showing pressure and falling in to max coverage creates confusion and mistakes.
The offensive and defensive play callers will need to be on their games and achieve a flow that creates imbalance and exploits holes discovered in real time.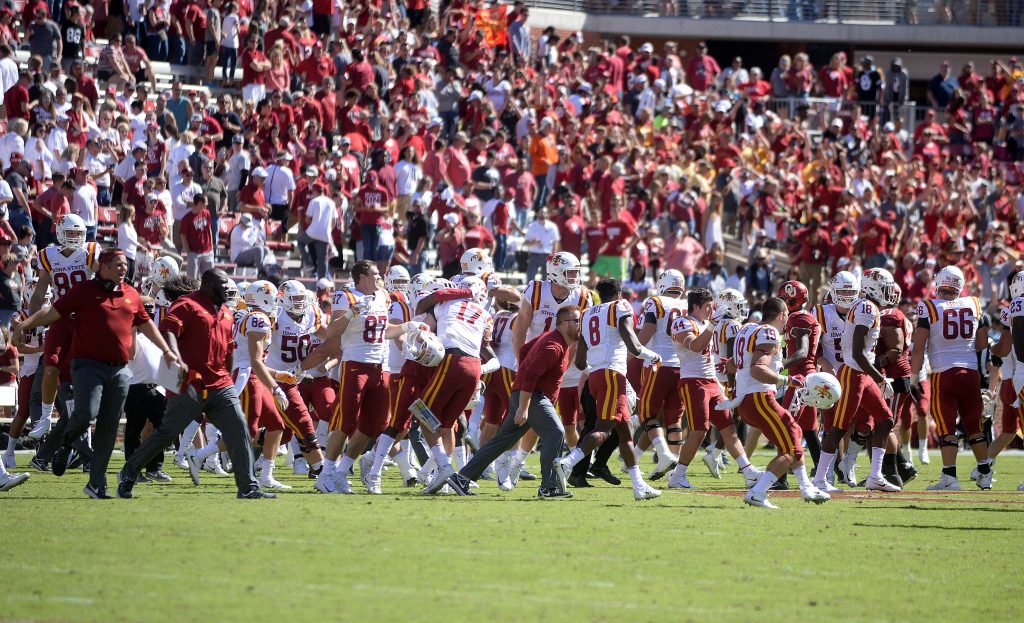 The "x" files:
The "x" factor for the Oklahoma offense is Grant Calcaterra. The talented tight end will be a red zone factor and a security blanket for Murray if Iowa State is effective in applying pressure. Not unlike Noah Fant with Iowa, Calcaterra is a match-up problem for Iowa State and has the ability to make the plays that gain and extend a lead for Oklahoma.
The "x" factor for the Oklahoma defense is the secondary as a whole. The secondary returns maturing players who are ultra talented. In addition, freshman such as Brendan Radley-Hines will be relied upon to improve the unit. Iowa State will stress the secondary with its size and speed and Oklahoma's defensive effort will largely hinge on their ability to cover all over the field.
The "x" factor for the Iowa State offense is….wait for it…Zeb Noland. A more detailed explanation is required here. I think Kyle Kempt is the starter and I think he is as solid an option as a team can have. I have no problem with him taking every snap for Iowa State this year. But, Noland's skill set is superior. I suspect that Noland will take meaningful snaps in each of the first two games and that his ability to drive the ball across and down the field  will be required to defeat Oklahoma. At some point, I suspect there will be a transition to Noland as the starter and it begins with the Oklahoma game.
The "x" factor for the Iowa State defense is the middle linebacker. Whoever it is, likely O'Rien Vance, will need to be on point in the running game, in coverage on the delayed routes, in the option game, and spying on Murray. It is a tall order and while it isn't the only position with responsibility, an outstanding game from the position will give Iowa State a chance to repeat its shocking upset from 2017.
Expected headlines:
I expect to be writing on Sunday about either:
1 – Oklahoma avenges loss behind Murray's outstanding performance; or
2 – Iowa State's formula for slowing down Oklahoma.
It is really that simple. Win or lose (brilliant analysis here). Iowa State will be a sizable underdog at home and most will expect Oklahoma's thirst for revenge to rule the day. A 20 point loss will not be a surprise, and unlike last year, a 10 point win will not shock the world.
Iowa State has the ability to contain Oklahoma. It is more probable than possible that Oklahoma will be seeking an identity and there will be exploitable glitches in their early games. Often, that manifests in turnovers, which will be the key to the Iowa State upset.
If Iowa State starts the season 1-2, it is not a disaster. How they play in the two losses will be of primary import. If they are 2-1 or 3-0, then a special season awaits. To take the next step in Matt Campbell's vision, Iowa State will be at least 2-1 in the first quarter of the season.
Even in the world of wild speculation, I do not know if ISU can win back-to-back games against likely 9 to 12 win teams. That is the mountain that must be climbed immediately. My attention will be focused on how the team plays and if they are capable of establishing or building on their identity right out of the gate.