Nov 4, 2017; Morgantown, WV, USA; Iowa State Cyclones running back David Montgomery (32) runs the ball during the third quarter against the West Virginia Mountaineers at Milan Puskar Stadium. Mandatory Credit: Ben Queen-USA TODAY Sports
A little different approach this week. Just text and some thoughts on the more esoteric and amorphous elements of a football game. I know I am an analyst and the X and O's are what I am supposed to be doing — but bear with me for this post.
The Game
The disconcerting part of the loss was the manner in which it occurred. West Virginia was able to run the ball at will against an Iowa State defense that has become accustomed to stopping the run. Iowa State was unable to run the ball effectively against a defense that had allowed every opponent to run freely.
Recently uncharacteristic penalties and drops plagued Iowa State and our old friend, deep coverage struggles, reared their heads and conspired to stifle a winning result.
West Virginia used delay run action, first by exercising patience as a runner, second by design with sprint draw and straight draw action, to exploit the three man front utilized so effectively in the last four games. Iowa State's edge players failed to maintain lane discipline and allowed themselves to be pushed out of the play. The linebackers could not get off the chip blocks to fill the hole and there were yards for a talented back.
Offensively, Iowa State struggled with pressure and could not effectively slow down the three man rush of West Virginia. As I have stated previously, the right side of the offensive line has struggled and that was on full display yesterday. They are simply over matched and struggle with athletic defenders like number 91 for West Virginia.
At halftime, my notes read as follows:
*** Patient run opens holes and exposes gaps – safety coverage issues on deep ball exposed. 2nd half, have to go to 4-2-5, no pressure, drop 9 and take chances on deep ball.
*** Uncharacteristic adjustments, beat blitz once on Ryen slant, penalties and drops costly, can't run consistently. Have to get run game outside of tackles, swing to Montgomery, Jones, Ryen, use WR blocking advantage per Akron, slant/seam behind blitz then go deep on quick double move.
I am no soothsayer, not even a smart football guy, but most of those adjustments were made at halftime. The four man front stymied the run game and measured pressure limited the deep pass in the second half. The offense moved the ball on several slants, on WR hitches and some size advantage passes on the outside.
The problem arose in the redzone where Iowa State broke down on two occasions. Without comment as to what I would have done due to its irrelevance, Iowa State was unable to get enough push to score from the one.
The second redzone failure was an interesting choice that carried over to Iowa State's final drive. Space was being created on the edge for the horizontal passing game. Iowa State chose to attack a crowded middle on the goal line and in the last drive instead of grabbing some space on the edge. I am not opining that my perspective here is correct or would have worked better, just saying that there was evidence that yards were available in both those scenarios and I would have liked to have seen it tested.
Ultimately, West Virginia had a solid plan of attack and Iowa State did not counter early enough or often enough. However, they did counter and narrowly lost a contest they were outplayed in for most of the game.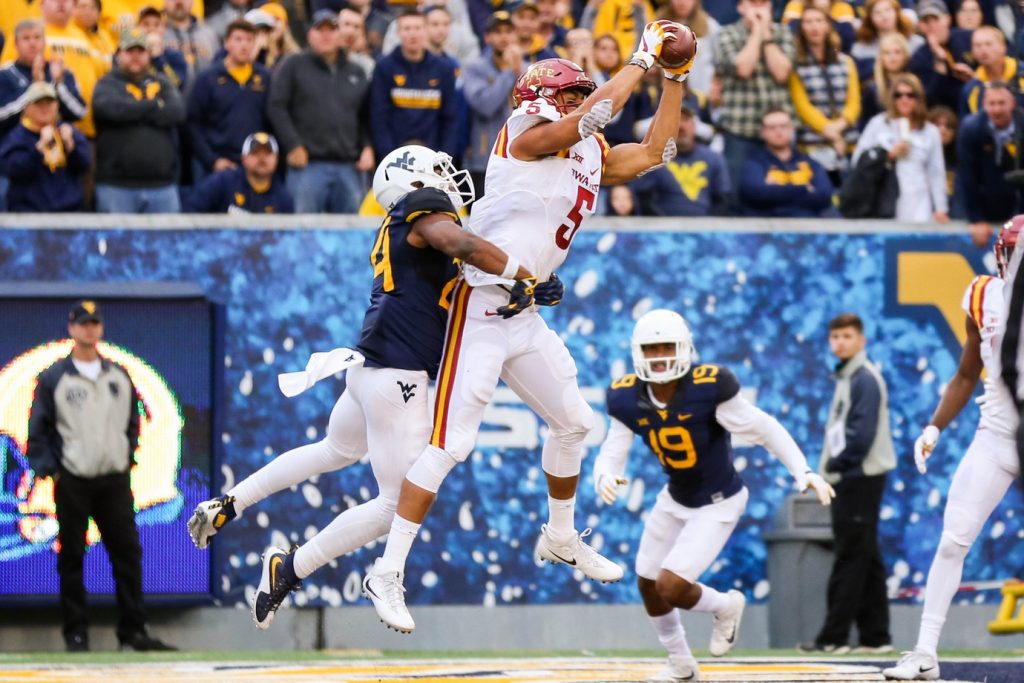 Perspective
Iowa State lost to a solid opponent by 4 points and had opportunities to win in a valiant comeback effort. The loss leaves Iowa State with a 6-3 record, 4-2 in conference, and a 10 win season remains possible with a 4-0 finish (including a bowl game).
Iowa State absolutely missed an opportunity yesterday. An opportunity to elevate to a level heretofore unseen by current Iowa State fandom. The third loss for Iowa State brings their margin of defeat in their three losses to 17 points with 10 of those being attributed to one game.
Losses hurt and it is easy to parse out blame. A dropped deep ball on a double move late, blown coverage, failure to block pressure, wasted plays on the goal line, undisciplined rush lanes. But the measure of team in my opinion, is what they do when they get knocked down. It is preferable to never get knocked down, but that isn't realistic.
This Iowa State team, both in game, and week to week, has shown remarkable resilience in the face of adversity. They keep working, keep adjusting, keep coming. There is no easy win against the team and I, for one, appreciate that. You may get the better of them on a play, a drive, a game, but you won't get the better of them as a team or on the whole.
There is a lot to accomplish next week and in the week's after, and I have seen no quit in this team. They have tasted success and I believe they are hungry for more.
The Guts of the Game
Football is a great game because it its varied and diverse elements. I focus on scheme and X and O's primarily. But, there is a game outside of the scheme that in many cases can determine a game's outcome. It is hard to characterize, but a tremendously accurate and well thought out quote obtained by our own Rob Gray summarizes what I want to discuss.
This is what former ISU/NFL star Reggie Hayward told me last week, pre-TCU: pic.twitter.com/AKJ0u1cNmV

— ROB GRAY (@ROBWGRAY) November 5, 2017
Mr. Hayward is dead on in this quote. Managing the team psyche can be most difficult when a team achieves success beyond its own and everyone else's expectations. Tempering swagger and elevating work habits in the light of success is not natural and cuts against one's ingrained tendency.
To add to the perspective of Mr. Hayward, Iowa State was in an unusual position yesterday. While they were a Vegas underdog, they rightfully expected to find a less talented and less game team than what they had faced in two of the previous four weeks. They had played for four weeks with nothing to lose and without expectation. Yesterday, there was something to lose and expectations.
In a short period of time, this 2017 squad elevated themselves from a rising team that wasn't quite there yet, to a team perceived to have arrived. ISU went from being the hunter to being the hunted.
That is a welcome position, but it is no small change in the dynamics of the contest. So, what is the net result of that scenario? It means that when you are the hunted, you will receive maximum and extraordinary effort from the hunter. It means the hunter starts out with the "momentum" (whether you believe in that or not). It means that the hunter will hit harder, block better, run a little faster, and execute on a higher level than what you have observed in the past.
Yes, many of you have competed in football and other sports and can attest to this. Be it a player you want to beat, a rivalry game, or a big game with high stakes, there is another level of performance that can be reached for a team and a player with a high level of motivation. In previous weeks, that was Iowa State. This week, it was West Virginia.
As the hunted a team has to absorb and match the effort and intensity of the hunter in order to settle the contest to a level where scheme and talent normalize and the hunted can grasp control of the flow of the game. It sounds easy, but it is not. It is learned and taught. It is a part of the "culture" of a program.
Successful programs train to take a teams best shot and match it. The old axiom that "…the longer you let them hang around, the harder it is to beat them…" applies. The hunter's effort is matched with equal intensity in the execution of each play. Winning programs practice meeting that intensity and bringing their own to every contest.
It becomes a challenge for a coaching staff to instill a mentality that rises to the challenges of being a front runner alongside the mentality of a team trying to break through and overcome superior opponents. It comes down to coaching fundamental play with the highest level of intensity regardless of opponent. As Coach Campbell said, it comes down to humility and hunger and the will to dominate.
Iowa State has plenty of that. They are highly motivated and play that way. However, West Virginia brought the hammer and Iowa State found themselves being the nail. They were tested with elevated effort and having to dig deep to overcome it.
Ohio State and Penn State had a lesson in this dynamic yesterday. Clemson got a taste of it a few weeks ago. Washington State, a team very similar to Iowa State, took a big shot of it from Cal and dished a little bit of it out yesterday to Stanford.
West Virginia had a good plan. They have good players. But, they were hunting yesterday. Their effort level was elevated and Iowa State was not ready for it. Iowa State struggled to relax in to the tenor of the contest and fought back a little too late. They were uncomfortable being the hunted and being forced to respond with extraordinary effort.
But, they did respond. They did fight back. They did settle the game down. They played like the superior team for 26 of the 30 minutes in the second half. They fell short when it was winning time, but they literally fell short by inches and feet, not yards.
Unlike the teams mentioned above, Iowa State lost no luster nor any conceivable goal yesterday. I saw a team fight to the end and meet the resolve of its opponent when they had the opportunity to back away. I saw a building block, a teaching tool, and a cornerstone of culture change.
Last Note
I know bowl eligibility is for teams plying their trade in the droppings of large farm animals. But it means something to me as an analyst and fan of this program.
Being bowl eligible and winning more games to qualify for a higher tier bowl game is vitally important for the future of this program. Why? One reason — practice time.
A bowl game means additional practice and development time for a young and developing program. It is essentially a pre-spring practice development period.
I don't think the importance of that opportunity can be understated. Fundamentals, mental repetitions, and added preparation for the 2018 season are critical to maintaining the momentum and shoring up the on-field issues that re-surfaced yesterday.
Next week, Iowa State has an opportunity to continue an upward push towards a winning record in conference play. They once again will be a hunter with nothing to lose and no expectations. I expect outstanding intensity and execution and for them to once again position themselves to make winning plays.
This is a season of growth. A season of changing tides. A season of transition from over matched underdog, to respected challenger.
Yesterday it took a solid West Virginia team playing as if their life depended on it to narrowly defeat your Iowa State Cyclones on the road. There is no moral victory for Iowa State in the loss. Instead, there is evidence that they are learning what it means and the price that must be paid to turn the corner to perennial contender.
Go get it done and beat OSU!