Sep 2, 2017; Ames, IA, USA; Iowa State Cyclones head coach Matt Campbell motions his players during their game with the Northern Iowa Panthers at Jack Trice Stadium. The Cyclones beat the Panthers 42-24. Mandatory Credit: Reese Strickland-USA TODAY Sports
AMES — When I asked ISU coach Matt Campbell what kind of atmosphere he expected for his team's Big 12 home opener Thursday night against Texas, his eyes didn't light up.
He didn't smile.
Campbell's pointed and prideful words, however, provided the perfect backdrop for a prime-time, nationally-televised opportunity.
"I think the biggest thing is the country gets to see what we all know," Campbell said of the looming 7 p.m. matchup with the Longhorns. "That's one of the neat things about playing nationally-televised games, is the country gets a really inward look at what Iowa State's about. I've said this and I'll continue to say this: it doesn't matter for me if it's Thursday night on ESPN or Saturday 11 o'clock. Playing here and going into that stadium, there's nothing like it in the country. It's magical. It's special."
We all know Hilton Magic. Campbell's talking about Jack Trice Stadium Magic — and the Cyclones (2-1) will need help in conjuring some against the rebuilding Longhorns (1-2), who put a scare into fifth-ranked USC before falling in double overtime.
"Definitely a physical team," defensive end and native Texan J.D. Waggoner said. "They're a big team. They have a lot of great skill players and I think they'll be ready to play just as we will (be) for this one."
New Texas coach Tom Herman knows what type of environment Cyclone fans will create.
As ISU's offensive coordinator for three seasons, he saw fans flock to Jack Trice Stadium for a Friday night stunner of then-No. 2 Oklahoma State in 2011, as well as numerous other upsets during the first few years of the Paul Rhoads era.
"Anytime a big name comes into town, that place is rocking," Herman told reporters in Austin. "It doesn't matter. It's a really, really neat college football atmosphere because they are going to pack that stadium whether it's Northern Iowa, Texas, or Iowa. Those fans come out and show their support. They are loud and they're ruckus. I'd imagine it would be much of the same, especially on Thursday night national TV."
It's uncertain who will start at quarterback for Texas — banged up sophomore Shane Buechele, or up-and-coming true freshman, Sam Ehlinger.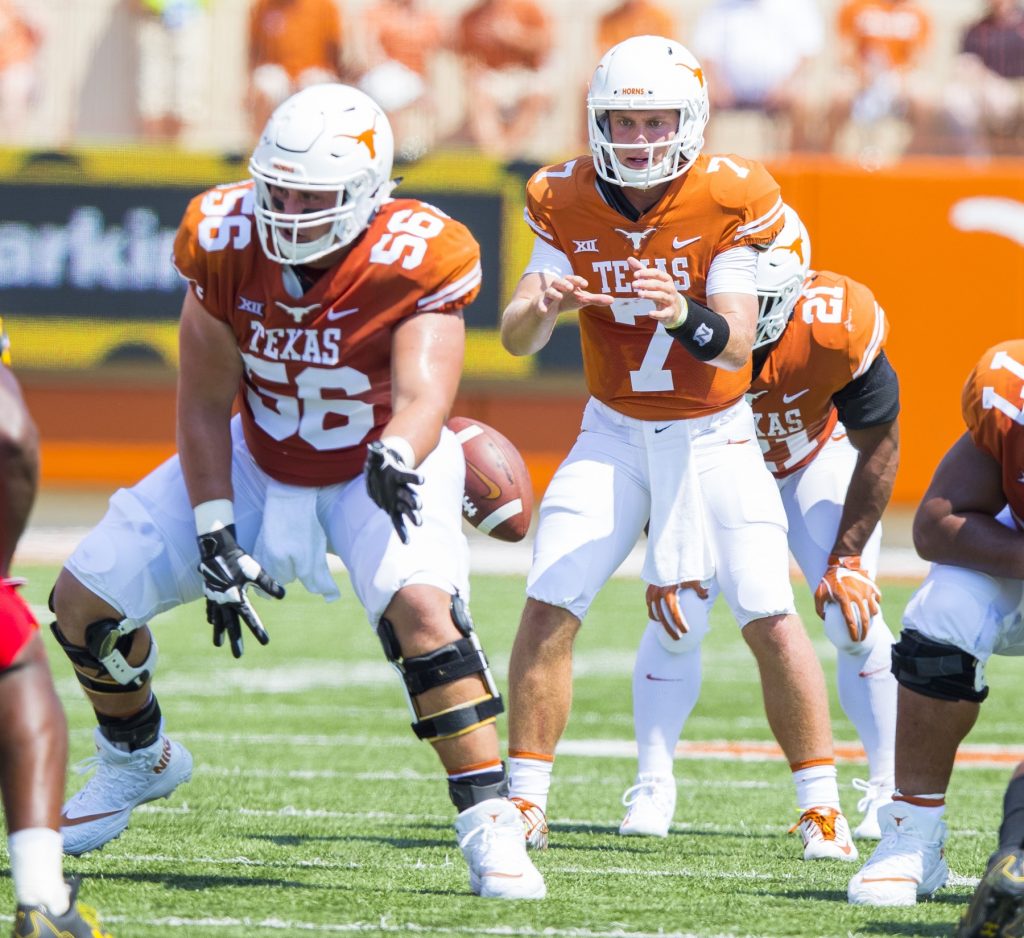 But it's clearly evident the Longhorns will bring a formidable front seven on defense that's built to clamp down on the Cyclones' David Montgomery-led running game.
"I guess they're just a defense," said Montgomery, who's on pace for 16 rushing touchdowns this season, which would rank fourth all-time in ISU history. "I'm going to prepare the same way, just like everybody else on this team's going to prepare the same way."
The sky-high emotions are left to the fans, who always deliver, especially for highly-charged night games in Ames.
"It's going to be crazy," sophomore receiver Hakeem Butler said. "It's always crazy in Jack Trice. I love it here."
Butler will play a pivotal role in helping ISU's offense put pressure on the Texas secondary.
He's tied with senior standout Allen Lazard for the team lead in touchdown catches with three and will tax the Texas secondary with both size and skill.
But solid production from Montgomery could be the touchstone for ISU if it's to pull off the mild upset (The 'Horns are a 6.5-point favorite as of Wednesday morning) — and start the season at 3-1 for the first time since 2012.
"This will be a great challenge for us across the board and whether it's running or throwing, I think all avenues of our football program we had to improve on and having a couple extra days (of practice) gave us a chance to really start to go back to our fundamentals and our details of what it takes for us to be successful," Campbell said.
So expect tension. Maybe some drama. Big plays accompanied by a richly-layered soundtrack of sweet, chaotic noise.
"It's going to be an electric atmosphere, just like any night in Jack Trice," Waggoner said. "It's amazing, the support we get from the fans. I've never had anything like it. … I think it's going to be wild. I think it's going to be an awesome night."