The following is a special to Cyclone Fanatic written by Iowa State fan, Kyle
Oppenhuizen. Kyle, an Iowa State alum, is the communications project manager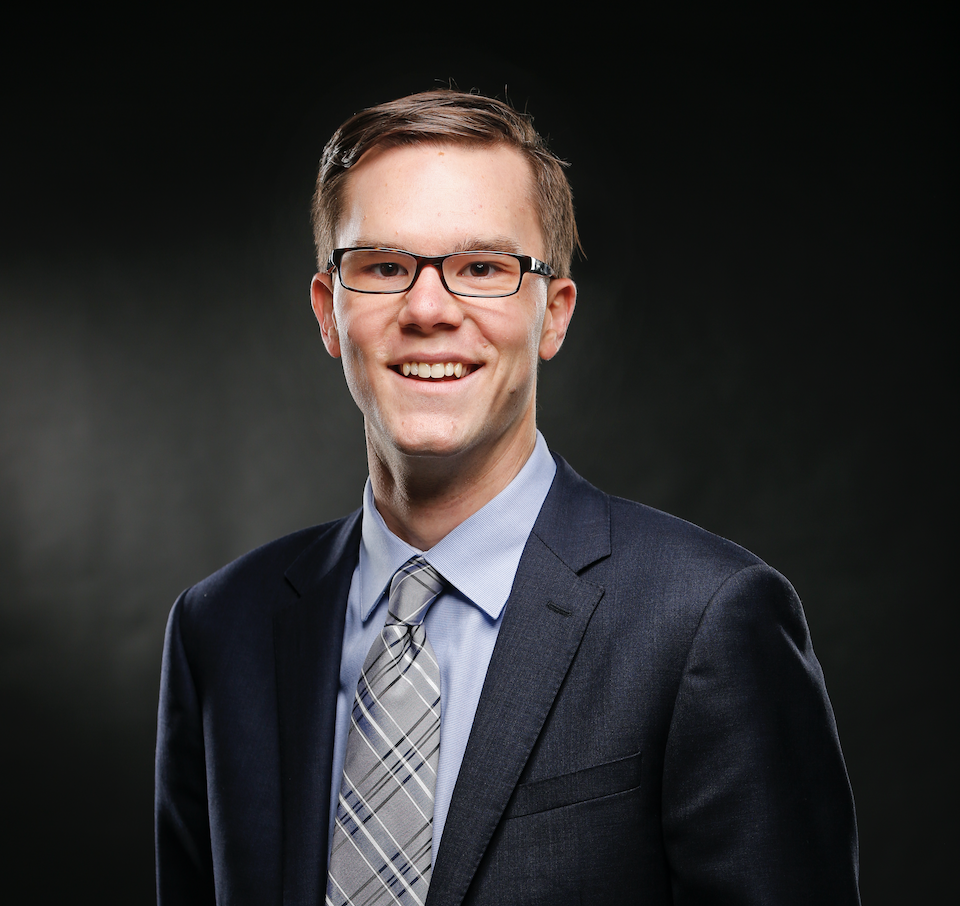 for the Greater Des Moines Partnership. You can follow him on Twitter @KyleOppenhuizen . 
Why do we watch sports?
As I have recently come to terms with turning 30 and having just a little more perspective on life than I did throughout much of my 20's, I'm convinced I finally know the answer to this question. It's not watching your team win games or championships – though admittedly that's fun.
It's the memorable moments.
Most Cyclone fans have a sense that we have just wrapped up a six-year run that is unlike anything we have ever seen, and we may never see anything like it again. Yeah, we won a lot of games. We won championships. But man, it was the characters that really sold us. Guys like Royce, Scotty, Melvin, Georges, DeAndre, Naz, Matt, Monte, Deonte… the list goes on. Most of us don't know these guys personally, but we feel like we do. In a way, saying goodbye to this year's seniors is like saying goodbye to the era. It's like reflecting on a great friendship that ended before we were ready for it to. And the moments they gave us… oh the moments.
…
Sitting in Hilton Coliseum in January 2012. Top five Kanas comes to town. Hilton is decked out in gold. We want to believe. Can we believe? It's been so long since we had a really big win. It's been so long since Hilton has rocked. My best friend is sitting next to me. His first memory of ISU basketball is 2005/06 – the first year of our NCAA Tournament drought. He has never witnessed Hilton Magic and doesn't really believe it exists. Luckily, we have The Mayor. It takes awhile, but in the last 10 minutes the crowd comes to life. Hilton starts to believe. We've got Kansas on the ropes. Then Chris Babb shoots a three. Hilton erupts! Six years of waiting for this kind of moment, and we rush the floor…
…
Three nights later, Kansas State is in town. We're still buzzing from the KU win, but K-State has a different idea. We get down 10 or so. We wonder if the good vibes are about to end. We don't see Iowa State make comebacks from a double-digit deficit. It just doesn't happen. And then it does. Every defensive possession, the crowd comes to its feet, willing something special to happen. The team responds. Royce White has the ball with time ticking down, makes a nice up-and-under move, and… IT'S GOOD! Hilton Magic is reborn…
…
It's senior night, and Scott Christopherson kisses the floor. A little Cyclone swagger…
…
The NCAA Tournament drought is over. We're back. Matched up with UConn, the defending national champs, many wonder if we'll have the poise to keep up. We do. And then some. The Cyclones dominate, and it is fun to be an Iowa State fan again. As the game ends, some UConn player tries to dunk it on a fast break after everyone else has stopped playing. The ball clanks off the rim, and a bar full of Cyclone fans in Des Moines erupts in laughter. Sometimes things just go your way…
…
It's next season, and Iowa State is feverishly trying to make a run back to the tournament. They've had their ups and downs, but Kansas is in town again. And Hilton is rocking. Kansas is on the ropes, and then something happens that's just so "Iowa State." The freshman who we are all quickly falling in love with, Georges Niang, takes a charge. They don't call it. Kansas gets the rebound, gets fouled, and shoots free throws to tie it. They win in overtime. We're heartbroken, but nothing galvanizes Cyclone fans like when it is us against the world. And we may not have fully realized it yet, but we've got our guy with Georges…
…
And then Aaron Craft hits a game-winning three over Georges in the NCAA Tournament. Fans cry, and so does Georges as he apologizes to Cyclone Nation after the game. And we realize he is a Cyclone as much as we are…
…
Michigan comes to town, and so does Dick Vitale, baby. Rumor has it that Johnny Orr will be at the game. Will he walk out? As the pregame buzz builds, Hilton feels a little different than I've ever felt it. We are, for this day in November, at the center of the college basketball universe. The Mayor, who we adore, walks out of the locker room. Johnny Orr is with him. It's a special moment, and everyone knows it. And oh by the way, Melvin Ejim is coming back from a preseason injury today. But will he actually be effective? Can we actually hang with top 10 Michigan? The answer to both questions is yes. And we're storming the court. And now the nation is paying attention…
…
Iowa comes to town. It's probably the most highly anticipated game in series history. Iowa is more formidable than many of us thought, and they lead most of the game. But we have one run left. Georges hits a nifty layup to give us the lead. Mike Gessell goes to the line for two free throws. "He's a pretty good free throw shooter," I think to myself. "I better yell loud." He misses the first. Hilton ramps up the noise to another level. Is the floor shaking? Am I going to pass out? He misses the second free throw. I turn to my best friend, slap him on the chest, and yell "DID YOU SEE THAT???!!!!??" Hilton Magic lives, and as Georges points out, we all know it's a Cyclone State…
…
We've seen this before. Iowa State puts up a great effort at Oklahoma State, but the House of Horrors that is Gallagher-Iba Arena is about to crush the hopes of another good Cyclone team. Time is ticking down, and then a sophomore in a major slump steps up with ice in his veins and hits a shot to tie the game in overtime. Thanks Naz. And then a freshman who we're still getting to know calmly nails the game-winning three in the next overtime. Thanks Monte. And Fred Hoiberg tweets about his score on Flappy Bird. It's fun to have a cool coach…
…
I was debating whether I would even go to the TCU game. I'm so glad I did. Melvin Ejim scores 48, a new Big 12 record. Give him player of the year…
…
Senior Day. The student section organizes a massive "flop" to troll Marcus Smart. The Cyclones come back from a double-digit deficit, but Oklahoma State is going to hold on and ruin our good mood. Hilton is silent. It's eery. We can't believe these guys are going to beat us. And then.. "GOOOOOOOD!!! NAZ LONG DOES IT AGAIN!!" (Thanks John Walters). A bomb of sound goes off. It's pandemonium. And I forget where I am and who is around me. Everybody is getting a hug…
…
In Kansas City. It's been so long since we've won the Big 12 Tournament. My two best friends and I decide to make an impromptu trip to watch the championship game. Tickets are too expensive for us. No matter. Turns out the Power and Light district is packed with Cyclone fans. People wear eye-patches to support Georges, who got his face bloodied in the previous night's win over Kansas. Let's just say that a 70-degree day and playing for a championship makes for a party-like atmosphere. Tomorrow will be rough for many in Cyclone Nation, but tonight we're champions…
…
It will take Fred's finest coaching job to beat perennial powerhouse North Carolina without Georges. This is where the magical season ends, right? Naz, DeAndre and the Cyclones have a different opinion. Naz hits some irrational three's, DeAndre hits the game winner, and we're going to New York City for the Sweet 16. Can this day get better? Yes. The Mayor is an internet sensation, dancing in the postgame locker room celebration. It is so cool to be an Iowa State fan…
…
Fast forward to December. Some lucky Hawkeye fan has just received a kiss blown from Georges…
…
It's not only gameday vs. Kansas, it's ESPN College Gameday vs. Kansas. It's our time to shine in the spotlight. We pack the lower deck in the morning, and come back and make some noise in the evening. Kansas really never stood a chance in this one…
…
Two tough losses in a row, and we're down by 17 to a good Oklahoma team. The magic is running out. Something clicks. Georges makes a couple of shots. Hilton rises to its feet. Timeout, Oklahoma. This is normally the time when the crowd sits down. Not today! We stand as one, and we roar. We are NOT letting this team lose this game, and they are NOT going to let us down. We are one. Five minutes later, we are in the lead. Oklahoma really never stood a chance…
…
And we're back in Kansas City. At halftime, a KU fan starts talking trash. Her team is up big. I say "We've got them right where we want them." She laughs at me. "Yeah, right." Turns out I was right, because now I'm singing "Sweet Caroline" with thousands of Cyclone fans in Kansas City. We're champions again. Kansas fans are mysteriously nowhere to be found. There is nothing cooler than being a Cyclone fan…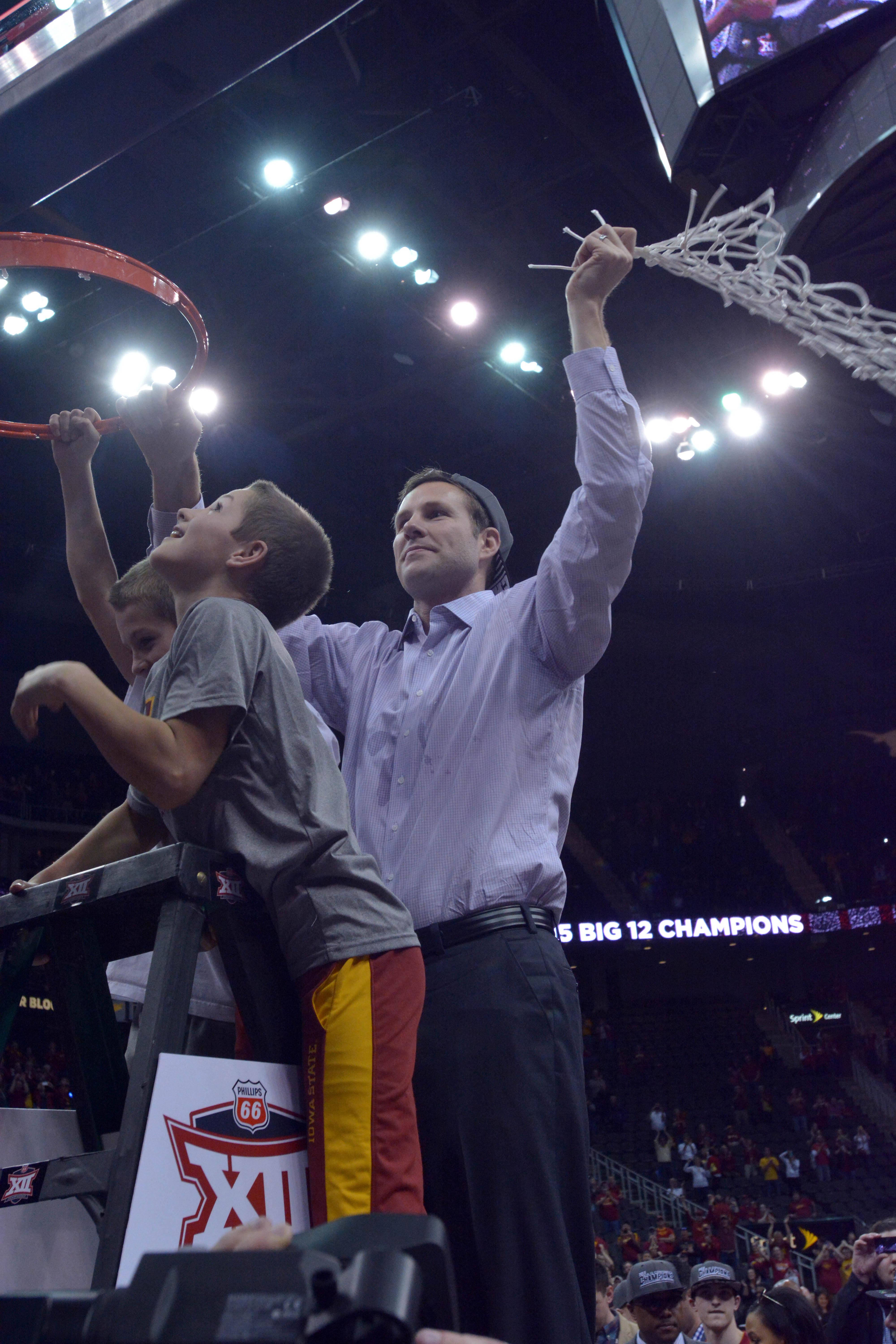 …
Three letters will haunt me for the rest of my life. UAB. OK, so not every moment was great…
…
Next season. Fred is gone, but we've got our core group of players back for what might be one more great run. Problem is, Iowa's star player made us look silly in the first half, and we're down by 20. We may never live this one down from our rivals. Then we make a few shots, and Hilton goes into what I like to describe as "Oklahoma mode." It's deafening, and we are NOT going to let this team lose tonight. They take our best shot, and they weather the storm. When nearly all hope is lost, we steal the inbound, and Matt Thomas, who that day was the feature of a touching national story, hits a three. We're alive. Monte hits the floater, Uthoff misses the three, and I'm hugging everyone I know and many people who I don't know. HOW did we win that game??!! Students rush the floor. The detractors wonder why we're so excited about our top 5 team beating an unranked opponent. If you were inside that stadium, you know. You just witnessed something you will always remember…
…
A month later, No. 1 Oklahoma is in town. We've never beat a No. 1 team, ever. Until tonight. Hilton is loud, but we're used to these types of moments now. Despite the game coming down to the final minute, it was never really in doubt in my mind…
…
Yes, Matt Thomas just dunked it against Kansas…
…
Senior night. Georges will always have a home in Ames. There's some dust in the air, because my eyes are watering…
…
Memories of last year's tournament still haunt our fan base. Georges has different ideas. We aren't losing in the first round. We aren't losing to a 12 seed in the second round. We're back in the Sweet 16…
…
Fast forward to December. I'm sitting next to my best friend in the upper deck at Wells Fargo Arena. Drake, who has no wins against Division I teams, is making this game close. From my amateur eye, we look like we're slightly embarrassed to be in a close game. How do you get over that embarrassment and pull this game out? Naz Mitrou-Long decides we are going to win. He scores a career-high. Some people may have already forgotten about this game, but I'll always remember a senior leader deciding to be a senior leader…
…
The NCAA Tournament streak is in jeopardy. Back-to-back losses, three losses at home, no "good wins" on the resume, and time is slipping away. During the first half of the game at Kansas, I mentally prepare myself for the fact that we are not going to make the NCAA Tournament. I nearly turn off the game, because it is too painful to see this group go out like this. I should have known better. Burton pulls up for the long three in transition, and I'm jumping around fist-pumping in my living room because I believe again…
…
Senior night. The team is on a winning streak, and it is a thing of beauty. Turns out Steve Prohm knows what he is doing after all. We win a thriller against surging Oklahoma State, because of course the Hilton crowd was NOT going to let Iowa State lose that game. The seniors give their speeches. Prohm's voice cracks as he introduces them. We realize that we're witnessing something special with this group, and we're not ready for it to be done yet…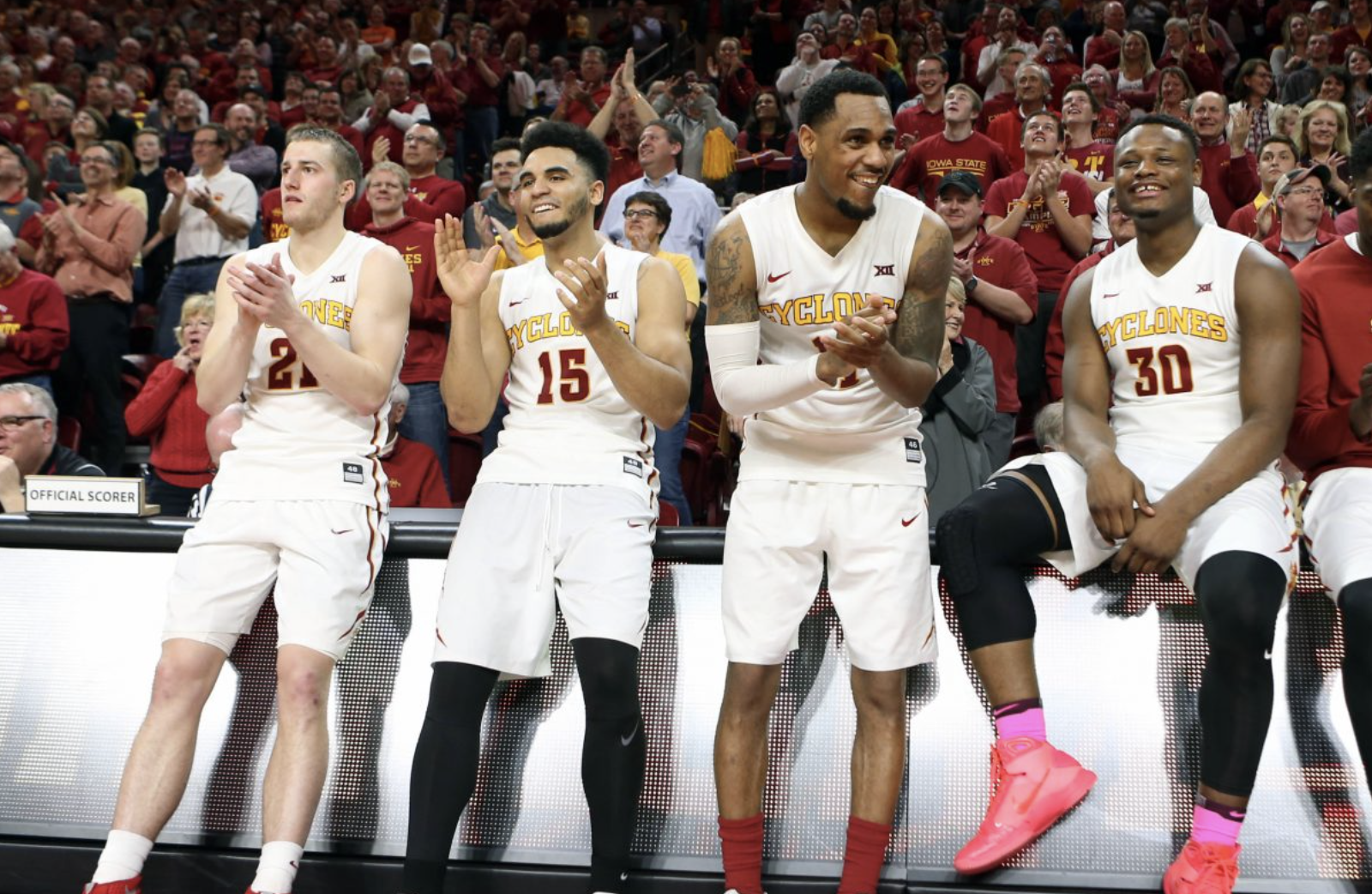 …
Naz throws it up. Burton dunks it. I forget everything else in life. We are Big 12 Tournament Champions again. Something like 17,000 Cyclones celebrate as one. And then many of us go back to the team hotel. We cheer as they come in. The band plays the fight song. I high-five Naz Mitrou-Long. Multiple players sign autographs for kids. Other fanbases may question us. "After all," they think, "big time programs that expect to win don't celebrate this way." That's OK. This is our team. These are our guys. Being a Cyclone fan is special, and I wouldn't trade it for anything…
…
And we're down 19 against Purdue. "This is where it ends," we think. "A blowout loss." Instead, our guys do what they always do. They fight back. They play with heart and hustle. We take the lead. I forget that I am in public as I jump and scream like a maniac watching at a bar in Des Moines. We fall short, and it is all over. The finality is hard to swallow as a fan, and I can only imagine how hard it is as a player. Combatting this feeling of sadness is a desire to take this moment for what it is: A celebration of a wonderful era of Cyclone basketball. The guys represent all of Iowa well after the game. They make all of Cyclone Nation proud…
So many times in life, we look forward to the future immediately after one moment ends. I'm as excited as anyone for the future of Iowa State basketball under Steve Prohm. I'm not yet ready to look ahead. This era has been so much fun that I want to revel in it a little bit longer. Today, like yesterday, I wear my Iowa State pride on my sleeve. To the seniors who played their final game last night, all I can say is thank you. Getting to follow your careers and growth has made these moments so special. You have given Cyclone Nation more than we could ever hope for, and you have elevated Cyclone basketball and Iowa State University. Congratulations.
Fellow Fanatics, here is to the great moments we have experienced together these last six years. My goodness has this been fun.