AMES —Jameel McKay was suited up, on the bench and ready to go during Iowa State's 92-83 victory over TCU on Saturday. But he did not play and because of that that, the month-long soap opera continues…
"Coach's decision and that's it," Iowa State head coach Steve Prohm firmly told the media after the game. "No more than that." 
Follow up: So why didn't McKay play?
"He was available to play if I wanted to put him in," Prohm said. "Hallice (Cooke) didn't play the other night against Baylor. It was my decision with what I want to do. No more or no less. Obviously we need Jameel to be great. Everybody in this room knows it. Our team knows it. He will be ready to go."
Ok then.
What to take from all of this: Prohm is hell bent on sending last year's Big 12 Defensive Player of the Year a message – one he apparently did not receive after missing road games against Oklahoma State and Texas Tech on the 6th and 10th of this month.
Moving on, one nugget from the win equaled a very real reminder of what this basketball team is without its rim protector.
Without McKay, who leads Iowa State in rebounding at 8.7 per game, a horrible offensive team in TCU (ranked 296th nationally) was able to rack up a season-worst (for Iowa State) 20 offensive rebounds and 25 second-chance points. 
What if Jameel McKay would have played on Saturday?
That's a hypothetical and nobody really knows, but I'm guessing that the Horned Frogs wouldn't have hung around they way that they did. Also according to KenPom.com, McKay's defensive rebounding percentage is at 18, which is 11th best in the Big 12.  
Prohm appears to have drawn a line in the sand with the talented senior. Meet program expectations or don't play. 
Prohm added that McKay will be ready to go on Monday night (8 p.m. on ESPN) when the Cyclones travel to West Virginia. He also said that the 6-foot-8 senior likely knew that he was not going to play heading into Saturday.
"He probably had an idea," Prohm said.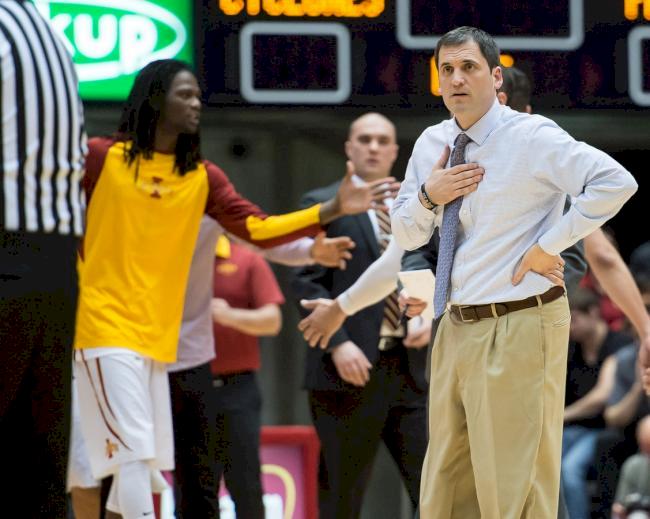 Great games by Burton, Nader, Niang
Deonte Burton recorded the first double-double of his career (23 and 14) which was great, but I was especially impressed with the fact that he was able to play 38 minutes at such a high level. Burton's 24 points tied a career-high. The 14 rebounds were absolutely a career-high.
"The one thing I need to harp with him is decision making and shot selection at times but tonight, he was terrific," Prohm said. "We need his kind of rebounding effort in Morgantown. He rebounded very well against them last time."
Burton went 9-of-13 from the floor and he only attempted one three.
"That's high level," Prohm said. "That's what we need, a good percentage from him with good shots, defending and rebounding."
At this point in the season, Burton is the eighth-most efficient player in the Big 12 when it comes to two-point field goals at 57 percent.
Abdel Nader tied a career-high with five 3-pointers in the win. He's gone 10-for-17 from downtown in Iowa State's last two games. Nader's 24 points marked his 12th career 20-point game and sixth of the season.
And then there is Niang, who scored a game-high 27 points on 11of-15 from the field.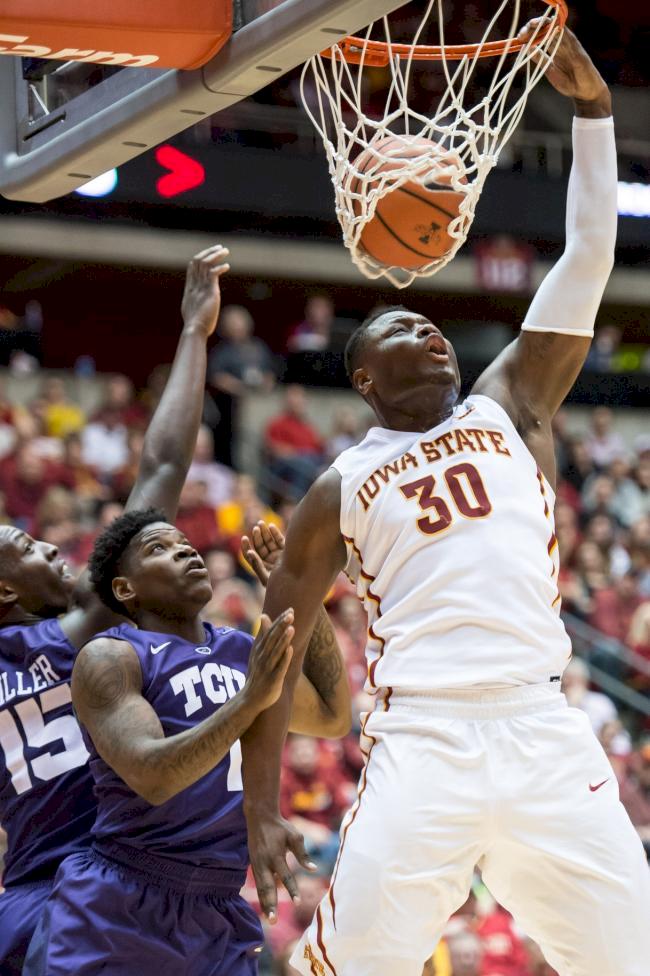 JOTTINGS
*** According to KenPom.com, Iowa State is currently the third-most efficient offensive basketball team in America. Defensively, the Cyclones are ranked 121st.
*** KenPom.com gives Iowa State a 30 percent chance of victory at West Virginia on Monday. The Mountaineers lost to Oklahoma on Saturday by a 76-62 final. 
*** Hallice Cooke and Jordan Ashton shouldn't play at the same time and the numbers are there to back it up. Take a look at their plus-minus numbers from Saturday compared to the rest of the team.

*** Weird game for Monte Morris. The junior point guard went 0-for-5 from the field and only scored two points but was still very Monte-like by dishing out 11 assists to only three turnovers in 40 minutes of action. That was his 11th career game with double-digit assists.
*** Steve Prohm the current status of his team: "I think everybody is on the same page. I think the one thing we need to do is start focusing on the positive things that this team is doing instead of some of the negative things that aren't going on. We've done a lot of really good things. We've got two weeks to go in the regular season. We have a chance to go on the road in two really good environments to test our character. We have two really good home tests. We have a senior class where Georges is the winningest player in the history of the school. You want to be able to celebrate those two wins. You want to be able to celebrate those and that's where we are at. Good win. Now we have to get ready for West Virginia."