AMES — There's nothing like a little bit of drama on National Signing Day.
Iowa State experienced a little bit of it on Wednesday when the brother of graduate transfer (from Rhode Island) Tyler Catalina, who signed a financial aid agreement with Iowa State in December, tweeted the following.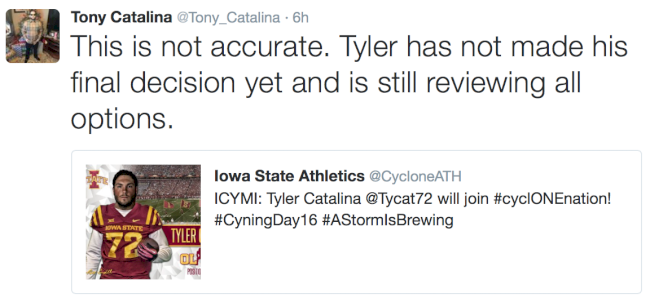 What's Matt Campbell's take on the situation?
 "Obviously, Tyler has signed a FAA agreement with us, but in a transfer situation, until he actually enrolls in school he's still a little bit of a free agent out there, so we're just going to have to continue to work. We talked to Tyler last night. He's fired up about being at Iowa State. Obviously he's getting recruited by everybody in the country now and that's just a matter of us, hopefully our relationship and his trust in us continues to hold strong. But it's one of those situations that until we get to May, I don't know if we can answer that question, honestly, but he is committed to us. He has signed an FAA agreement with us, so I do feel comfortable and really strong about that relationship, so we'll see."
A follow-up question was then asked…Does Campbell hold this situation against Catalina?
"He's a 21-year-old young man and he's obviously had a great career," Campbell said. "Athletically he's done great things. He's put himself in a position where now he wants to go play Division I football. He chose us over some really big schools initially; I'll be honest with you. Now there are some other big schools that are coming in, but that's our job. Our job is to continue to do a great job recruiting him. That's just the name of the game today and certainly in a situation like this. There's no hard-headed(ness), or hard feelings. Tyler's a great young man and he'll make a great choice for him ultimately where he wants to go to school." 
The skinny: Catalina now has offers from pretty much everybody who is anybody in college football. Yet he's still "committed" to Iowa State, where again, he has already signed a financial aid agreement that is only binding to the Big 12.
His choice? Go "big time" or go to Iowa State where he will be an immediate starter, which is important for a guy with one year to play who wants to play in the NFL.
What happens next?
Stay tuned.