Karl Chevrolet gives you peace of mind when you purchase a GM Certified Pre-owned vehicle. We have been the #1 GM Certified dealer in the nation for 10 consecutive years. Before you make your next purchase, come see why more people nationwide drive a Karl Chevrolet Pre-owned vehicle than any other dealer-There is a difference, Come see why TODAY!!
Not that big of a deal
Iowa State went 5-of-21 from 3-point range, Georges Niang fouled out (he only played 26 minutes) and the Cyclones will return to the Big 12 on Tuesday (vs. West Virginia at 8 p.m. on ESPN2) with a 72-62 loss to No. 5 Texas A&M. 
Sure, a January non-conference win at No. 5 would have been quite the coup for the Cyclones come March but it wasn't in the cards – and that's not the end of the world. 
My initial takeaway from this game (without re-watching the tape): The guys played hard and competed on both ends of the floor. The final score looks a lot more lopsided than the game actually was as the Cyclones got desperate and sloppy at the end.
It was a missed opportunity – no doubt – but I don't feel any different about this team than I did when I woke up on Saturday morning.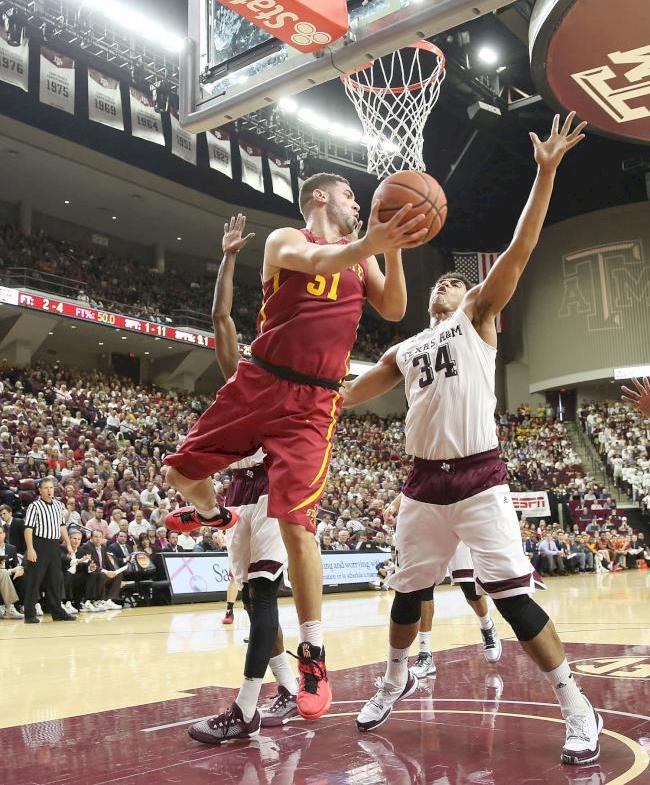 Free throws are maddening to fans
I don't know who you guys watched the game with or where you were, but I guarantee the talk of your party was Iowa State going 4-of-12 from the free throw line. 
Ugh. 
Poor free throw shooting is maddening to fans but realistically, Deonte Burton and Jameel McKay, the two worst free throw shooters on the team, shot eight of those 12. Those two combined to go 2-for-8. 
On Saturday, the charity strip was a problem but consider this: Take McKay and Burton out of the mix and this team has made 77 percent of its free throws this year. 
Assists on field goals
My biggest concern with Iowa State's offense is that they don't seem to be assisting baskets at the rate of a year ago (I plan to actually research this on Sunday). In Saturday's loss, Iowa State only dished out 11 assists on 26 field goals. This has been a trend in most of Iowa State's losses this year. Texas A&M is as good of a defensive team as Iowa State will see all year and the road environment is worth noting too, but Iowa State's offense looked stagnant and it resulted in a lot of one-on-one basketball being played by the Cyclones.
Ball game
Besides the numbers I have already provided, this is the stat that decided Saturday's loss to the Aggies. 
Texas A&M scored 21 points off of Iowa State's 16 turnovers compared to the Cyclones only scoring four off of nine turnovers by the Aggies. 
Boom.
Ball game.
The Challenge
Earlier in the week, I wrote that I wanted to wait and see how Saturday went to judge the SEC/Big 12 Challenge being played in January. 
I'm writing this at about 6 p.m. on Saturday evening so the day isn't done but I must say – I've enjoyed the hell out of this new format. The 2016 SEC/Big 12 Challenge – in January – is getting two thumbs up from this hack blogger. 
I do have one idea to make this event better though: Why not treat this thing like ESPN does its midseason "Bracket Busters" weekend? Why not announce the matchups based off of what the teams have done up until that point at around New Years?
I'm sure there are logistics but how cool would that be?
It would improve the games too as you could just trim the four worst SEC teams (the SEC has 14 teams compared to only 10 in the Big 12) and they sit the day out?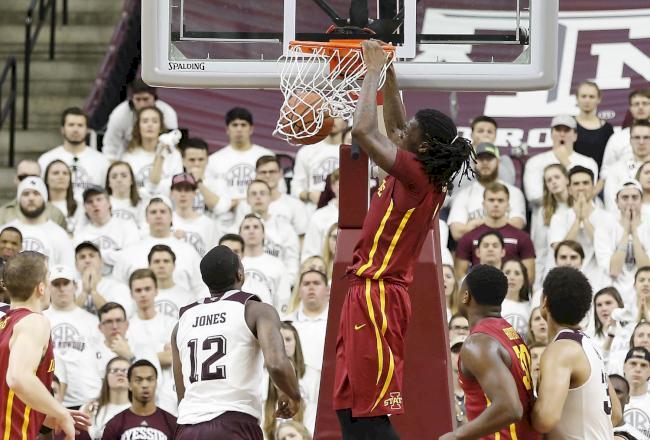 Quick hits…
*** Jameel McKay's knee looked fine, for the most part. The big man had 14 and nine but still didn't look like the Big 12's Defensive Player of the Year from 2015. 
*** Abdel Nader turned it over five times. He had been much more efficient than that over the last couple of weeks. 
*** It was good to see Hallice Cooke come off of the bench and hit a 3-pointer late in the first half. Cooke and the guy who has been replacing him in the rotation as of late, Jordan Ashton, each played five minutes in the loss. Ashton did not score. 
*** I have such a love/hate relationship with Deonte Burton's game. He's brilliant at times offensively. On defense, it looks like he's not even trying half of the time. Still, some of the plays he makes are simply magical. 
*** Monte Morris isn't a great 3-point shooter (36 percent on the year), but he isn't going to go 0-for-5 from that range very often either. He hit some beautiful runners, but Morris' 4-of-14 night from the field is rare and with Niang on the bench for 14 minutes, really contributed heavily to Iowa State's loss.
*** Iowa State's next opponent, 9th ranked West Virginia, got absolutely hammed at Florida on Saturday by an 88-71 final. On Thursday night, West Virginia announced that starter Jonathan Holton (9.7 points and 7.5 rebounds per game) had been suspended. In addition to Saturday, Holton will miss Tuesday's game in Ames and next Saturday's bout with Baylor.