In 2004, I was (as Dan McCarney once labeled me) a wet-behind-the-ears "journalist" working for Scout.com as a sophomore while attending Iowa State's Greenlee School of Journalism.
Since then, I have been covering the Cyclones in one way or another for over a decade. 
I'm only 31 years old but still feel like I have seen quite a bit and firmly believe I've gotten to know Iowa State athletics quite well. 
From #HoibergWatch to #AStormIsBrewing (Twitter references, of course), 2015 has by far been the craziest year I have seen during my career of chronicling the Cyclones.  
As we prepare to put 2015 in the rearview mirror, I thought it would be appropriate for me to look back at the intense year that was.
In chronological order, here are my top 12 memories from the wild year that was. 
1 – Saturday, Jan. 17 – College Game Day in Ames
For anyone under the age of 35, having ESPN's popular "College Game Day" program broadcast from Iowa State was almost like a dream come true. Sure, it wasn't in football but we all know that as far as tradition goes, Iowa State is more of a basketball school anyway.
The Cyclone Nation turned out in full force. You guys were passionate, loud, clever and awesome. So was The Mayor. 
Led by Naz Long's 20 points and a clutch 16-4 second half run, the then No. 11 Cyclones improved to 13-3 (3-1 in conference) to beat No.9 Kansas by an 86-81 final. 
2 – Tuesday, Feb. 17 – Watching the women beat Oklahoma, daughter in hand
I don't expect too many of you to vividly remember the Iowa State women topping Oklahoma 84-76 in overtime, but it is a night that I will never forget.
Shortly after midnight on Feb. 16, my wife gave birth to our daughter, Camryn. I will leave the details out but for the longest time, we were under the impression that we were having a boy.
After the final push, the good doctor held up a crying baby, turned to me and ask, "Well dad, what do we have here?"
I'll just say that this baby lacked certain "parts" that I was expecting to see.
Shocked, I kissed my wife and told her it was a little girl.
It was the pinnacle moment of my 31 years of life and one of the first things I thought of was how I couldn't wait to take my little girl to watch Cyclone women's basketball in Hilton Coliseum.
I absolutely adore Bill Fennelly's program (the young ladies ISU women's basketball produces are true role models for little girls in our state) and was beyond excited to hold my new daughter and watch his Cyclones upset the Sooners after the first full day of her life.
What made this moment even more special was having my best friend, Brent Blum, by my side.
I will always cherish that night and I cannot wait to have daddy/daughter dates in Hilton for many years to come.
FWIW, this is how I announced my daughter's birth.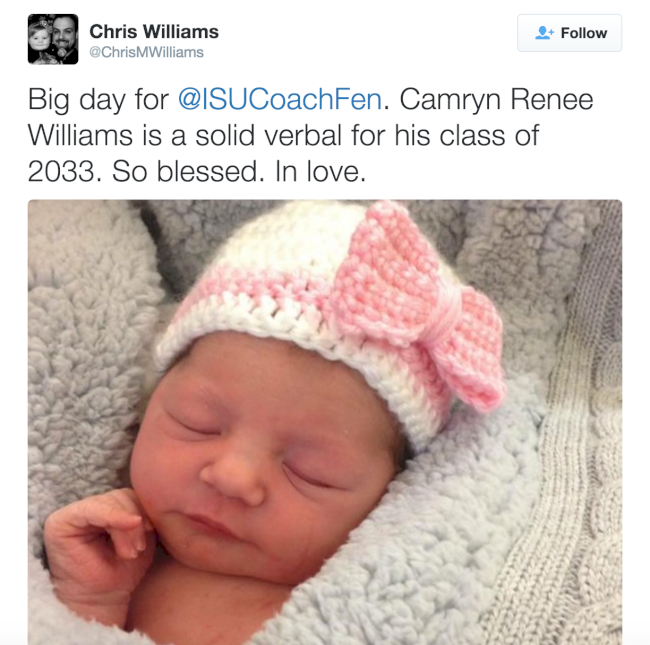 3 – Monday, March 2 … The OU comeback
Fresh off of a two-game losing streak (that included Baylor snapping Iowa State's 21-game home winning-streak), the 17th ranked Cyclones trailed No. 15 Oklahoma by 21 points in the second half.
You all should have seen my Twitter feed. The Fanatics were angry.
And then the magic happened. 
Georges Niang and Monte Morris combined to score 37 second-half points and the Cyclones out-scored the Sooners 59-33 in that span. The 21-point comeback tied the largest in school history and most importantly, gave the team some positive momentum heading into postseason play.
4 – March 12-14 … Back-2-back in KC
The Big 12 Tournament in Kansas City has turned into an annual vacation spot for Cyclone Fanatics and I totally understand why. Even though I'm working the whole time, this is without question my favorite week of the year too.
From the atmosphere in "Hilton South" to the cardinal and gold littered throughout the Power and Light District, there is no party larger than what happens when you combine Iowa Staters and Kansas City.
(On a personal note, I had my first Kelly's experience at the 2015 Big 12 Tournament. Indeed, it was epic.) 
On the basketball floor, Iowa State overcame a 10-point deficit with 3:48 to play and Monte Morris hit a memorable buzzer beater to defeat Texas 69-67 in the quarterfinals.
Night two was another nail biter. Thanks to Ryan Spangler's choke job, Iowa State escaped with a 67-65 victory over Oklahoma.
That set up the dream championship matchup between the two largest (and most vocal) fan bases at the tournament, as Iowa State overcame another deficit (17-points in the second half) to defeat Kansas 70-66.
It marked Iowa State's second Big 12 Tournament championship in a row, but watching a Sprint Center half-full of Jayhawks empty out before the net-cutting ceremony made this one just a little bit sweeter.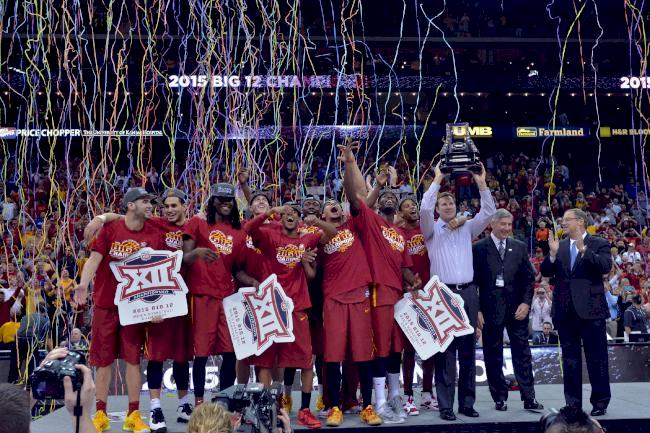 5 – Thursday, March 19 … UAB … 
Notice all of the basketball stories that I have referenced in this piece. They all have to do with second half dramatics.
There was no magic in the 3 vs. 14 matchup of the NCAA Tournament's South Region when the Cyclones were stunned by UAB, 60-59. 
This specific Iowa State team gave fans so many memorable moments during the 2014-15 season but flirted with danger one too many times. 
This would turn out to be the final game that Fred Hoiberg coached during his tenure at Iowa State.
6 – Spring/summer months … Hoiberg Watch 2015 … Hoiberg leaves
This was one the most difficult story that I have ever reported on.
Watching Iowa State's hopeful and passionate fan base continue to deny what I (and most people covering the team and the sport of basketball in general) felt was inevitable was painful.
There was no "click baiting," as many suggested. 
The background noise of Hoiberg's aspirations to coach at the highest level of the sport was very, very real. 
There was the random picnic I was at with my wife where two Cyclone fans angrily confronted me about a recent Hoiberg to the NBA conversation I had on 1460 KXnO. 
And I totally understood what you guys were feeling. Heck, I'm an ISU alum. I was feeling it too.
From the tailgate tour to the constant speculation in the media, Iowa State fans were almost taunted with #HoibergWatch and it really, really sucked.
The general feeling of many: "If Fred Hoiberg doesn't want to retire here, then who does?"
If Fred Hoiberg would have chosen to stay at Iowa State for say, 15 years, well, the ceiling obviously would have been very high. With a megastar, young and charismatic head coach, this was the perfect scenario in which Iowa State basketball could be built into a perennial powerhouse. 
But the competitor in The Mayor could not pass up the opportunity to head up one of the top basketball coaching jobs in the entire world. He says it wasn't about money (and I totally believe that for what it's worth) but for $5 million a year, can you really blame him?
Iowa State's fan base was heartbroken and from there, the search was on.
7 – Steve Prohm hired to replace Hoiberg 
Being that I have covered Jamie Pollard since the day he arrived at Iowa State, this coaching search was especially interesting to me.
Iowa State was the only job open in the country and with a wealth of talent returning, the Cyclones were likely going to be a preseason top 5 team in 2015-16.
National reporters were all over this.
Agents of certain candidates were posting on message boards.
Travis Hines was chasing Pollard around airports.
This search was everything that in the past, would make Pollard's skin crawl.
It was very, very public.
Pollard and President Steven Leath (who was very active in this hiring process) went with a young, laid back southerner with head coaching experience by the name of Steve Prohm to lead a group of Cyclones with national championship goals. 
So far, so good. The Cyclones are 10-1 with one game left before Big 12 play.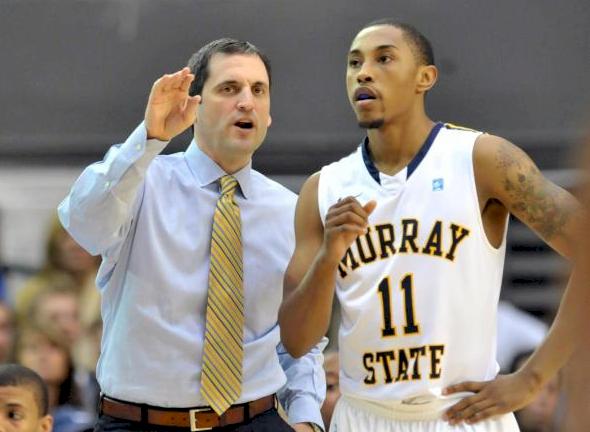 8 – Sept. 5 … The new Jack Trice Stadium
Earlier in this column, I mentioned how the birth of my daughter was the pinnacle moment of my life so far. 
Knowing how long the dream of a bowled in south end zone has been tossed around in Ames, it's hard for me to not look at Sept. 5 in the same sort of way for Iowa State football. 
It marked a new beginning for a program that for decades has not been on a level playing field.
Iowa State will never hold as large of a gun as Texas, but the gap has closed and for the first game ever, facilities are in place for the Cyclones to be able to compete.
The south end zone turned out better than I ever would have imagined. It looks sweet from the outside and is sleek on the inside.
Jack Trice is now the third largest stadium in the Big 12 and with a little help from the football team (actually winning games), there is no doubt in my mind that the most loyal fans in America will continue to fill it.
9 – Oct. 26 … Paul Rhoads fires Mark Mangino 
Here's the thing about the news cycle in 2015… 
Usually, we (the media) is tipped off to major breaking stories in one way or another. If it's Twitter, you guys on the message boards, sources or whatever, legitimately breaking news in a press conference is a thing of the past.
Following a 45-27 loss to Baylor (that dropped ISU to 2-5 on the season), Paul Rhoads dropped an absolute bomb during his Monday press conference on Oct. 26 when he fired offensive coordinator Mark Mangino.
"Mark and I couldn't get on the same page on a few important items," Rhoads said. "We tried to talk that through again this morning in an effort to get us moving in a different direction. In the end, Mark was not interested in that. I wish that wasn't the case." 
Todd Sturdy replaced Mangino and the Cyclones beat Texas 24-0 the next week.
The craziest thing about the Mangino story though is that it didn't end here.
Following Iowa State's unforgettable meltdown in Manhattan (stay tuned), Mangino tweeted the following:

Say what?
It was a very public shot at his former employer (Rhoads) but curiously also mocked his own son (former ISU wide receivers coach Tommy Mangino) and a number of colleagues that Mangino himself brought to Iowa State – not to mention the players who had worked hard for him for nearly two long years.
It was a sad ending to what at the time, looked like a brilliant hire that could potentially save the Paul Rhoads era in Ames.
Unfortunately, Mangino proved to be washed up and bitter – not the "Mangenius" that everybody had hoped for.
10 – Nov. 21 … The collapse at K-State
Oh boy.
A week after nearly upsetting undefeated Oklahoma State, Iowa State led Kansas State 35-14 at halftime and it looked like the Cyclones were going to cruise to Paul Rhoads' first victory over Bill Snyder in his tenure.
I'll save you guys of reliving the details once again and make it simple: Iowa State did the most Iowa State thing ever and invented another way to lose.
The Cyclones were outscored 24-0 in the second half and questionable decision-making at the end of the game cost Rhoads his job. 
11 – Nov. 22 … Paul Rhoads is fired
That didn't take long.
Jamie Pollard knew what he was doing when pulled the trigger a week before the season's end and elected to get a head start on the hiring process to replace Paul Rhoads.
I, like many of you, had mixed emotions at the time.
After eight wins in three seasons, business wise, it made complete and total sense to move on from the Rhoads era.
But Paul was such a likable guy. He was one of us. Over the years he turned down major offers to stay at Iowa State and try do things that nobody else had done before.
I respect the hell out of loyal people and that's exactly what Paul Rhoads is. He is as loyal as they come and the man loves Iowa State.
I was thrilled when I learned that Pollard would allow Rhoads to coach the final game of the season at West Virginia (Iowa State ended up losing 30-6). It was a fine gesture to a man who despite being fired, accomplished a lot during his time in Ames.
12 – Nov. 29 … Matt Campbell introduced as Iowa State's new football coach
This was a Jamie Pollard coaching search.
Quick. Efficient. Quiet.
I am obsessed with the chase that is covering a coaching search and according to every piece of information I acquired along the way; Pollard landed his No. 1 candidate in Toledo's Matt Campbell – the same guy who punked the Cyclones earlier in the 2015 season.
The charismatic Campbell absolutely nailed his opening press conference too. He showed appreciation for the past but looked solidly into the future of Iowa State football. 
Since then, he's gone to Twitter to promote the program. It's hard knowing exactly how good these guys will be but the recruiting trail to Ames has been on fire for weeks.
Campbell has given Iowa State's fan base a much-needed boost of energy, which I see every day when it comes to site and Twitter traffic.
For good reason, everybody is excited about Iowa State football again. 
Cheers to a happy and healthy 2016. And of course, go Cyclones.