Jeff Woody commentary at Cyclone Fanatic is brought to you by our friends at the Iowa Clinic Men's Center.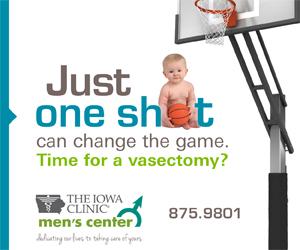 On Sunday morning, the world found out what many had already suspected: Paul Rhoads was dismissed as head coach of the Iowa State Cyclones. As a fan of the team, analyst of the team and former player on the team, this was extremely conflicting news.
I understand that eight wins in three years is unacceptable. I understand the past few weeks have been heartbreakers which can be traced back to coaching miscues. I understand that not winning with the level of talent they have is inexcusable. I understand that keeping Coach Rhoads was not really an option.
I also understand that Coach Rhoads helped turn immature kids into young men.
When I was being recruited, I was told many great things by many people. I was told how I could be a starting safety, a great fullback, a great linebacker, or a starting running back. They then turned around and said I wasn't getting a scholarship because "They didn't have any left," or "I might not be fast enough." What happened to me being a great player in your system? What happened to me being a starter for you? I'm not good enough to merit even a percent of a scholarship? Get out of here. That's where Coach Rhoads was different. He broke the mold of all of the other recruiters. He was honest.
I was told that I didn't get a scholarship from Iowa State because he didn't know anything about me. He had just gotten to Ames three weeks prior, signing day was the following week and looking through film of all of the walk-on offered kids wasn't on the top of his list. He said there was some good stuff on paper, but had no reason to change what the previous coaching staff evaluated me as. If I came in and proved myself, I could earn a scholarship. Until then, he wouldn't change his stance. I was sold. I didn't want to have smoke blown at me, I just wanted the truth. And that's what I got. And that's what we all got for seven years.
Paul Rhoads came off to the public as a rambunctious, loud, brash, home-grown, defender of his team. That's what he was. That's who he is. That type of mentality was contagious amongst his players. We loved when he would back us up in public. We loved when he would give an impassioned speech in the locker room after a big win. Why? Because it was real. It was him. 
Coach Rhoads will be fine. He has a 4-plus million dollar buyout, and a skillset that is monumentally conducive to coaching defensive football. It may be rocky for a few months, but the staff will be fine. And, if the new hire is right, the players will be fine, too. But that is an "if" that needs a few qualifications.
First, the new coach must have an unquenchable attitude of winning. When Coach Rhoads first got to Ames, he was taking over a program that had lost double-digit games in a row. They didn't win a Big 12 game, and had only come within 10 points against Kansas State and Colorado in the final 7 games, otherwise, they'd been blown out in every one. They didn't know what winning was like. They weren't having fun. They didn't believe they would win any of the games they were in. He brought a confidence that winning was not only possible, but inevitable in any game we played. Somewhere over the course of time, this attitude disappeared. The new coach must know how to bring it back. 
The new coach must have personality and midwestern character traits. In the Midwest, there is only one type of coach that can exist. Honest, humble, and a high demonstrator of integrity. Families don't want to send their kids to play for Tim Beckman. They want to send them to play for Jerry Kill. Parents don't want their kids to travel to play for Charlie Weiss. They want them to go to Iowa to play for Kirk Ferentz. This is the reason why Bo Pelini didn't last in Nebraska. Despite his success, he rubbed people the wrong way and was ousted for it.
The new coach must also be a player's coach. A strict disciplinarian will face a hostile locker room right from the start. Think of it this way; a dog in the city, whose entire outside existence is on a tether to a stake in the backyard, is perfectly happy. He loves to go outside. A dog who lives on 15 acres of forest with a creek also loves to go outside. Now take the dog from the city and move him to the country. The experience of wandering around that space is terrific. Now flip the scenario. Take the dog that is used to the country and move him to the city. That dog will feel trapped and will act out because of the lack of freedom. Removing freedoms won't work.
The new coach must also know how to develop players, encouraging them along the way. Every once in awhile, you may get an Allen Lazard, Mike Warren, or Jake Campos that comes into college as a highly touted recruit. More often though, you are going to get a raw, under-recruited talent that needs two years to develop. This new coach needs to be able to take those raw materials of a high school state champion heavyweight wrestler and turn them into a ferocious offensive lineman. They need to be able to trust the strength staff to take a 175 pound 200m champ and turn them into a 210 pound missile at safety. They need to earn, and keep, the trust of the team in the process.
Coach Rhoads successor is going to have to be a lot of things, and a lot of those are things that Coach had. Schematically, a lot of things may work. Many tangible and intangible elements are required, and many things will be fulfilled. There is one thing that coach will never touch, though, and that is the lives of those whom he has already impacted, including mine.
Thanks for all you've done for me. Thanks for all you've done for the university. Good luck wherever you may end up, Coach.
Tell Cecil I say hi.