AMES — Attention Sam Richardson critics: He's harder on himself than you could ever be.
 Exhibit A … 
 "That's a quarterback's job," Richardson, a senior, said when asked about past slights. "I'll take every bit of blame for every loss."
 Sound harsh?
 This is Sam Richardson 2.0. No-nonsense. All confidence. And who could blame him for that, given the receiving targets he possesses for his last go-around?
 "Sam should have a field day," said one of ISU's Big Three at the position, D'Vario Montgomery. "I'm ecstatic to get out on the road and moving. It's thrilling to see guys like this and you know they have the potential to be really, really good. And you have the opportunity to play with these guys, it's just amazing."
 Montgomery led ISU with 605 receiving yards during last season's 2-10 run. Quenton Bundrage tied a school record for touchdown catches in 2013 with nine, but sat out all but four plays last season after tearing his ACL. Allen Lazard totaled 45 catches for 593 yards as a freshman.
 That's an impressive crew, but Cyclone coach Paul Rhoads said the accolades buzzing around the trio is not yet justified.
 "We've got a talented group of wide receivers," Rhoads said. "Although they might not warrant the hype they're getting at this point." 
 Why not? Consistency is still an issue.
 ISU ranked sixth in the Big 12 in passing offense last season, averaging 248.4 points per game.
 Bundrage — who showed explosiveness up and down the field two years ago — struggled at times with drops. Montgomery's coming off a left knee strain sustained in the spring, but said he's 100 percent. Lazard's only a sophomore, thus his upside remains partly untapped.
 "They kind of understand that they've got talent, but talent alone's not good enough" offensive coordinator Mark Mangino said of the Big Three, as well as other wideouts such as Orion Salters, Dondre Daley and Jauan Wesley. "You've got to work at it, you've got to perfect what you do. And certainly there's potential there for that to be a fantastic position for us, but they're not the finished product. There's work that has to be done."
 Mangino cited route clean ups, perimeter blocking and ball security as possible issues.
 Bundrage didn't dismiss drops talk and expressed his desire for more consistent production.
 "You drop the ball, that's an opportunity wasted," he said. "Some of those plays you don't get back. Some of those plays, if you catch the ball, it could change the outcome of the game. So that's something we really work on and we're really big on in the receiving room."
 It's a room that's noticed Richardson's continued progress at becoming a more vocal leader. Montgomery's relationship with his quarterback traces back to Winter Park (Fla.) High School.
 "He's one of those guys who learns from every day," Montgomery said of Richardson's leadership skills. "He takes things and understands how to change it. We haven;t had a lot of success in the past, but he's changing the culture here."
 He's also changing the record books. Richardson completed a single-season school-record 254 passes last season. He became the third quarterback in program history to amass more than 3,000 yards of total offense in a season (3,009 in 2014) and is one of four ISU quarterbacks to rush for more than 1,000 yards in a career (1,010 and counting).
 Big numbers, but not the ones he looks to the most to measure himself. That would be wins and losses.
 "We've said it a million times that winning's like a habit and an attitude," Richardson said. "You've got to tell yourself that winning's something that you can do personally. Winning can steamroll just as much as losing can."
 Richardson's ready for that boulder to start tumbling the other way — and is approaching fall camp  confident that it will. 
 "I'm loving every bit of it," he said as fall camp began. "Usually camp, you look at it as a long grind or whatever it is, and just like two to three weeks of hard work, but I'm pumped to get out here and get on the practice field. It's nice knowing I have the opportunity that I do."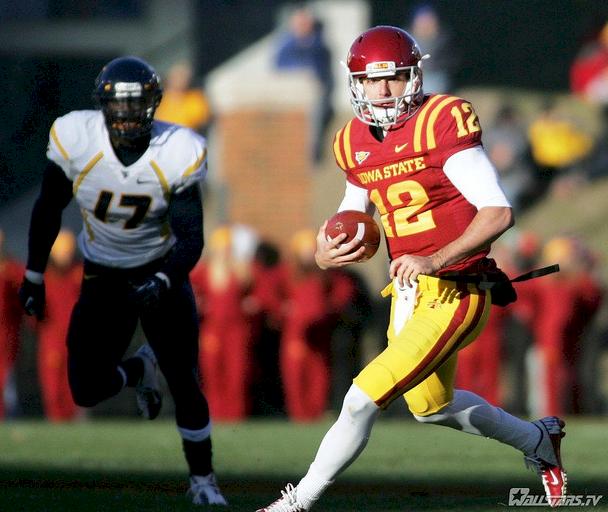 NOTEBOOK  
FOUR OUT: Rhoads said defensive end Mitchell Meyers is one of four players who will miss fall camp and/or the 2015 season. Meyers is undergoing radiation treatments for Hodgkin's Lymphoma back in Houston. Offensive lineman Ryan Glenn had offseason back surgery and will not play in 2015. Running back Justin Webster tore his ACL in spring ball and is expected to rejoin the team in October. Running back Sheldon Croney also is out for the season.
 "THIN" IN THE BACKFIELD: Rhoads said the obvious Thursday: His team is thin in the backfield, but it's also "talented and capable," he added. Sophomore Tyler Brown leads the way with 24 career carries for 108 yards. Everyone else, including impressive redshirt freshman Mike Warren and true freshman Joshua Thomas? Nary a college carry between them — but ISU's not the only program that will trot out a redshirt freshman and true freshman at running back.
 "This fall you can turn on a college football game anywhere in the country and you're going to see a true freshman, a redhisrt freshman at running back out there," offensive coordinator Mark Mangino said. "At that position, kids play, kids adapt. … So I'm not that concerned that it's young. It's, what's their work ethic going to be like? That's the key. How are they going to see themselves this fall and prepare themselves to contribute?"
 Brown offered an answer.
 "I don't think we're going to miss much of a beat," he said. "Just get it going, just get the run game going and establish it right there from the beginning until the end."
 ISU hasn't fielded a 1,000-yard rusher since Alexander Robinson in 2009. It's unlikely to do so in 2015, either, given how carries will be spread out.
 Rhoads even acknowledged that quarterback Sam Richardson could potentially end up being the leading rusher. Richardson's cool with that, but he hopes it's someone else.
 "I'd rather give it to those guys," Richardson said. "Those guys are here for a reason: To run the football."