Hakeem Butler averted his eyes.
Every time Notre Dame shot free throws in the final minutes last Saturday against his "brothers" — who happen to play for Kentucky's top-seeded NCAA Tournament dream team — he recused himself from the fretful proceedings. 
 "I turned away," the 6-6 soon-to-be Iowa State freshman said. 
 Then, the tension peaked as the third-seeded Fighting Irish tested the top-seeded and undefeated Wildcats. Still, Butler's confidence in his defacto siblings never waned. Blood runs deep. So does faith.
 "I was actually very quiet," Butler, who will play wide receiver for Paul Rhoads' Cyclones, said of watching his twin cousins, Aaron and Andrew Harrison as an unblemished season hung in the balance. "I was very nervous, but I knew they'd take care of business like they did in the end."
 Aaron Harrison hit the 3-pointer that put the undefeated Wildcats (38-0) up 64-63 with 3:18 left.
 Andrew Harrison sank the free throws that stamped the final score — 68-66 — on a hard-fought game.
 Whew, went Butler.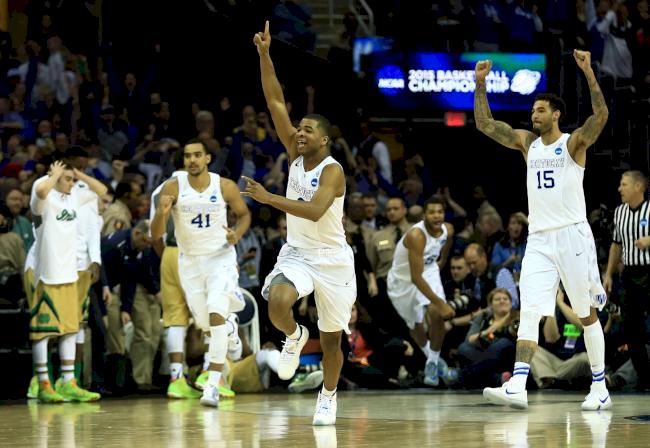 ABOVE: Kentucky Wildcats guard Aaron Harrison (2) reacts after the win over the Notre Dame Fighting Irish in the finals of the midwest regional of the 2015 NCAA Tournament at Quicken Loans Arena. Kentucky won 68-66. Andrew Weber-USA TODAY Sports 
Wow, might be the reaction of ISU football fans once Butler — a potential diamond in the rough in Rhoads' 2015 class — hits the field in the future.
 "I look to gain weight in all the right places," said Butler, whose 6-6, 215-pound frame outdoes Aaron and Andrew Harrison by precisely zero inches and three to five pounds, respectively. "There's good weight and there's bad weight. I'm working toward good weight."
  That's superficial. His commitment to personal excellence runs deeper. 
 Butler lost his mother, Sheryl, to cancer at age 14.
 He moved in with his uncle, Aaron, and his "brothers," Aaron and Andrew Harrison shortly thereafter, journeying from Maryland to Richmond, Texas to create a new life.
 It's at this point, the quotation marks tumbled off each side of the word "brothers." 
 Aaron, Andrew and Hakeem — they formed a vise-like bond that needed no punctuation.
 "We're all brothers," said Butler, who had five touchdown catches last season at Travis High School in Richmond, Texas, a suburb of Houston. "That's what we say. That's what we tell everyone. They've been a big part. They helped me be comfortable in Texas as a whole. They helped me with the sports thing. Just everything — all aspects of my life. They've been a big part of my life."
 So has their dad.
 The elder Aaron Harrison declined to be interviewed for this story, but his impact on Butler's life can't be measured by verbal responses.
 "My uncle, that basically is my dad," Butler said. "If anyone asks me, I say, 'That's my dad.' He's honestly been probably the biggest part of my life outside of my mom. Without him I don't know where I'd be. And without football I don't know where I'd be. Football and my uncle, two of the biggest aspects of my life."
 Football's served as Butler's outlet for rage — the receptacle for what-ifs, why-mes and anguished shouts. He grieved, he coped, he healed.
 "Football has always been my first love, really," Butler sad. "I love the physicality of the game. You can really do what you want in between those lines. In those seven, eight seconds every play you can pretty much do whatever you want. It was really just a big release for all my aggression. Basketball is too much finesse and things like that. I can't really deal with all of that. I'm more just go straight through to get to the point."
 Basketball remains a pleasant, if anxious diversion, though.
 Butler will fly to Indianapolis this Saturday and he'll attend the game between his brothers and Wisconsin on Saturday night. 
 Whether he chooses to get quiet if the going gets tense is anyone's guess, but his basketball brothers won't be the only thing on his mind.
 He'll be thinking about the love and support of his family, which criss-crossed from North to South. He'll be thinking about June 9, when he plans to arrive in Ames and "get to work." He'll think, as always, about his mom, who dutifully and lovingly formed the foundation from which he plans to spring. 
 "I just try to live my life as she raised me," Butler said. "With football, every play I just go hard for her. Every time I score is for her. Everything I do is for her."