AMES — Hallice Cooke shut the door, drew the shades and pressed play.
  The Iowa State transfer guard yearned for inspiration, perspective. Anything that took his mind off his severely damaged hips and the fact that basketball — his life's blood — had become a no-no.
 He couldn't shoot. He couldn't pass. Surgeries loomed last November and December and Cooke absorbed and overcame the adversity by fully experiencing it.
 "There were days I would come in and be positive and stuff like that," said Cooke, whose healing hips are coinciding with a deeply mature outlook on hoops and life. "Come in and cheer in practice and stuff like that, bring energy when the guys are lacking energy. Other than that, there were more days when I was just down and wanted to be in my room. Dark. Close the door. Didn't want to do anything."
 So Cooke, who grew up a stone's throw from New York City in Union City, N.J., pressed play and pause repeatedly. He withdrew, at times, from basketball for the first time in his young life. 
 His go-to film: 42, which details the inspiring life of Jackie Robinson, whose courage and commitment to himself, others, and a lofty ideal, turned professional baseball from a racist, exclusionary "American Pastime," into a pathway to opportunity for all.
 Robinson — whose yearly "day" was celebrated Wednesday as players on each of 32 major league baseball teams donned jerseys emblazoned with that number 42 — faced death threats during his exemplary journey that shone a bright light on stark inequality and deeply institutionalized bigotry.
 Cooke watched the American hero's semi-fictionalized life unfold on a flat screen, digesting the lessons and charting his personal route back to success. 
 "I was finding myself without basketball," said Cooke, a gym rat since the age of 10. "That's what this year allowed me to do."
******
 Hallice Cooke doesn't have a relationship with failure. He never has. From the first time he picked up a basketball, winning has come easily.
 In grammar school, he took a ragtag team to the cusp of the city championship. 
 His father, Robert, recalled that at least one kid on that team wore a headband — around his neck.
 "They were a bunch of misfits," Robert Cooke said.
 Hallice taught them how to win; to take pride in themselves; to strive, to achieve.
 "He took that team to the city championship by convincing all of the kids on his team that they could be just as good as he was," Robert Cooke said. "No going out and trying to score 40 points a game. He went out and he put them in a position where everybody got to shoot the ball and everybody got an opportunity to score, so the kids all felt good about themselves, so they all played harder. He changed their entire outlook on the game and they wanted to be as good as he was, so they started to work at it."
 Cooke's allergic to losing. It's why suffering through 18 losses at Oregon State sent him packing, searching for a new team. He landed at Iowa State — largely due to fellow metro New York City denizen Matt Abdelmassih's courtship.
 Abelmassih moved back to the city earlier this month to join his hero, Chris Mullin, on his staff at St. John's.
 Cooke's still in Ames, putting up shots daily, 1000 or so at a time as he regains his health.
 "It's all part of college basketball," Cooke said. "But, yeah, the journey — everything happens for a reason. When I was a kid, I wouldn't even have thought I'd end up in Oregon. And going from Oregon to Iowa — I've been in the Midwest now, the West Coast; it fits my personality, I think. I wanted to take that big step away form home and grow as a person. It gives you the opportunity to do that and also stay focused. Not going to one of those schools where you could get — I'm from the city, so I know how crazy the city can be, with partying and all that stuff. i wanted to give myself the best opportunity to focus and lock in."
 Then the injury that was years in the making hit. 
 Cooke's right hip was so damaged after years of arduous wear and tear, he would have eventually faced replacing it, rather than having it surgically repaired. It may have completely broken down after a couple more workouts. Or it may have been destroyed in another two years or so. Either way, ISU's trainers and medical staff caught the issue in time to give him a chance. To render hope. 
 "He needed it fixed," ISU's assistant director of athletic training, Vic Miller, said. "It had multiple things going on. it wasn't just one thing. And certainly, it was technically an elective surgery, but it would have been career-ending had it been ignored and not paid attention to."
******
 The pain worsened as Cooke — who shot 45.6 percent from 3-point range his freshman season with the Beavers —  continued to push through workouts and pick-up games after transferring to ISU last May. It was simply part of the price he paid to play the game he loved at an elite level. But, finally, it hit a level that demanded his attention. 
 "I started feeling this weird pain in my hip when I was playing and I couldn't get by guys how I wanted to, so that was like a red flag right there, but it took me a couple days to when we got done playing and I was in the shower and I couldn't put any weight on my right foot, so I went to Vic," Cooke said.
 Miller swiftly determined that a consultation with Dr. Bryan Warme would be required.
 X-rays confirmed that a right hip impingement existed for Cooke. A severe case. Cooke had a torn labrum that required surgery. His left hip, also, had become damaged. So Miller said Warme eventually deemed a visit to his mentor, Dr. Bryan Kelly, in New York City necessary.
 "Dr. Kelly is the guy that started the hip things, because in the past, until five years ago, hips had to be done open and it was traditionally a replacement," Miller said. "That's it. He developed arthroscopic technique and it's like (Dr.) James Andrews and the elbow: the Tommy John (surgery). Same deal."
 Cooke had surgery on his right hip in November. Pins were inserted. He went on crutches, got back on his feet, then returned to New York for surgery on his left hip. He hopped on crutches again, then was back trying to walk, prepared for the long, slow, but potentially triumphant road to recovery.
 "Just to know that it could have ended, I'm kind of grateful that the situation happened," said Cooke, who played high school basketball at St. Anthony's (N.J.) High School under legendary coach Bob Hurley. "I came here and they were able to figure it out and they got me with the best doctors. So it's a blessing, really."
  So is being healthy.
 Miller cautions that Cooke is somewhat of a "test case." His hip was so deeply damaged, there's no true "time frame" for his recovery and rehabilitation.
 "This is a guy that wants to continue and have a 10 or 15 year career still," Miller said. "So it's a difficult time frame. We're going to kind of see how we go."
 Cooke's set his own time frame, though — and feels right on target.
 "I would say 75 percent," he said when asked about where he's at now. "I'm feeling good with my jump shot. I had to start all over with the rehab and learning how to jump again, to land, run — everything like that. It was like learning how to walk again. But I'm feeling like myself again, getting more fluid with my movements. My technique is feeling good, looking good, just have to get back up to speed and everything and I'm getting used to playing at a new weight. I'm 200 pounds now and I got here at like 183."
 That's upper body strength he's added. Also, some leg development that's come from having healthier hips.
 "I'm playing catch up but I know I've got a lot of time," Cooke said. "i just need to be patient and listen to the doctors."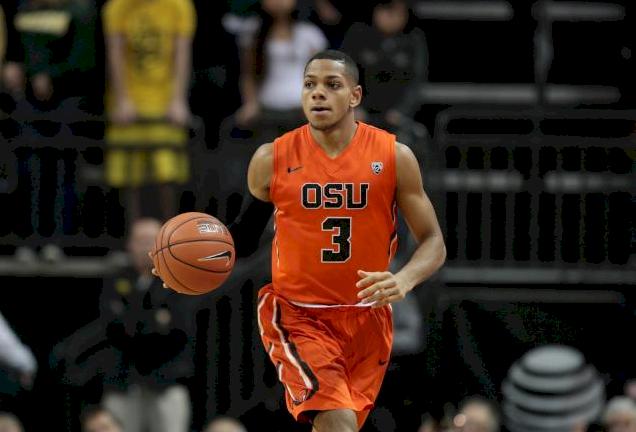 ******
  Robert Cooke reads the texts. They're from Hallice. One noted that he'd hit 1,000 shots while working with the gun. Robert was incredulous. "'Dad," Hallice explained, "the machine only goes to 999. That's 1,000 makes out of 1,130 attempts.'"
 "I'm like, 'Are you kidding me?'" Robert Cooke said. "I said, 'You missed 130 shots? That's pretty bad. You can't do better than that?'"
 The next day, his son reported he'd missed only 120 shots.
 And so it went. So it goes. Down, down, down.
 "He loves the game so much," Robert Cooke said. "He and (San Antonio Spurs player) Kyle Anderson are really tight."
 They share a St. Anthony's-based bond. They share common traits. They can't be kept out of gyms, unless you take away the key.
 "Kyle believes in him and he knows how good he really is," Robert Cooke said. "It's like one of those things, birds of a feather flock together. When Kyle was at UCLA and if they came home and they were home at the same time, they're up in there in the gym somewhere. They would always be in the gym."
 That's where you'll find Cooke now. Used to be, Cyclone coach Fred Hoiberg had to hide the basketball from Cooke for his own good. Too much, too soon wrecks recovery.
 "I joke with him, 'Do you have a cot in the Sukup yet?'" Robert Cooke said.
 He'd have lots of bunkmates. That's because the gym-obsessed culture at ISU contrasts sharply with what Cooke experienced at Oregon State.
 The Beavers had a shiny, new $15 million basketball-only facility. Then-coach Craig Robinson would call workouts. Cooke would show up and ask, "Where is everybody else?"
 "I think the best basketball is ahead of me," Cooke said.
 For him and others.
 The Cyclones are certain to be a top 10 — probably top-five — team once preseason rankings solidify in the fall. Cooke will be working on his game in the meantime, both physical and mental. He needs to help fellow sharpshooting teammate Naz Long recover from his own hip surgeries, too.
 "The first couple days he was ringing my phone off the hook," Cooke said. "He'd go, 'Did it feel like this, did it feel like that?' So I'm kind of the expert. Just as much as I know basketball I know about the hip now and about the body. It's pretty cool. I think this whole process has been a great learning experience for me. I'm happy to be able to help Naz through his process."
 Cooke's plan this time is to brighten the room, provide inspiration of his own, be the natural leader he's always been.
 The freshly-minted journalism and mass communication major has fully pressed play, but there's no more pause — except when it comes to doctor's orders.
 "Something you love got taken away from you and what are you going to do, give up and quit, or are you going to get through?" Cooke said. " I had to do a lot of self-venting, I had to find myself. So if somebody asks you, who is Hallice Cooke the person? I'm like, man, Hallice Cooke the person — a basketball player, boom, that's the first thing people (say) as they see you. But I'm a son, I'm a brother, I'm an uncle. So it gave me the time to really find that stuff out: Who I am as a person, not just as a basketball player."