Steve Young doesn't really seem that old. He's weathered reasonably well given all of the headshots he took for the 49ers in the NFL but just a couple of weeks ago on October 11th he celebrated his 53rd birthday. I know what you're thinking. "Why the hell is this guy talking about Steve Young and his birth date?!?!"
Well, if he had watched every Iowa State – Oklahoma football game in his 53 years on this earth since 1961, he would've seen exactly one Cyclone victory (AND ONE TIE!). Granted, just four days before his birth, the Cyclones stormed into Norman for a rousing (I assume) 21-15 victory over the Sooners. It was the second consecutive win for Iowa State over Oklahoma after the previous 32 matchups had yielded a record of just 2-29-1 against OU. Maybe the tide was turning at the beginning of the 60's? Or, maybe not.
I detailed some of this a few years ago for the degenerates over at Wide Right Natty Lite but I figured now was as good of time as any for an update, though it isn't like the trends have shifted.
In the last 44 matchups over the course of 52 years, Oklahoma has routinely, consistently and emphatically beaten Iowa State, and that seems like an understatement. In 1990, Chris Pedersen led ISU to victory in Norman and in 1981 the two squads tied but other than that there have been just five games decided by fewer than 10 points. Seven games out of 44 have been less than 10 points while 15 games have been decided by 30 or more in the favor of the Sooners.
It's U-G-L-Y without an alibi, but fascinating none the less. That carries over into the stats from the games and will probably send a shiver down your spine. But, knowledge is power…right?!?!
Below are the totals from the past 44 games: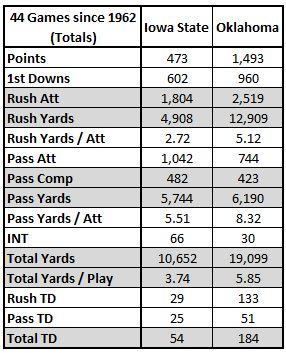 Note that Oklahoma has earned twice as many first downs as the Cyclones have scored in points. That's bad, really bad. The Sooners have gained 8,001 more yards on the ground. Oklahoma has averaged over five yards per carry while the Cyclones can't get to three. Iowa State has completed 59 more passes than the Sooners and in turn the passing yardage really isn't too different…it only took an extra 298 passes thrown from Iowa State to accomplish that.
All told, the Sooners have nearly doubled up Iowa State in yards gained from scrimmage by gaining 19,099 yards compared to 10,265. That's a margin of just 4.80 miles. Whether or not that is more depressing than the Sooners scoring 104 more rushing touchdowns is the question of the day.
Those numbers are super-cray but they don't really offer a lot of context in most cases so below are the per game averages of the same stats. The good news is that they are easier to consume but the bad news is that they are just as depressing.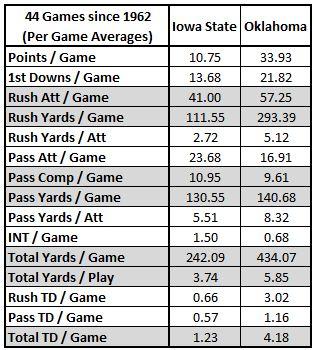 I submit these numbers to you with the full understanding that they're really, really bad. It isn't meant to be an alternative to water boarding you, though that may still be the result. The complete domination from one side of this series can't be ignored just to maintain a blissful state of ignorance.
But, there's good news too, in a way. As it turns out the results of these games from the 1960's are horribly irrelevant. In fact, the results of just a couple of years back are completely meaningless as well.
This year's version of Sooners under Bob Stoops is as talented as usual but perhaps more erratic than ever. A passing defense open for exploitation and some shaky play at quarterback. In recent years the Sooners have seemingly often dropped games that they shouldn't early in the season and this year they've already done that, twice.
Iowa State isn't fielding their best team against Oklahoma but to me they are very much capable of making this a ball game on Saturday. Maybe Steve Young will get to see another Cyclone victory over the Sooners…assuming he saw the last one in 1990 as well. But surely, it has to happen Sooner or later.