No main topic today. Just a bunch of quick hits. Enjoy. 
On Iowa State basketball…
*** If you haven't heard by now, Jameel McKay set a YMCA Capital City League record on Friday night by snagging 32 rebounds in one game. Oh yeah – he had 31 points too.
So how much stock should the casual fan put into a preposterous box score like that?
Over the years, I feel like CCL observers have been able to learn a few things about how success transitions from that league to actual Big 12 basketball. Remember that Sherron Dorsey-Walker did score a record 67 points on opening night last summer. Clearly, his summer did not translate into cold winter nights inside of Hilton Coliseum. However, this topic isn't as cut and dry as a lot of people want to make it out to be either.  
One example of the league meaning absolutely nothing is Dustin Hogue. He was much better while wearing an Iowa State uniform last season than anybody who watched him in the summer would have predicted.
Over the years, I've come to the conclusion that the league can be a decent barometer as to how a guy might end up looking in an actual game. Back in the day, Eric McKnight barley saw the floor and was below average at best when he did. Last summer, K.J. Bluford wasn't exactly Ray Allen. I don't remember DeMarcus Phillips ever lighting the Valley Southwoods Gymnasium up either. Those are just a few examples.  
My advice would be to take mental note of McKay's 32-rebound game and enjoy it for what it is – a ridiculous box score in an organized pick-up game. BUT, don't discredit it completely either. A lot of good players have played in that league and none of them ever did what McKay did on Friday night.
Think of it this way: Did Jordan Railey ever post those sort of numbers in the CCL? 
*** I don't know if Sherron Dorsey-Walker will ever be a major contributor at Iowa State or not. With three years of eligibility left, clearly, a lot can happen with SDW's career.
After interviewing him last week though, I am encouraged about one thing. Dorsey-Walker knows what he needs to work on (defense and as he put it, the "little things") and that is all that he is focused on from now until this fall.
That is encouraging.
*** At this point, Clayton Custer looks like a young, poor man's Kirk Hinrich. Don't take that the wrong way. That is a very good thing.
*** From the @CycloneMBB Twitter account: Bling, Bling.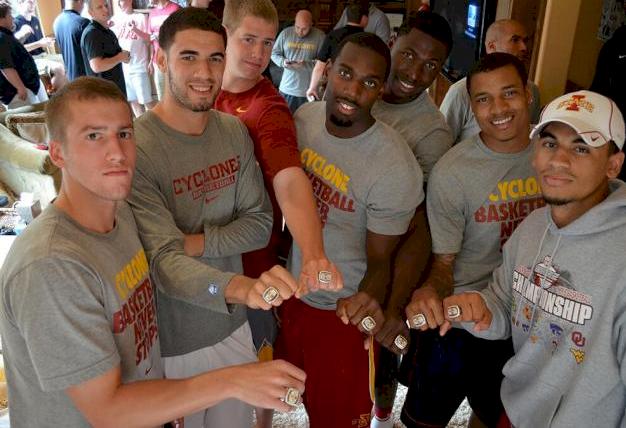 On Iowa State football…
*** If you take a look at our scholarship chart by CLICKING HERE, you will notice that Iowa State only has 12 seniors on its roster for the 2014 football season. Expect that very unofficial number to change before the season starts (and we will update the chart accordingly) with walk-ons earning scholarships and anything else than can happen. But that low number does tell us that the recruiting class of 2015 is going to be incredibly small. (I'm projecting it to be at around 15 prospects at this time.)
Over the weekend, the Cyclones picked up two verbal commits. The first was the one and only quarterback in the class, Dominic DeLira out of Lake Travis, Texas. On Saturday evening, Seth Nurness, a projected defensive end out of Murray made his pledge.
Iowa State now has five commits for 2015 and by my calculations, the class should be at least one-third of the way done.
*** DeLira goes to the same high school in Austin that produced Todd Reesing. With Mark Mangino sitting as Iowa State's active offensive coordinator, this story couldn't be scripted any better. 
*** Seth Nurness, who also claims an offer from Kansas State, is an intriguing prospect. He hails from Murray, a small 8-man town in southwest Iowa. I've called play-by-play for probably a dozen 8-man games in my career. It is an interesting brand of ball. I respect it from the sense that if you have a stud athlete like Nurness, you are going to be competitive regardless of what lines up in the trenches. But the 8-man game is also a little bit like the Capital City League in the sense that the transition between it and big boy ball (the Big 12) can often times be difficult. Nurness appears to have the tools to be a legitimate "Big 5" player and if Bill Snyder offered him, he is good enough for Iowa State.
*** I don't want to dig too deep into this but there has been a lot of discussion in the past week about Paul Rhoads' comments on National Signing Day regarding the recruitment of Allen Lazard. Last week, Iowa assistant coach Brian Ferentz made a few comments about Rhoads' "rant" on a HawkeyeReport.com podcast.  
I can see how Rhoads' comments would have rubbed the Iowa coaching staff the wrong way. This is competition we're talking about here. The Ferentz camp shouldn't necessarily be best pals with Rhoads and Iowa State.
But am I the only one who took Rhoads' signing day comments a different way? I didn't hear Rhoads blaming other schools for recruiting Lazard. I heard a fired up coach boasting that his staff won a specific recruiting battle for a highly-touted kid.
Was it the right thing to do? Some folks say that Rhoads was simply energizing his fan base after a 3-9 season. Others found it to be over the top. 
Frankly, I believe that both sides have a point. But the notion that Rhoads is a hypocrite because Iowa State also recruits kids who are committed elsewhere seems off base to me. 
What do I know though? I'm just a Kool-Aid guzzling hack blogger.