The following is a press release courtesy of Iowa State athletics communications. 
AMES, Iowa –The Iowa State Athletics Department released Monday architectural sketches for its south end zone project at Jack Trice Stadium.  Plans and schematic designs for the first phase of the construction will go to the Board of Regents, State of Iowa, for final approval on June 5.
The initial phase of the renovation will close in the south end zone at the stadium with a permanent upper and lower seating bowl. That structure will house a new two-story premium club space, include an additional HD-quality video board / sound system and connect the east and west concourses.  Stadium capacity will exceed 61,000 upon completion of the project in August, 2015. 
"The atmosphere of an enclosed stadium – supported by a huge video board at each end of the stadium – will significantly enhance the game day experience," Iowa State Director of Athletics Jamie Pollard said. "This project will also enrich the presence/entrance of Reiman Gardens, an award-winning garden and conservatory located south of the stadium."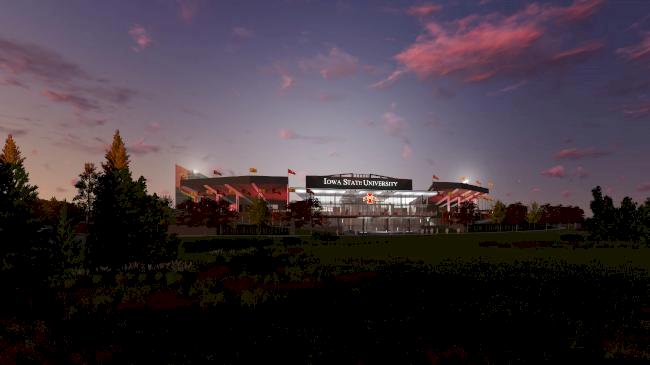 The south end zone construction will functionally connect the east and west sides of the stadium to create a singular concourse experience for fans. In addition to the new club section, there will be more permanent seat location options and price points for fan consideration.
The glass facades of the club's upper level will look into the stadium bowl (north) and out toward Reiman Gardens (south). The construction will create a much-improved arrival experience into campus for visitors to Iowa State University and dramatically impact the look and feel of a Cyclone football game day.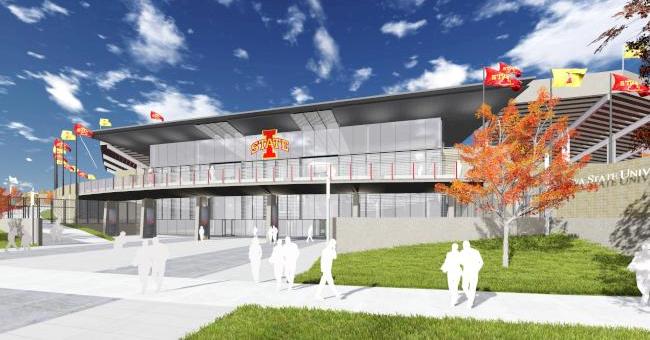 "This project has multiple benefits for the institution, the athletics department and the football program," Pollard said. "There will be a significantly enhanced main entrance to campus, capitalizing on a natural symmetry between Jack Trice Stadium and Reiman Gardens, two university landmarks. Additionally, there will be a dramatically improved game atmosphere with the closed-in end zone."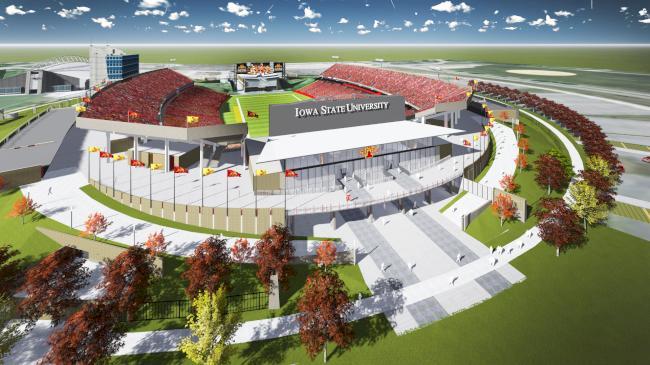 In addition to the stadium renovation, Iowa State officials continue to review concepts for a second phase of the project which will include improvements to the parking and green space areas adjacent to the facility. Those project specifics will be presented to the Board of Regents at a later date.  The stadium renovation plus the parking and green space enhancements are all part of a $60 million upgrade to the primary campus entrance and football facility. 
The architect of record for the project is Neumann Monson Architects (Des Moines) and the sports architect is HNTB Architecture (Kansas City).