After spending the last week on a beach drinking Busch Light, I am back from our annual Williams spring vacation. In a very sarcastic tone I ask you today, "Did I miss anything?"
You know, the whole "When Williams goes away, the Cyclones will play," happenstance is getting to the point of being somewhat preposterous. This all began back in the spring of 2010 when on my honeymoon; Fred Hoiberg essentially signed the entire team that took him to his first NCAA Tournament in 2011-12. Now, it seems like every time I leave for a decent period of time, good things tend to happen to the Cyclones. (Note that if you all donate enough money to my IRA, I will retire today.)
Last Sunday, I literally got through airport security and Bryce Dejean-Jones committed to the good guys. I then got on a plane, was ready to take off and of course, Darien Williams vowed to wear the Cardinal and Gold too. 
All of the above is great for Iowa State but when timing like this occurs, it makes my life a living hell. This is a "me" problem. You see, I'm not a guy who can just shut things off just because I'm "on vacation." Aside from my family, my work is my life (and I'm not afraid to admit that). I need to grow up and gain some perspective (and I'm sure that time will eventually come) but when I'm on a jet without Internet and I know that big news is breaking, it's like there are thousands of mosquitoes biting my body and not having arms to itch. I can't stand it!
Then, there is the wife factor. God love her. She is the best. Not many women would put up with being married to a guy like me. To quote a country song that was recently recorded by Lee Brice, I'm "hard to love."
So of course when I was learning of the breaking news last week, she saw me getting all worked up and immediately put on a fake smile and started rolling her pretty little eyes. "Here we go again," she said as our Allegiant flight's wheels left the ground in route to Punta Gorda, Fla. She still isn't over the ridiculousness of our honeymoon that featured twin lawn chairs (half occupied), Sanibel Island and me at a picnic table with a laptop and air card (not one of my finer moments as a husband) blogging away about the future of Cyclone hoops. 
Moving along, what a week for Fred Hoiberg? The guy made some jack, signed one of the top transfers in America (who is eligible to play right away) and gained a verbal from a 6-foot-9 power forward who happened to knock down 40 percent of his 3-point shots in junior-college ball last year.
Not bad, coach. Not bad at all. (Tip of the cap to assistant coach Matt Abdelmassih who was the headman on both pickups.).
Folks, what you're watching right now is this basketball program capitalizing on that "next step" that it took by reaching the Sweet 16 in the 2013-14 season. You saw what they did on the court. Numerous insiders have told me that next year's team will be more talented than that (note that the whole chemistry thing still needs to be figured out because last year's team was flawless in that category). In this offseasonthough, the momentum has continued to climb (other than Abdel Nader's recent run in with the law) with the Hoiberg contract and two substantial recruiting victories.
On Iowa State football…
Being that I left for Florida the day after the spring game, I haven't had much of an opportunity to write about the spring season. To state the obvious, it was a bit of a rough few weeks for Paul Rhoads' program. Injuries were a big story but losing senior defensive tackles Rodney Coe and David Irving was a damning kick to the stones.
Clearly, Mark Mangino has his work cut out for him this fall. Wally Burnham will do his thing and make that defense better than it probably should be. He always does. But even so, the whole scoring 24 points per game (like Iowa State did last year) is going to have to jump to what, 40, if the Cyclones want to go bowling in 2014?
That is obviously a hypothetical and nothing more but the point stands that there has never been more pressure on a modern-day Iowa State offense than what we will all witness this fall in Jack Trice Stadium.
A few points of good news…
— I spoke to a few offensive players after the spring game who seemed incredibly optimistic about the way things are going.
"Mangino is very smart. I knew he was smart, but I didn't know he was at this level," senior center Tom Farniok said. "Mangino has a very high IQ, very cerebral. He demands a lot, but if you want to be good you have to demand a lot."
A quick editorial: I would consider Farniok to be the most brutally honest Iowa State football player I have covered in years, and perhaps ever.
Take all of that for what it is worth but the offense (the players at least) felt very good about the work that was put in this spring, so that's a positive. 
And I'll add this to the football conversation: Iowa State has been going to battle in the Big 12 with a stronger defense than offense for years now. If you give me a choice to have a powerful offense vs. a powerful defense in this league, I'll take the offense every time. Clearly though, this Iowa State offense is still very unproven. 
— While plenty has changed on the defensive side of the ball since spring ball began, the Cyclones are still running in stride offensively, which was going to be the key in 2014 no matter what. That's somewhat encouraging. At the very least, it is an intriguing storyline to follow with kickoff being 131 days away.
Vacation recap
Quickly, here is what went down last week on a vacation that my wife and I took with Cyclone Fanatic columnist Brent Blum and his fiancé.
— A guy fishing on the beach in front of our condo caught this.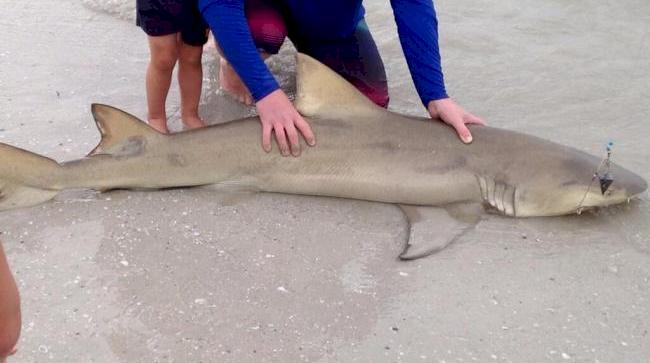 — Blum and I met two girls from Germany in the pool one day. Neither had ever heard of Lucca Staiger.
— We went on a kayaking tour and our tour guide was deaf. As you can imagine, this made zigging and zagging through the mangroves quite difficult.
— Blue Tasties on the Gulf of Mexico. That's right.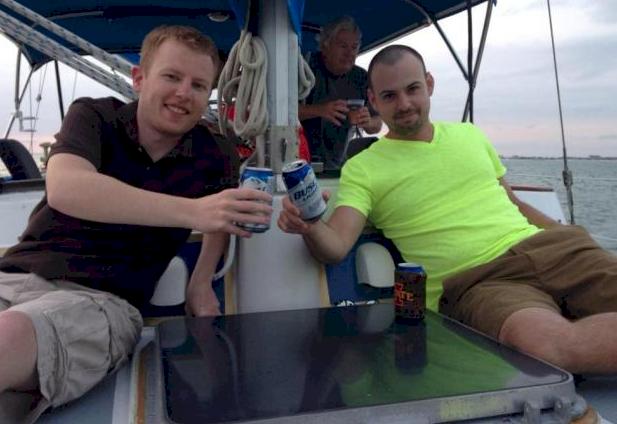 — On a rainy afternoon, we all huddled around the TV and watch VH1's "Top 100 songs of the 2000's." Amazingly, Eminem's "Lose Yourself" did not win. (Somebody at VH1 needs to be fired immediately).
That pretty much sums things up. Blum will be over later in the week for a podcast in which we can elaborate in detail. Until then, happy Monday Cyclone Nation.