AMES — "He'll snap out of it. I know he will."
That is what Iowa State head coach Fred Hoiberg said this past Monday during his passionate defense of freshman Matt Thomas and his ongoing shooting slump. This obviously leads us to this question: Is this 'Mayor' guy some sort of a psychic or something?
Iowa State's rookie out of Onalaska, Wisc. "snapped out of it" indeed when his team needed him the most in Saturday's slobber knocking 81-75 win over No. 22 Kansas State. Thomas buried his first four threes, went 5-for-6 from the field overall and played a key role in breaking his team's three-game losing streak.
*** CLICK HERE for video coverage of Iowa State's postgame press conference ***

"I think it might have been the pink socks actually," Thomas joked after the game. "I felt good. My teammates and coaches have been behind me these last few games when I haven't been shooting the ball well and they kept believing in me. It is easy to go out there and shoot when you have great coaches and teammates like that."
Thomas actually made his first five threes but the fifth was waived off after DeAndre Kane was called for a charge late in the first half. The marksman was toeing the 'beast mode' line during the first 20 minutes of what was a bruising basketball game.
"For him to come out and hit all four of his threes in the first half was huge for us.," Fred Hoiberg said. "You can't just leave a guy open like that. Just really, really happy for him because I know how much it means to him."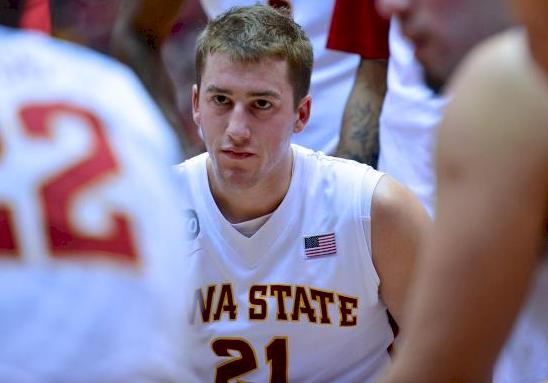 Prior to Saturday, Thomas had gone 4-for-17 from 3-point range during Big 12 play and as a result, his playing time had begun to diminish significantly. He had lost his starting role to Naz Long and only played 11 minutes in last Saturday's loss to Texas. A guy whose main role on the team is to make threes needs to do just that; make threes, something Thomas hadn't consistently done all season long.
"Obviously when the first one goes down, that's a pretty good feeling rather than obviously missing," Thomas said. "I just continued to shoot it with confidence, which is what I have to do." 
For Iowa State, hopefully this is a sign of things to come. As Hoiberg noted, having that scary 3-point shooter on the floor adds a dimension to this team that the opposition has yet to see. While there are probably other statistics that properly recap Saturday's game more accurately, there is no bigger story coming from this one that Thomas' emergence as a legitimate scoring threat. Iowa State is a much, much scarier team for the opposition to prepare for with a confident Matt Thomas on the floor. That is the big picture here. Thomas doesn't have to score 15 points a game to be effective. He has to be a threat to be effective. Game tape from this game will prove that he is. Thomas' 14 points and four 3-pointer tied career-highs in both categories.
"A guy like him, he is always in the gym," Georges Niang said. "He is always getting shots up after practice. It was bound to happen. Shooters go through slumps."
Speaking of Niang, Thomas wasn't the only Cyclone that got hot from long range during the first half of the win. The last time that Iowa State played in Hilton Coliseum, Niang went an appalling 4-for-20 from the floor and went 0-for-9 from 3-point range. The crafty sophomore tied a career-high with four treys and scored 18 points in Iowa State's skid-snapping win. Melvin Ejim scored 18 of Iowa State's 35 second half points and led the way with 20.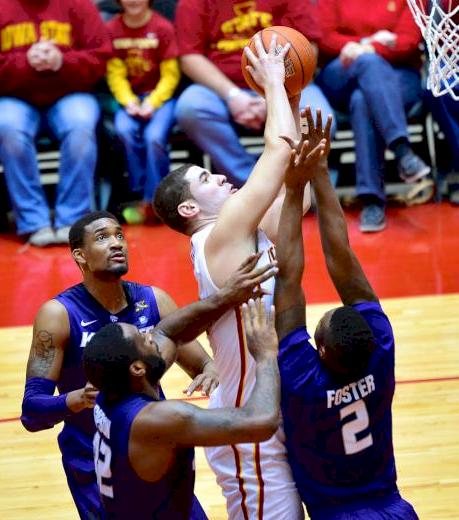 Had to have it…
With games at Kansas, vs. Oklahoma and at Oklahoma State on the horizon, Saturday's contest was teetering along the lines of being a "must-win" for Iowa State. It wasn't easy either. Iowa State accumulated double-digit leads multiple times in this one (the Cyclones led by 12 at halftime) only to see it shrink to one or two points. Kansas State actually tied this game at 50 with 13:11 to play.
Bruce Weber's team was like a nasty case of the common cold. The Wildcats refused to go away without a fight. Led by a good looking freshman named Marcus Foster (20 points), KSU was physical and scrappy but ultimately, Iowa State did what it had to do.
"This game reminded me of one of those earlier games where we made enough plays down the stretch to get the win," Hoiberg said.
Georges Niang said that his team did the little things right.
"We were getting loose balls," Niang said. "We were getting after it on the defensive end and playing with energy. I think when we do that we are a tough team to beat." 
A big stat from the game was the line of Kansas State big man Thomas Gipson, who went 2-for-7 from the field and scored only four points in the loss. By comparison, Gipson was averaging 12.5 points per contest before Saturday.
"I think my teammates did a good job of getting to him quick on the double-team," Niang said. "I was just trying to keep him off the block and keep him from getting any offensive rebounds. When I did that, I feel like I took him out of his rhythm and it was tough for him to get going."
JOTTINGS
*** After all of the controversy, Iowa State guard Bubu Palo suited up and sat on the bench but did not play. Hoiberg refused to comment on Palo's status after the game. CLICK HERE to read a report with quotes from Iowa State President Steven Leath via Travis Hines and the Ames Tribune. 
*** Rob Gray from the Cedar Rapids Gazette caught up with Palo after the game.
*** DeAndre Kane struggled from the field on Saturday by going 3-for-12. Still, the senior had 10 points, five assists and five rebounds.
*** Dustin Hogue led Iowa State with 12 rebounds. The junior is averaging 9.3 boards per game this season.
*** Iowa State freshman Monte Morris played 30 key minutes for Iowa State. The Michigan produced dished out five assists and committed his first turnover (two of them) since Iowa State defeated George Mason on Dec. 22.