When it comes to most scenarios in the game of basketball, chances are, Fred Hoiberg has been there and done that. At every level of the sport, The Mayor has pretty much seen at all, especially when it comes to the woes currently surrounding freshman Matt Thomas and the "slump" he is enduring.
Iowa State's rookie sharpshooter will enter Saturday's game with Kansas State (12:45 on the Big 12 Network) with a 3-point percentage of 31 (23-for-73). However, Thomas has gone just 4-for-17 from long range while averaging only 3.2 points per game in Iowa State's first five conference games.
During what was a fairly dull Monday bye week press conference, Hoiberg, who shot 26-percong from 3-point range as a freshman at Iowa State, keenly defended Thomas' game.
"I'm still confident with him. It's just one of those stretches, I mean a couple of those shots hit every part of the rim and bounced out. That's the kind of stretch that he is going through right now," Hoiberg said. "I think I've said this before, probably multiple times because I'm losing my mind and I don't remember exactly what I said, but I've been there. I've been through it. It's hard to snap out of it."
To Thomas' credit, Hoiberg didn't have to deal with the instant gratification 'Twitter-verse' and every wannabe Skip Bayless with a smartphone when he was a freshman back in 1991.
"It told him to shut down his Twitter," Hoiberg said. "You've got people saying to you who aren't real fans, that say bad things. You still see it. You still read it."
This is where Hoiberg and Thomas are essentially the same guy…
"I can see 100 positive comments and one negative and that's the one I focus on," Hoiberg said. "That's something that you have to try and put behind you. I think our guys will do that and as long as you continue to practice and show you can do it there, it is a matter of time before you can do it in games." 
Hoiberg went on to note that Thomas has been "stroking it in practice." Word from the program is that a breakout game from Thomas is inevitable. Hopefully for the Cyclones, it comes sooner rather than later.
"He will snap out of it," Hoiberg said. "I know he will. He cares so much,"
Brandon Jensen not on roster
When rumors of Brandon Jensen leaving the football program began to surface a few weeks ago, I wrote something along the lines that re-recruiting the senior defensive tackle should be one of Iowa State's top priorities from then until National Signing Day. 
While Iowa State has yet to confirm that Jensen has left the team (the Ames Tribune has previously reported that Jensen was mulling the option), the Ankeny native is not on Iowa State's latest roster that was posted on Cyclones.com Wednesday morning.
When Iowa State lost a guy like Collin Bevins last year, it was a blow, but one that could be dealt with. Bevins was an unproven redshirt freshman. The issue here is that the program has been developing Jensen for four years. That's four years of spring ball, four years of offseason weight lifting and four years of fall camp. That cannot be replaced by anyone.
Iowa State is never going to consistently recruit four and five-start defensive linemen. Ever. If you believe that might eventually be the case, snap out of this fantasyland that you're currently living in and join the rest of us in reality. 
Iowa State has to develop guys like Jensen to be studs during their junior and senior seasons. That is the formula. Perhaps Iowa State's coaches did everything possible to keep him around and Jensen just doesn't want to play ball anymore? It sounds like that is the case. Regardless, Jensen was pretty good last year and there is no debate that missing out on his fifth year in the program is a huge blow for Iowa State in 2014.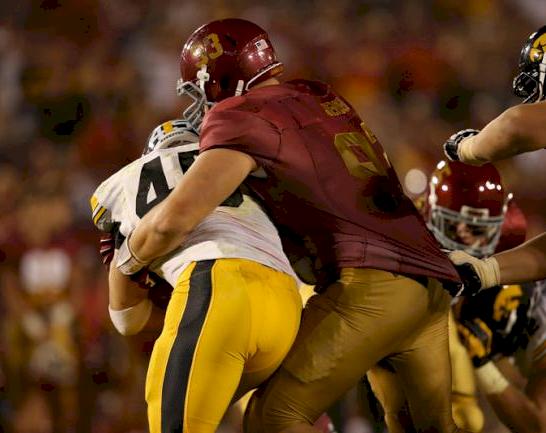 Weight off Lazard's shoulders…
As is generally the case with most headline high school football recruits, they draw a little bit of extra attention in comparison to the rest of the guys on the team. This has been the case for Urbandale wide receiver Allen Lazard in a league that isn't loaded with Division I talent. Double teams, special schemes and lots of talk are the norm.
When I spoke to Lazard earlier this week, we got into a conversation about him being one of 'the guys' as a rookie for Iowa State, and not necessarily having to be 'the man.'
"I am looking forward to having those receivers and playmakers around me," Lazard said. "That will be a big weight off of my shoulders from high school to college."
Despite the extra attention, Lazard still accounted for 27 touchdowns during the final two seasons of his high school year.
Bonus: Tip of the cap to…
…Texas head basketball coach Rick Barnes.
In October, I thought that this would be his last season in Austin. Today, his Longhorns are 15-4 (4-2) and sit at second place in the brutal Big 12.
If a vote had to be made today, Rick Barnes would be my Big 12 Coach of the Year.  
If you watched Texas beat Iowa State last Saturday along with Tuesday night's buzzer-beater win over Kansas State, you saw a group of Longhorns that flat-out plays HARD for their head coach. They don't necessarily have more talent than the opposition. I like this team a lot.