According to the Internet, the average human makes 35,000 decisions per day. For instance, you made a decision to read this fine piece of copy, which right now you are probably regretting. Most of these decisions are insignificant like trying to decide between watching The Biggest Loser, NCIS or Snooki and Jwoww. But every once in a while there are monumental decisions that alter the arc of your life and those around you. Life is one giant game of dominoes.
Because I get bored easily and marvel at the hypothetical, I started to ponder the confluence of decisions that helped bring this Cyclone basketball team together to its historical start.
In April of 2013, DeAndre Kane announced his intentions to leave the Marshall program to find a team that could make an NCAA tournament. We all know where he ultimately ended up, but it may be forgotten that two weeks after he left Marshall, Kane verbally committed to his hometown Pittsburgh Panthers. When Kane visited the Pitt campus he never signed the scholarship papers. Iowa State jumped into the fray and here we are. What if Kane signs with Pitt instead?
Dustin Hogue was a non qualifier academically after high school. The Yonkers, New York native was a hot commodity as several JUCO schools were in pursuit of the athletic wing with a ton of upside. Because of their consistent success at placing players in the division one ranks, he decided to play for Indian Hills in Ottumwa, Iowa. It just so happens Iowa State was two hours down the road and actively recruiting his Indian Hills teammate Jameel McKay when they noticed Hogue. Hogue now leads the Big 12 in rebounding, while McKay is sitting out and will join Iowa State next season. What if Hogue decides to play closer to his New York home coming out of high school?
Monte Morris grew up in Flint, Michigan. His favorite childhood team was the Michigan State Spartans, but it was the Michigan Wolverines who he had his eye on to play for at the next level. Recruiting itself is an exercise in deception and brutal decisions. Michigan apparently only had room for one point guard in their 2013 class. The Wolverines had three point guards in mind: Morris, Derrick Walton, and Demetrius Jackson. Allegedly, the Wolverines offered the three in a first come, first served basis. Walton pulled the trigger first; Jackson ended up at Notre Dame and thanks to Cornell Mann and Fred Hoiberg, Morris headed west to Ames. In his last three games at Iowa State Morris has put up 35 points, nine assists and no turnovers. He is clearly a sound decision maker.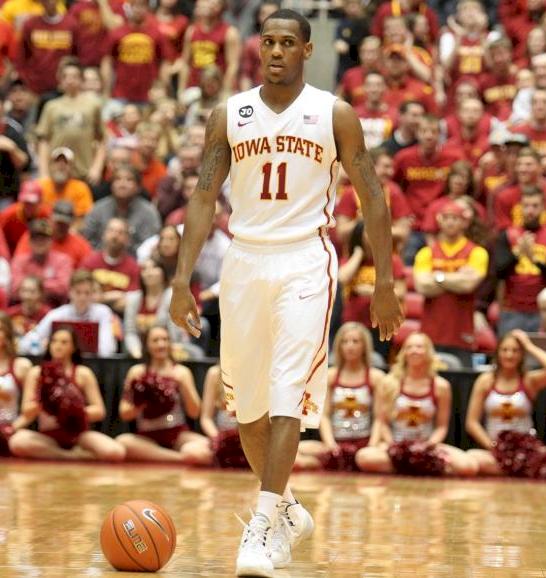 It is well documented that Georges Niang played on the same prep school and AAU team as the Philadelphia Sixer's Nerlens Noel. But this part you may not know;  a decision to have a casual conversation helped him end up at Iowa State. Niang's AAU coach was Leo Papile, who was also a member of the Boston Celtics front office. Papile and Fred Hoiberg knew each other due to their NBA backgrounds. Papile and Hoiberg were conversing back in the spring of 2011 when Papile mentioned he had an under-recruited forward that Hoiberg should take a look at. Hoiberg flew almost immediately to see an open gym on the east coast and offered Niang on the spot. It was Niang's first high major offer. Niang exploded on the AAU scene that summer and the big boys came calling. Hoiberg's early offer made the difference. Without the relationship and decision to talk to Papile, Niang is climbing the scoring charts at another school.  An every-day conversation can be transformational.
Each Cyclone player and coach has their own unique story and decision making arc that shaped the Cyclone roster. But perhaps my favorite "what if" scenario revolves around a decision to NOT attend Iowa State.
In November 2009, the Iowa State basketball team appeared to be finally hitting its stride under Greg McDermott. Craig Brackins had foregone the NBA and returned for his junior year to team with Diante Garrett, JUCO stand-out Marquis Gilstrap and sharp-shooter Lucca Staiger. The pieces were coming together, the Cyclone program was gaining momentum and there was a monstrous diamond in Iowa State's back yard.
Harrison Barnes had emerged as a mega recruit. He was the best high school player in Iowa high school history, he participated weekly in open gyms with current Iowa State players and his high school teammate was Greg McDermott's son. All signs before the announcement pointed to Barnes picking the Cyclones; he reportedly was hanging out with Iowa State players the night before he announced his commitment and the Cyclone coaches were convinced Barnes was staying home in Ames. 
The Skype call heard round the world blindsided everyone at the Iowa State basketball offices. Barnes picked North Carolina and after getting off to a 6-0 start the 2009 Cyclones fell apart. LaRon Dendy took an ill-advised shot against UNI, Chris Colvin got suspended for poor conduct, Lucca Staiger bolted for Germany and the house of cards came crashing down on Greg McDermott. The momentum around the program eroded with Barnes' announcement and stalled completely when Brackins announced his intentions to go to the NBA, Gilstrap went pro, and Justin Hamilton and Dom Buckley transferred.
The next month Dana Altman vacated his job at Creighton and trekked to Oregon, leaving McDermott a decision to take the Creighton job.
If Barnes signs with Iowa State, the 2009 season may not have unraveled, McDermott undoubtedly stays to coach the nation's top ranked recruit and Doug McDermott heads to UNI. Fred Hoiberg stays with the Timberwolves front office.
If one 17 year old's decision is different, hypothetically, Iowa State makes a couple NCAA tournaments with Barnes leading the way; Greg McDermott is still the head coach at Iowa State. Doug McDermott becomes an all-conference player at UNI and the Panthers win the last two Missouri Valley titles. Creighton ends up with another coach, falls back in the middle of the Valley pack and never gets an invite from the Big East. Fred Hoiberg stays with the T-Wolves and is promoted to GM after David Kahn is fired. Hoiball never gets a chance to exist.
Perhaps we all have Harrison Barnes to thank.
We all make thousands of decisions every day; some are more important than others.